Meet Jennifer Shea, owner of Seattle's Trophy Cupcakes.  Jennifer is a long time baker and party maker who was winning 4-H baking competitions before her 9th birthday.  Jennifer spent many years perfecting unique recipes before opening up her first cupcake shop.  Jennifer and her husband, Michael Williamson, opened up Trophy Cupcakes in 2007.  In addition to their 3 cupcake shop locations, they also own a decorated party room.  Jennifer has been featured on the Martha Stewart Show, Sunset Magazine, Daily Candy, Seattle Magazine and so much more.   Get ready to be inspired!
How old were you when you began baking?
I was about 6 when I started baking with my mom. Blackberry Pie with fresh picked berries of course!
How many years were your recipes in development before opening TrophyCupcakes?
About 10

What is the "very best vanilla" to bake with?
Nielsen Massey Pure Madagascar Bourbon Vanilla
What was the icing on the cake (or should I say cupcake) that made you decide to go full throttle with opening up your very own cupcake shop?
Hmmm…it was a long process with lots of baby steps, but I would say the icing on the cupcake was meeting my husband. He really supported me and helped me believe I could do it!
I admire the amount of team work you and your husband have put in to Trophy Cupcakes & Party.  What is your biggest piece of advise to Husband & Wife entrepreneur duos?
Set regular work hours and don't deviate from them. If you run a business with your spouse and don't stick to set hours you will end up talking about work 24/7 and that's not good for anyone.

I adore the photos of your shop.  How did the interior design of TrophyCupcakes come about?
To create the design of Trophy my husband and I simply pulled from things that we love. We were both born with crazy attention to detail- a blessing and a curse! each design decision was very deliberate…the aqua we use was inspired by my collection of vintage Franciscan dishes, the striped awning were an homage to bakeries in Europe, the marble counter tops were just like the ones we had seen in photographs of bakeries from the 1940′s, our signs had to be hand painted, and the list goes on.
You are the first cupcake shop I have heard of who has launched a"Party Room".  What can guest who book an event in your party room expect?
Throwing parties is one of my all time favorite things and I love to see the looks on people's faces when they walk into a party and are transported to some dreamy place. Guests who book a themed party in our new Party Room can expect this same kind of reaction. We love all of the little details that make a party magical, for both the guests and the guest of honor.
How exciting that you were a featured guest on Martha Stewart's showfor Cupcake Week.  How was it?
It was beyond amazing and I still can't believe it sometimes! It was very surreal to walk through the hallways back stage and see all of the gorgeous photos of Martha from her modeling days…to pass Darcy Miller(her Weddings editor) in the craft room and then to bump into Martha in the kitchen while I was prepping. It was one of those moments where you really have to pinch yourself to believe it is truly happening.

Which cupcake is your current favorite at Trophy Cupcakes?
Pineapple Upside Down! Caramelized pineapple baked under our super moist vanilla cupcake which is topped with brown sugar buttercream and a cherry. LOVE!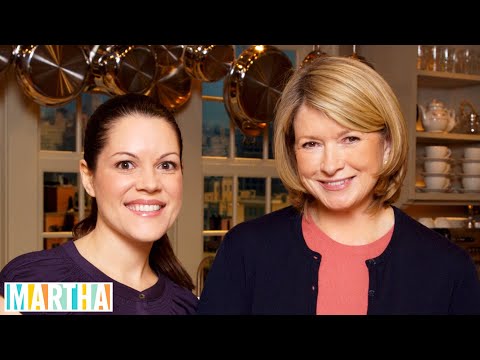 Visit any of Trophy Cupcakes 3 Washington Locations:
Wallingford Center Shop
1815 n 45th Street Suite 209 Seattle, Washington 98103
University Village
2612 NE Village Lane Seattle, Washington 98105-5029
The Bravern
700 110th Avenue Bellevue, Washington 98004 Trophy Cupcakes on Facebook: 
http://www.facebook.com/trophy.cupcakes
Trophy Cupcakes on Twitter: 
http://twitter.com/#!/trophycupcakes