I have to tell you, this brand is my heart! Being able to creatively direct a brand fires me up on a level I've NEVER experienced with anything else! Not only has it taught me the true value of following your heart, but it has taught me that if you have a vision, you have to make it happen! Everyone is worth going after their vision. Those dreams and goals that keep bubbling up are a thing called "your calling"!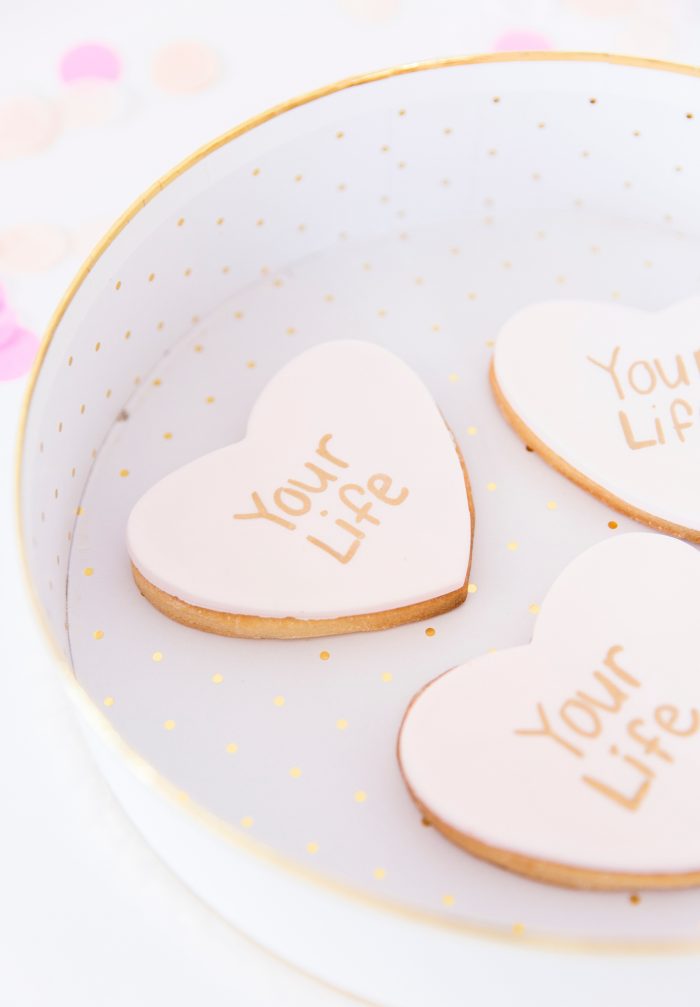 When I re-branded BFFF last summer, I was very clear with myself that the heart of this brand is serving as an instant mood uplifter for our readership – my friends! From the colors, voice and tone, to our mission – it's all about instilling the values that make others want to be the best version of themselves and live a life they love inside and out! If I can play a small role in others feeling this way, it would be one of my greatest achievements. I must admit, in high school I did want to be a psychologist, as I love people and I've always been the go-to to wanting to solve all my friends' problems. ;)




As I have been searching for more fun ways to bring my passion of motivational speaking to this blog, I thought these heart cookies would be the perfect start. I love the whole concept of writing motivational quotes that truly impact people on cookies in a fun way! Life is like a recipe! You learn, you add, you remove, and you create your own recipe of joy! You're the pilot!




And if you're looking for even more ways to brighten your day, check out our brand new weekly quote series we kicked off this week! So excited to share all of this with you! Check out some of our other heart cookie tutorials here and here girlfriend.

How To Make Love Your Life Heart Cookies
Materials:
Instructions:
Bake your cookies and let cool.
Add 2 drops of pink gel food color to your fondant and mix until you get light pink shade.
Roll out your pink fondant and cut out your pink hearts using your heart shaped cookie cutter.
Spread some frosting on top of your cookie. Then lay your pink fondant hearts on your sugar cookie.
Using your gold pen write "Your Life" on your pink fondant.
Karen's Cookies Basic Rolled Sugar Cookies
Ingredients
1 cup butter, softened
1 cup superfine sugar, or granulated sugar, processed in blender or food processor for 30 seconds
½ teaspoon salt
1 large egg
1 large egg yolk
2 teaspoons Vanilla extract
½ teaspoon Almond extract or emulsion, optional
2 ½ cups all-purpose flour
Instructions
Cream butter, sugar, and salt until light and fluffy, about 3 minutes with mixer set at medium speed.
Add yolk, beat well. Add whole egg, vanilla and optional almond extract and beat until well incorporated.
Add flour; beat at low speed just until flour is mixed in; do not overmix.
Divide dough in halves or thirds and wrap in plastic wrap. Refrigerate until firm, at least one hour and up to 2 days.
Preheat oven to 375 degrees. Dust work surface and rolling pin with flour. Roll dough to 1/4" thick, sprinkling with additional flour as needed to prevent sticking. Cut into desired shapes and place on parchment or silicone-lined pans.
Bake in preheated oven until cookies appear dry on the surface and are light golden brown on the edges, about 10 minutes (very large cookies may take up to 12 or 13 minutes).
Remove from cookie sheets to cooling racks and cool completely before decorating.