Colorful DIY Advent Calendar
Sponsored by The Star In Theaters Today
Don't you just love the holidays? Isn't there just something so magical about seeing the holidays through your children's eyes?! In our house, Christmas is like a 2-month ordeal! ;) Hello nativity set, Christmas tree decorating, and hot chocolate! We go all out from the cruising around looking at vibrant Christmas lights to hosting parties serving our favorite recipes to watching our favorite Christmas movies over and over again. We LOVE Christmas!
Who else grew up on advent calendars? ME TOO! I have always loved the tradition of advent calendars. They spark so many warm joyful feelings of the holidays. I have always looked forward to the chocolate advent calendar my parents would buy for me every year. I even remember one year, I snuck and ate all the chocolates before Christmas. I felt sooo bad about it! ;) No judging here, right?! I was like 8 or 9 years old. LOL.
Over my years of being a parent, I've continued this tradition with Charlie and Claire, but I always found myself struggling to find an advent calendar that embodied the meaning of Christmas. So, I finally made my own advent calendar. You would not believe how easy this was to make. All you have to do is buy a plain wood advent calendar – the craft store usually has these around Christmas time. Paint your advent calendar with your favorite shades of vibrant paint. Once your paint is dry, place each gold decal number sticker on each box. Next, trace a star onto thick construction paper and place it on top of your calendar. Last but not least, you can either make your own wreath or buy one at the craft store, like I did, and hot glue it on top. Within the design, I consciously made a point to include a Christmas wreath and The Star of Bethlehem. The symbols are very simple but mean so much. Did you know?
The meaning of a Christmas Wreath
The wreath has a significant meaning for the season. Its circular shape represents eternity, for it has no beginning and no end. From a Christian religious perspective, it represents an unending circle of life. The evergreen, most frequently used in making wreathes, symbolizes growth and everlasting life.
The meaning of The Star of Bethlehem
The Star of Bethlehem, or Christmas Star, appears only in the nativity story of the Gospel of Matthew, where "wise men from the East" (Magi) are inspired by the star to travel to Jerusalem. The star leads them to Jesus' home in the town, where they worship him and give him gifts.
Speaking of THE STAR, what are you doing November 17th?! There is an AMAZING new family movie coming out that you will NOT want to miss. I am over the moon excited that SONY Pictures Animation is releasing a NEW movie called THE STAR that is all about the meaning of Christmas. I have a feeling this movie is going to be one of those classic movies that we will traditionally watch every single year with the kids.
THE STAR has music by Mariah Carey and has an all-star cast!! I was most excited to learn Oprah (my fave), Patricia Heaton (I've never missed a single episode of The Middle), Kelly Clarkson (hello the queen of American Idol), annnnd Tyler Perry are starring in this powerful dream team cast!! I can only imagine how fun recognizing each person's voice in the movie will be. I am usually not so good identifying voices through animated characters, but while watching THE STAR I can bet you, I'll be a pro! ;)
The storyline of THE STAR is an inspirational story. A small but brave donkey named Bo yearns for a life beyond his daily grind at the village mill. One day he finds the courage to break free, and finally goes on the adventure of his dreams. On his journey, he teams up with Ruth, a lovable sheep who has lost her flock and Dave, a dove with lofty aspirations. Along with three wisecracking camels and some eccentric stable animals, Bo and his new friends follow the Star and become accidental heroes in the greatest story ever told – the first Christmas.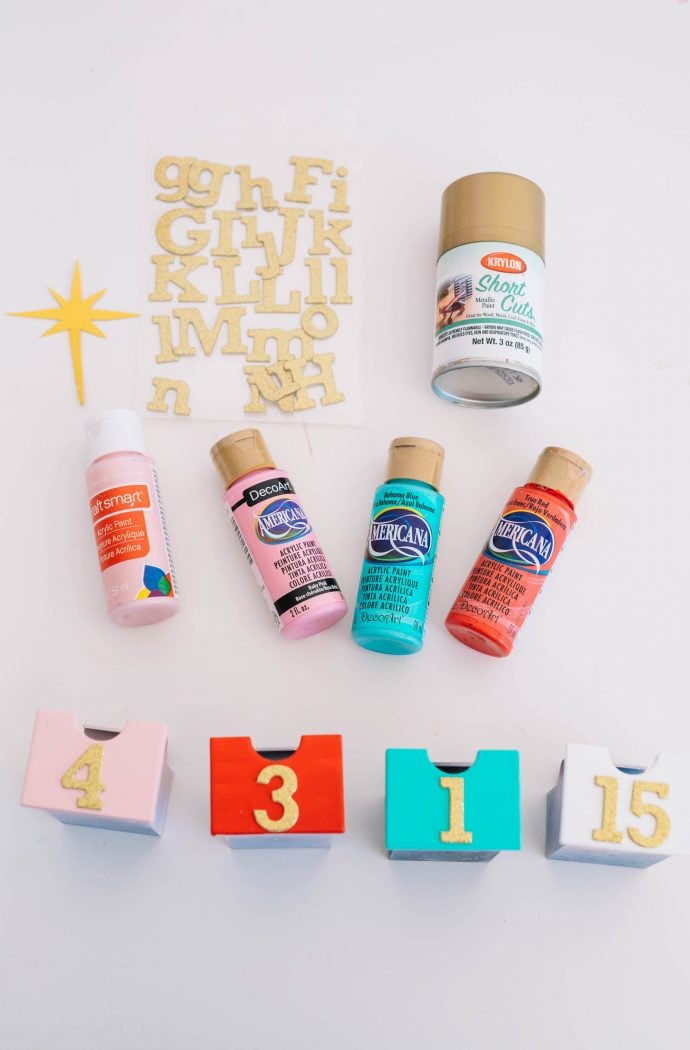 You're cordially invited to a new holiday tradition! After you make your DIY advent calendar, make some hot chocolate or eggnog and pour it in disposable cups with lids. Pack up the car and look at Christmas lights while playing your favorite Christmas songs. Next stop? Surprise your family by going to the movie theaters to watch THE STAR. Don't forget, it comes out November 17th!! Maybe we'll see you there?! I showed Charlie and Claire a preview trailer of the movie, and they can't wait for this!
How to make a Colorful DIY Advent Calendar
Materials
Paint – red, green, light pink, bright pink, white,
Sticker Gold glitter numbers
Yellow construction paper
Instructions
Take out your drawers and paint the whole house bright pink
Step 2
Paint your roof gold
Step 3
Paint the drawers light pink, white, red, and green
Step 4
Stick your gold glitter numbers onto the drawers
Step 5
Using a hot glue gun, glue on your wreath
Step 6
Draw and cut out your star. Glue it on the pitch of your house