This fun DIY comes from mom, blogger, and crafter Laurel, who's DIY blog A Bubbly Life is full of fashion finds, scrumptious recipes, and DIY projects, of course! We love Laurel's philosophy that a smile, a good attitude, and a glass of wine can change any circumstance for the better. Add a DIY project to the mix and you've got yourself our favorite kind of afternoon!
Today, we're sharing Laurel's DIY Ombre Cork Board. This cork board is so versatile — you can hang it up in your home office, your kitchen, or even a dorm room. It's such a playful way to show off your favorite pics or ticket stubs, and it's super easy, too. Let's get started!
OMBRE CORK BOARD
OMBRE CORK BOARD MATERIALS:
—Cork Board*
—Gold Spray Paint (Optional)
—Ruler
—Painter's Tape
—Craft Paint in Same Color Family**
—Mini Roller Brush
—Small Foam Brush
* I scored my cork board at the thrift store for $2, they retail for about $15. I see cork boards nearly every thrift visit, so give it a shot ;)
** It is very easy to pick your color palette at the craft store. All colors are lined up from lightest to darkest- pick the amount of colors you want (I chose 4) from the line up.

I chose to spray paint the wooden border gold (Well, my husband spray painted it since I am pregnant), I thought it would give the pink more of a pop!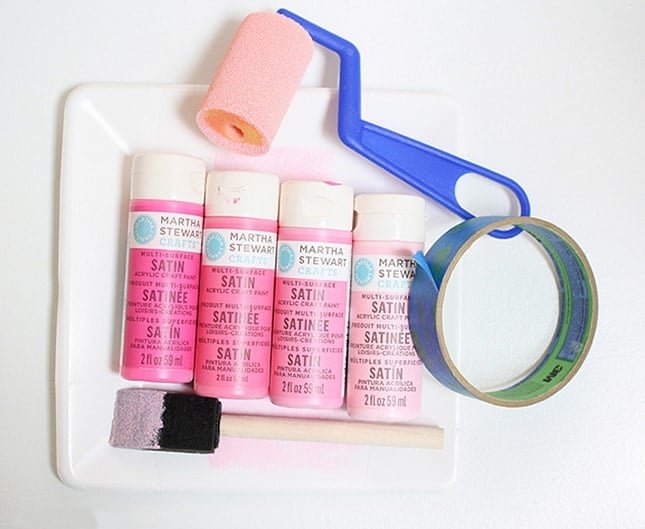 STEP BY STEP OMBRE CORK BOARD INSTRUCTIONS:
1. Measure the cork board area you are painting. My cork board was a standard size which was 22.5 inches. Since I chose 4 colors, each color portion had to be the annoying measurement of 5.625 (I would have preferred an easier number to find on my straight edge!)
2. I marked off the distance and length with the ruler using chalk (easy to wipe off!) Now, you are ready to paint!
3. Line the painter's tape up to your chalkboard line (and you may want to add some tape to protect the gold sides)
4. Using the roller brush, paint the inside of the taped area. Using the mini foam brush, touch up any areas the roller did not cover.
5. Remove painter's tape while it is wet (immediately after painting) in the direction of the painted area.
6. Let completely dry because you will need to put the painter's tape directly on the painted area to do the next color.
7. Repeat with all colors and you are done.