Halloween is (almost) officially here and I am so excited to get started with holiday party planning! Halloween is one of my absolute favorite holidays to decorate for! I'm not just talking scary parties either. ;) Halloween doesn't always have to be scary! ;). It is also such a fun occasion for an elegant, feminine party too. Plus, what an awesome reason to get some girlfriends together for a bunch of spook-tacular treats! ;).




I am so excited to share a feminine Fall pumpkin party form our contributor & friend, Lauren of Going for Grace. She will inspire you with SO many ideas for your next spook-fest! Here is what Lauren has to say: "With Halloween right around the corner, I wanted to flip the table on the traditional black and orange color scheme. Instead, I opted for a feminine feel with white, gold and a hint of pink. I mean, who doesn't love gold glitter pumpkins?!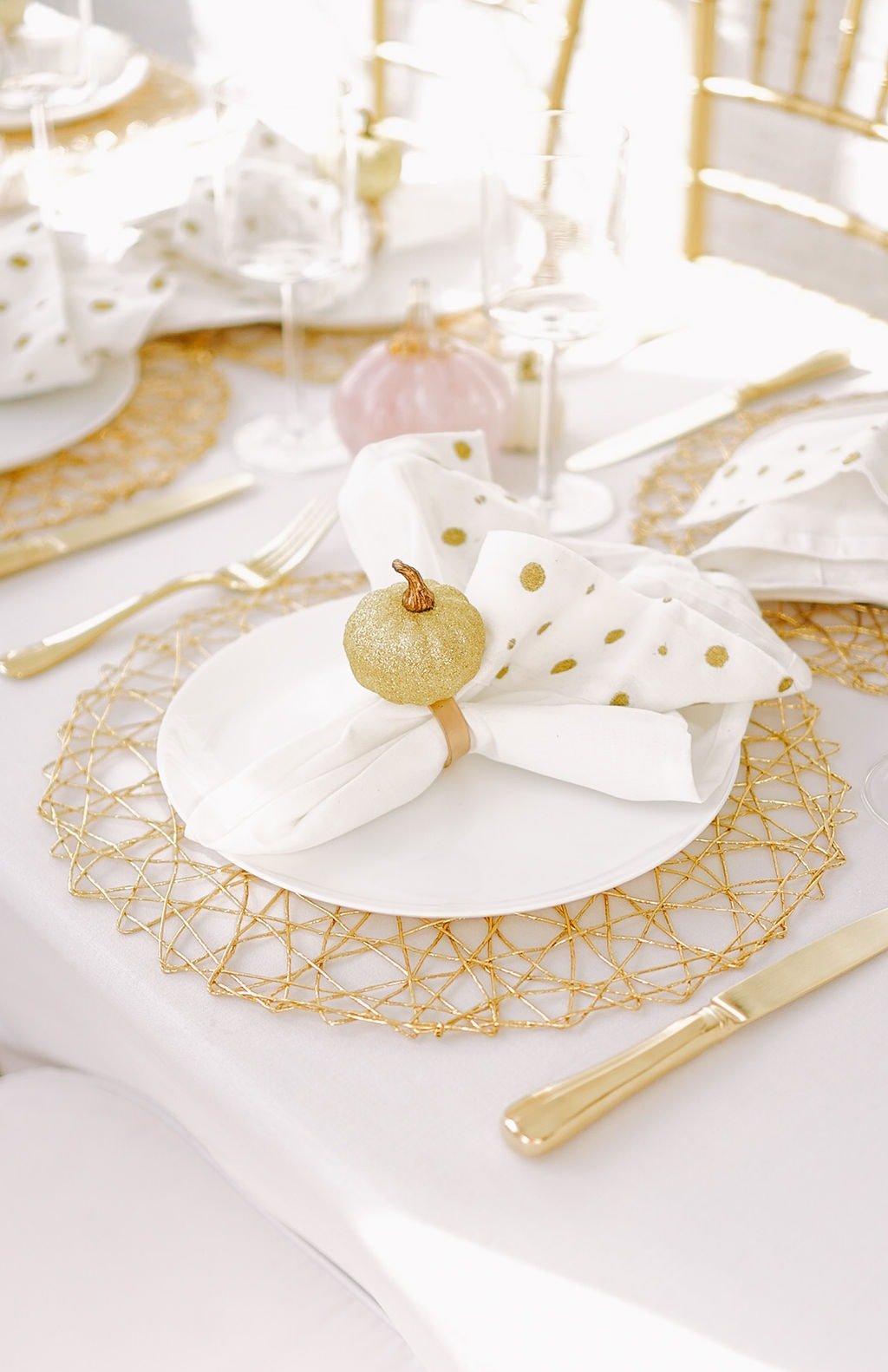 This tablescape could be used for any type of Fall gathering. From a Halloween party with your girlfriends to a Friendsgiving dinner, you name it!




Below, I am excited to share some tips to help you create your own feminine pumpkin party! Ready?!


Choose a Halloween Party Theme

This is the most exciting part! When choosing a theme, don't be afraid to go outside of the norm. For example, this party was meant to be a reprieve from the traditional black and orange pallet of Halloween. Instead, I wanted to do a fun and feminine, reversed type of Halloween dinner party. That meant a light and airy theme with glitter and glamour instead goblins and ghouls!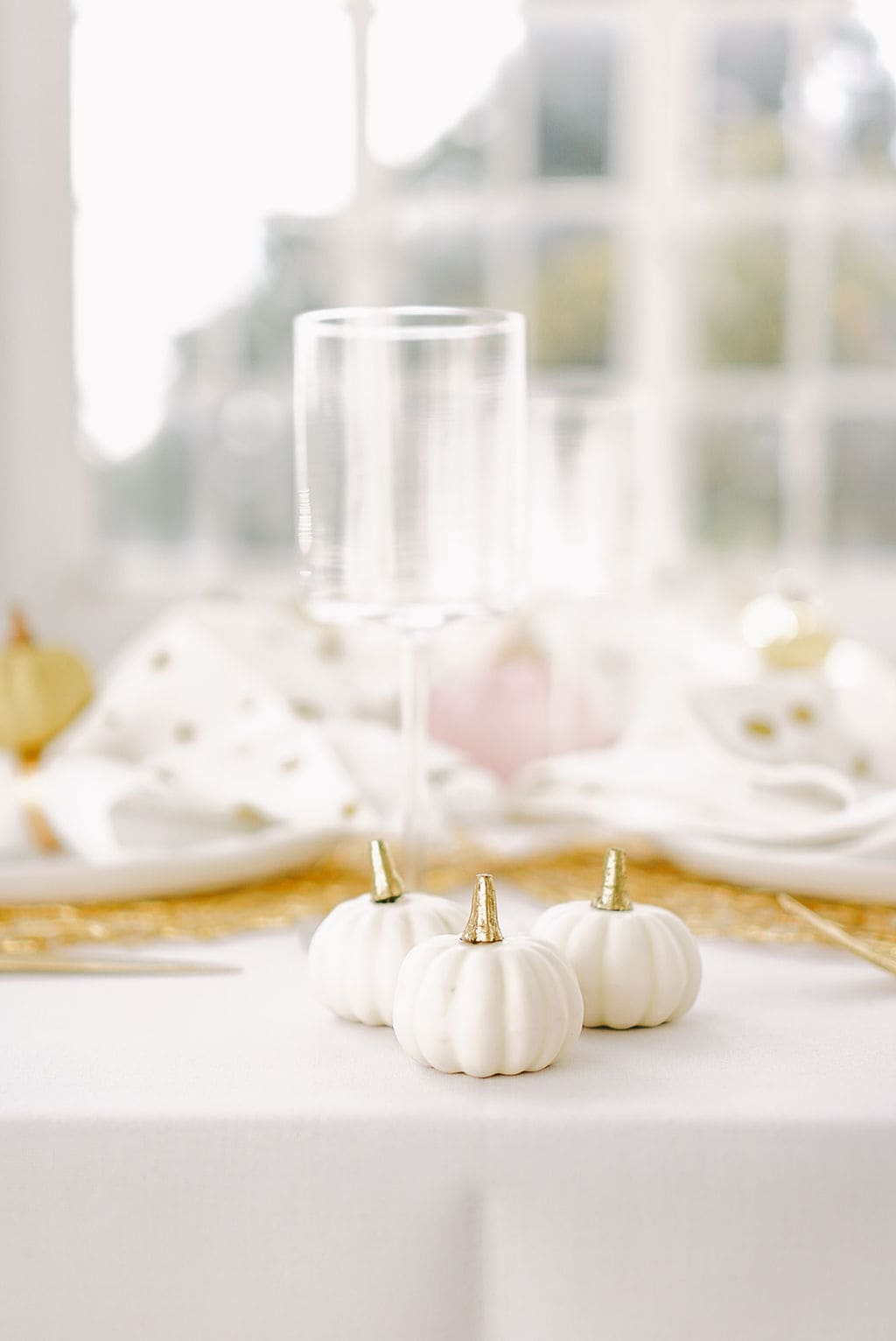 Choose a Color Pallete

When choosing a color pallete, it helps to be mindful of where your party will take place. While creating this feminine pumpkin party, I knew I would be hosting in a very bright and airy setting. This was perfect for my more feminine, reversed Halloween theme! I chose to add glamour through the gold and a touch of ladylike charm through blush accents. If you don't know where to begin, a good rule of thumb is to settle on three colors – one for your base, one for your complimentary, and one for your accent. For this party, white was the base with gold being the complimentary and blush the accent!


Create Depth

Depth can be created in a variety of ways. Some being texture, size, and shape. When creating a tablescape, you want your guest's eyes to both dance and flow. Dance meaning that they want to take in every detail and flow meaning that every aspect is working together in a way that pleases the eye! For this feminine pumpkin party, the main focus was to be on each place setting. Depth was created in these place settings by using a gold woven placemat, a smooth white dinner plate, an embellished cotton napkin, and a glittery pumpkin napkin ring. By using different textures in each of these items, each place setting worked together to help the eye dance and flow over the table! Another way to add depth is by placing coordinating items around the table, such as the group of pumpkinsat the base of the table and along the window ceil. This could also be done with a fun backdrop or overhead decorations!"




Now, who's ready to throw their own feminine pumpkin party?!