Mini Stacked Neapolitan Cakes
I'm back to share a recipe exclusively given to us to feature by Tessa Lindow Huff of The Frosted Cake Shop. Tessa was inspired by Sweetapolita to make these Mini Stacked Neapolitan Cakes for our Neapolitan Dessert Bar that we recently collaborated on.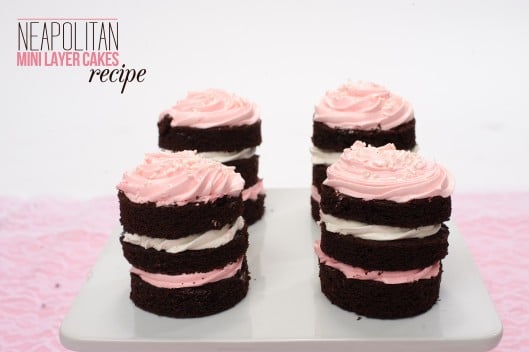 Photography by: Chantel Elder of Eleakis & Elder Photography
Classic Chocolate Cake Recipe

2 1/2 cups all-purpose flour
1 1/4 cups unsweetened cocoa powder
2 1/2 cups granulated sugar
2 1/2 teaspoons baking soda
1 1/4 teaspoons salt
2 whole eggs + 1 egg yolk
1 1/4 cups milk
1 1/4 cups hot coffee
1/2 cup vegetable oil
1 teaspoon almond extract
1/2 teaspoon vanilla extract
Method:
Preheat oven to 350 degrees. Sift flour, baking soda, cocoa, and salt. Set aside.
Using a stand mixer, beat together the oil and sugar with a paddle attachment until combined, about 1 minute. With the mixer on low, add the eggs one at a time. Stir in extracts. Beginning and ending with your dry mixture, alternate dry ingredients and liquids (milk and coffee) until smooth. Be sure to scrape down the sides of your mixing bowl with a spatula between batches.
Pour into prepared cake pans or cupcake liners and bake in a 350 degree oven until centers are done.
Strawberry Italian Meringue Buttercream Recipe

2 cups granulated sugar
1/2 cup water
6 ounces egg whites
6 sticks unsalted butter, room temperature
2 teaspoons pure vanilla extract
2 tablespoons strawberry puree
*Do not use egg whites from a carton, unless they are allowed for baking. Read carefully.
Method:
Put the sugar and water in a saucepan and place on a stovetop. Stir slightly to combine. Heat on high until the mixture comes to a boil. Using a candy thermometer (this is a must), heat until the sugar syrup reaches 238 degrees, or softball stage.
Meanwhile, place the egg whites in a bowl of a stand mixer. Be sure that the bowl and whisk are completely dry and free from any moisture and oil. With a whisk attachment, beat the egg white on high until stiff peaks form. This should take about 7 minutes. If started just after the sugar mixture is placed on the stove, both steps should be ready at about the same time.
Once the sugar syrup reached 238 degrees, remove from heat. Let the syrup rest about 30 seconds to let the bubbles settle. While the mixer is still on high, slowly pour the sugar syrup into the egg whites. Continue mixing on high until the meringue comes to room temperature. The outside of the bowl will no longer be warm to the touch.
Switch the mixer off and remove the whisk attachment. Scrape down the sides of the bowl with a spatula and replace with a paddle attachment. With the mixer on medium, gradually add the butter, a few tablespoons at a time. Pour in vanilla extract. At this point, the mixture might look soupy or separated. Don't give up! Continue to mix on medium-high until the mixture comes together. This may take up to about 3-5 minutes until the buttercream becomes smooth. Use immediately, flavor, or store in an air tight container in the refrigerator.
How to make Mini Stacked Neapolitan Cakes:
Bake the chocolate cake in sheet pans and use any size circle cookie cutter to create cake layers.
To keep things neat and tidy, place buttercream in a piping bag to frost each layer. Alternate between vanilla buttercream and strawberry buttercream.
Top with your choice of sprinkles.