This post has been sponsored by Pocky. All opinions are my own. Thank you so so much for supporting the brands that sponsor our content on Best Friends For Frosting.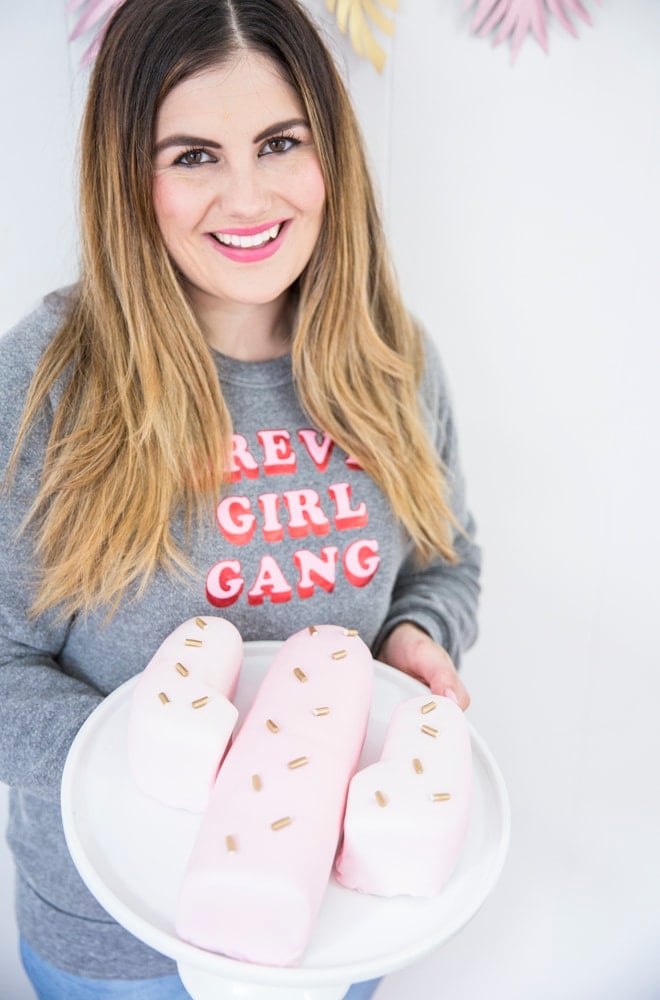 Now that spring is officially here, I am always thinking one entire season ahead! ;) I love how cacti have become so trendy, and they're officially acceptable ALL year around – woohoo!




Who else has grown up on Pocky sticks?! ME TOO! I used to beg my mom to buy them for me whenever we went shopping at the grocery store. They're so good. I love the whole concept of dipping the Pocky sticks into frosting. You know me and my frosting! ;) I am that girl guilty of swiping a frosted decorated flower off every single one of my birthday cakes since I was little. You would think I would stop after being a mom to 2 kiddies, but I am still going strong one swipe at a time! ;)




So when Pocky came to us and asked me to create a concept incorporating their Pocky sticks, I tried to brainstorm something where it would be appropriate to have sticks coming out of whatever dessert I could imagine. Our pink and gold cactus piñata became such a HIT that I instantly started dreaming about how to re-invent this in cake form. After thinking about how easy these gold unicorn horns were to dye with edible gold fondant, the concept clearly clicked!




And you won't even believe how easy this cake was to make! Talk about a level of being instantly happy!!! Did anyone ever make Easter bunny cakes growing up? I used to make them with my mom all the time. It was one of my favorite memories in the kitchen. We would go all out with dyed coconut, jelly beans, licorice, the list goes on! We even made kitty cat cakes the same way. Creating this cactus cake is very similar to this process.




Using a sheet pan, bake your favorite flavor of cake! Frost it with your favorite shade of pink. I love using Americolor Gel to dye my cake as it's always so easy to achieve the perfect shade of pink. Frost away. You could even cover the top with fondant to give it a smoother look. Next up take your Pocky sticks and cover each one with fondant. It will give it that smooth look, and rest assured, it dries incredibly quick. We're talking hours to a day. Next up, use your gold paint to paint each cactus prick. Once it dries, gently spread those pricks all of over your cactus, and you're officially in business to make someone VERY happy!




If you guys make this, I would love to see! Share you photos using the #SOBestFriendsForFrosting hashtag. P.S. Struggling on where to score Pocky? They just added a locator page, which is basically like your best friend giving you a tour guide of all locations of Pocky! Who else knew they made other wildly fun flavors like Matcha, Banana, and Cookies & Cream? I haven't even tried these yet, but I'm on it STAT! To be continued!

How To Make A Pink & Gold Cactus Cake
MATERIALS
Boxed cake mix (vanilla)
Frosting
Half sheet pan
Fondant
Edible gold highlighter
Paint Brush
Rolling Pin
INSTRUCTIONS
Mix all of the ingredients for your cake mix and pour into a greased half sheet pan. Put into the oven and bake for 40 minutes.
After your cake is cool, cut your cactus shapes out.
Add two drops of food gel dye into your fondant and knead until mixed.
Roll out your pink fondant and place and cut each piece until each part of your cactus is completely covered.
Use a knife to cut your Pocky sticks into half-inch pieces. Paint each piece gold with your edible gold highlighter.
Using your pink frosting, glue your gold Pocky sticks onto your cake to look like cactus pricks.