This pineapple cake, layered with a homemade pineapple curd and decorated with rich Swiss Meringue Buttercream, is the perfect cake for summertime! This pink pineapple cake would be so great for a summer party or upcoming baby shower or birthday party! Try out this fun pineapple cake recipe as the perfect celebration for summer!
Pink Pineapple
Hello, summer! Raise your hand if you're just as excited as I am that summer is finally here! You know me – I am ALL about the sunshine, and I am so excited to bust out the flip flops, summer dresses, and, you guessed it – everything pineapples!
Pineapples are the perfect symbol for summer and they are so on trend, which is why I am SO excited about this fun Pink Pineapple Cake by our talented contributor Ashley Byma. This might just be one of my favorites yet! I just love how simple, yet gorgeous, the decoration is on this. The right frosting tip and fun sprinkles can definitely go a long way! But even if this cake looks a little daunting for your skill level, don't worry! Use this as inspiration and ask your favorite bakery to recreate it for you. What a fun way to celebrate sweet summertime!
Pineapple Cake Recipe
Making the cake is pretty simple! First, be sure to preheat your oven to 325 degrees so it's ready to go once the batter is done. Then, gather all of your ingredients. Start with a box of white cake mix, as well as flour, sugar, salt, sour cream, pineapple juice (YUM!), vegetable oil, vanilla extract, and eggs. For the pineapple juice, you can just use the juice from cans of sliced pineapples. Easy! I absolutely love doctored cake recipes because they simplify the whole process. To get the perfect batter, mix together all of the dry ingredients, and then add the sour cream, pineapple juice, vegetable oil, vanilla extract and eggs. Be sure not to overmix your batter!
How to Bake A Cake
Grab three 6-inch cake pans to prep before baking. Be sure to line the bottom of each pan with parchment and spray each of the pans so your cakes won't stick! Once everything has been mixed, pour a third of the cake batter into each of the cake pans. Bake the cakes for 25 minutes or just until the middle of each cake is set. Test if the cake is baked by inserting a toothpick into the middle of the cakes to make sure no batter comes up. If the toothpick comes up clean, the cakes are done! Once done, set the cakes aside to cool, and then wrap them in plastic wrap before putting them in the freezer. Freezing the cakes will make sure they don't crumble during the decorating!
Pineapple Curd
While the cakes are in the oven, make your pineapple curd! This is such a creative addition. Gather eggs, egg yolks, pineapple juice, sugar, cornstarch, and butter to get things going. Combine all of the pineapple curd ingredients into a saucepan and whisk them together. Cook over medium-low heat and continue to stir the mixture until it begins to thicken. Once the curd is as thick as warm pudding, it's ready to remove from the heat. Then, push the curd through a fine-mesh sieve to be sure you have smooth curd. Cover the pineapple curd with plastic wrap and leave it in the fridge for two hours to cool and stiffen.
Swiss Meringue Buttercream Recipe
Swiss Meringue Buttercream is definitely a favorite in the baking world! It's so so good and it doesn't require too much effort to make. Plus, it makes decorated cakes so gorgeous! To make the buttercream, you'll want to heat a small amount of water on the stove until it boils to create a double-boiler. As the water heats up, whisk together sugar, egg whites, and salt. Then, make the double-boiler with your mixing bowl, constantly whisking while the mixture heats up. Once heated, put the mixture in your stand mixer, and beginning at the lowest setting, constantly mix it, slowly moving to the high setting until the meringue looks glossy and forms stiff peaks. Once peaks begin to form, add in your butter and mix until smooth, and then add the vanilla. Be sure to whip the frosting on medium speed until smooth.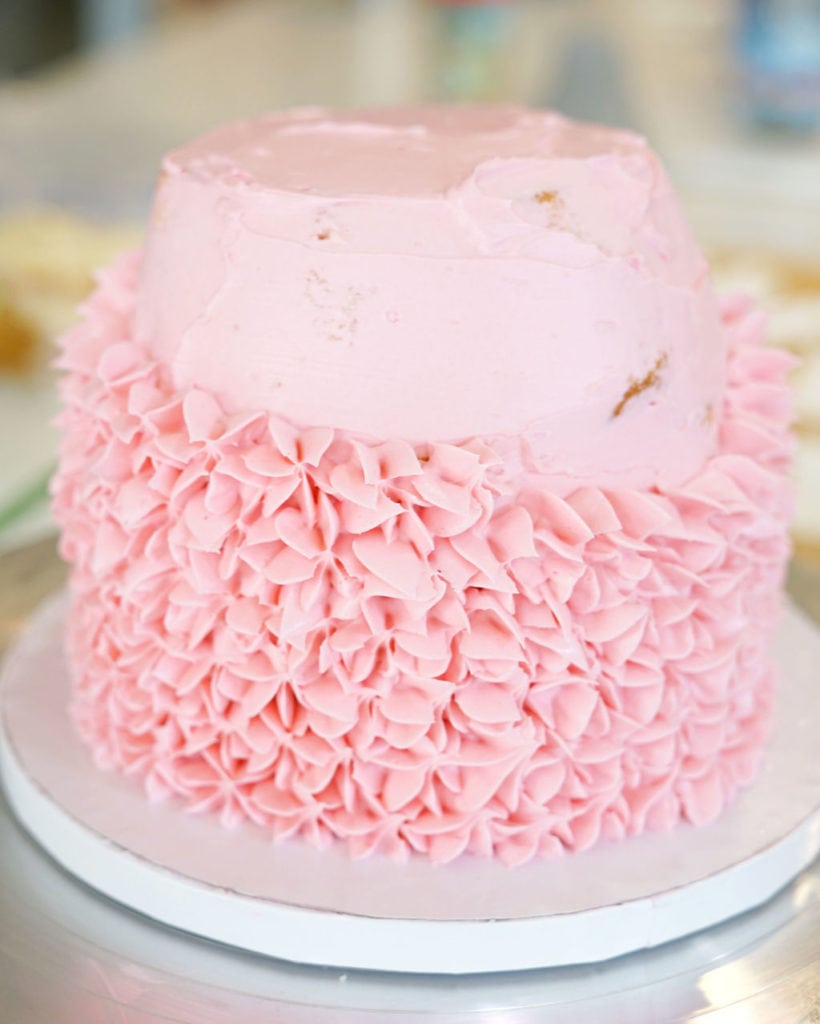 How to Frost a Cake
To put together this fun pineapple cake, take your cake layers out of the freezer and unwrap each of them. If they didn't bake totally evenly, that's okay! Just use a bread knife to trim the top off to make it flat. Before filling and icing the cake, stack the layers and trim your cake layers into a pineapple shape. Simply use a serrated knife to trim around the outside of the layers, taking the most off of the first layer. But don't worry, it doesn't have to be perfect! Once cut, unstack your layers and get ready for buttercream and pineapple curd! Use a bit of buttercream to "glue" the bottom layer to a cake board. Then, create a barrier around the bottom layer with buttercream and fill with pineapple curd. Add the second layer and repeat. Frost the entire outside with an offset spatula, and then use a Wilton 1M tip to pipe small stars around the whole cake.
Summer Cake Recipes
If you've been on the hunt for a great cake for an upcoming summer party, this is it! This Pink Pineapple Cake just screams summer. It's so fun! Plus, you can customize the frosting color for whatever event you want! What parties do you have coming up that this would be perfect for? Tell me all about it in the comments below!
Pink Pineapple Cake
This pineapple cake, layered with a homemade pineapple curd and decorated with rich Swiss Meringue Buttercream, is the perfect cake for summertime! This pink pineapple cake would be so great for a summer party or upcoming baby shower or birthday party! Try out this fun pineapple cake recipe as the perfect celebration for summer!
Print Recipe
Ingredients
Pineapple Cake

1

box white cake mix

1

cup

all-purpose flour

1

cup

granulated sugar

¾

teaspoon

salt

1

cup

pineapple juice

leftover juice from about 2 large cans of sliced pineapples

1

cup

sour cream

2

tablespoons

vegetable oil

2

teaspoons

vanilla extract

3

eggs

Pineapple Leaves

1

cup

Wilton Bright White Candy Melts

Gel food coloring

Pineapple Curd Filling Recipe from Baked by an Introvert
Swiss Meringue Buttercream from my Pink Champagne Cake
Instructions
Pineapple Cake

Preheat oven to 325° F. Spray three 6-inch cake pans with cooking spray and line the bottoms with parchment paper.

In the bowl of a stand mixer fitted with a whisk attachment, add the dry cake mix, flour, sugar, and salt. Mix until combined.

Switch to the paddle attachment and add pineapple juice, sour cream, vegetable oil, vanilla & eggs. Mix on low-medium speed just until combined but do not overmix.

Pour 1/3 of the batter into each cake pan and bake for about 25 minutes or until the middle is set. Insert a toothpick in the middle of the cake to test.

Pineapple Leaves

Melt candy melts in microwave in 30 second increments, stirring in-between.

Stir in gel food coloring of your choice. I used about 2 drops of Americolor "Mint."

Using a spoon, add a dollop of melted candy melts onto a sheet of parchment paper. Using the back of the spoon, spread the dollop upwards to form the leaves. Repeat to make multiple leaves.

Allow to dry on parchment paper (this happens quickly!) before removing.
Assembly:
If the cake layers do not bake evenly, you can use a bread knife to trim the top off and make it flat which is easier for decorating. If you froze the cake layers, you will need to let the cake layers thaw just a bit before trimming.

Start with the frozen/semi-thawed cake layers, and place one layer on a cake board. You can use a spoonful of buttercream as "glue" between the cake layer and cake board if you like.

I recommend stacking & trimming your cake layers into a pineapple shape BEFORE filling with buttercream and curd. You'll see in the photo I did not do that and it was a bit of a mess! To make a pineapple shape, stack all 3 cake layers without buttercream or filling; then simply use a serrated knife to trim around the outsides, taking the most off the top cake layer; less off the middle cake layer; and even less off the bottom layer. It doesn't have to be perfect; the piped buttercream will cover any mistakes.

 Unstack your top 2 plain cake layers. Starting with the bottom cake layer (already "glued" to the cake board with buttercream), pipe a circle of buttercream around the perimeter of the cake layer to create a barrier; add a thin layer of buttercream then spread a generous amount of pineapple curd over that.

Add your second cake layer and repeat with the buttercream/pineapple curd, top with 3rd cake layer; then frost the outside with the buttercream using an offset spatula.

Using a Wilton 1M tip, fill your piping bag with buttercream and pipe small stars all around the cake, starting with the bottom, working your way around to the top.

Using a sharp knife, cut a slit in the top the cake for each of your pineapple leaf pieces. I created two separate pieces so I cut two slits parallel to each other. Carefully place leaf pieces into slits, arranging the larger piece in the back.