Claire definitely takes after me, and already loves parties! ;) Her sweet face lights up during birthday parties and some of our past little get-togethers. It's the sweetest thing ever! So I decided to surprise Claire and invite my two nieces over for a fabulous girl's princess party with Claire and I! :)


Claire's Princess Party
This party was not as crazy to plan as it might seem! I ordered all of the food for the event ahead of time and then purchased some amazing princess products through TownleyGirl to really kick it up a notch! My nieces Paisley and June are such sweet girls and such wonderful friends for Claire! All together our three little princesses had an absolute ball at our Disney Princess Party! ;)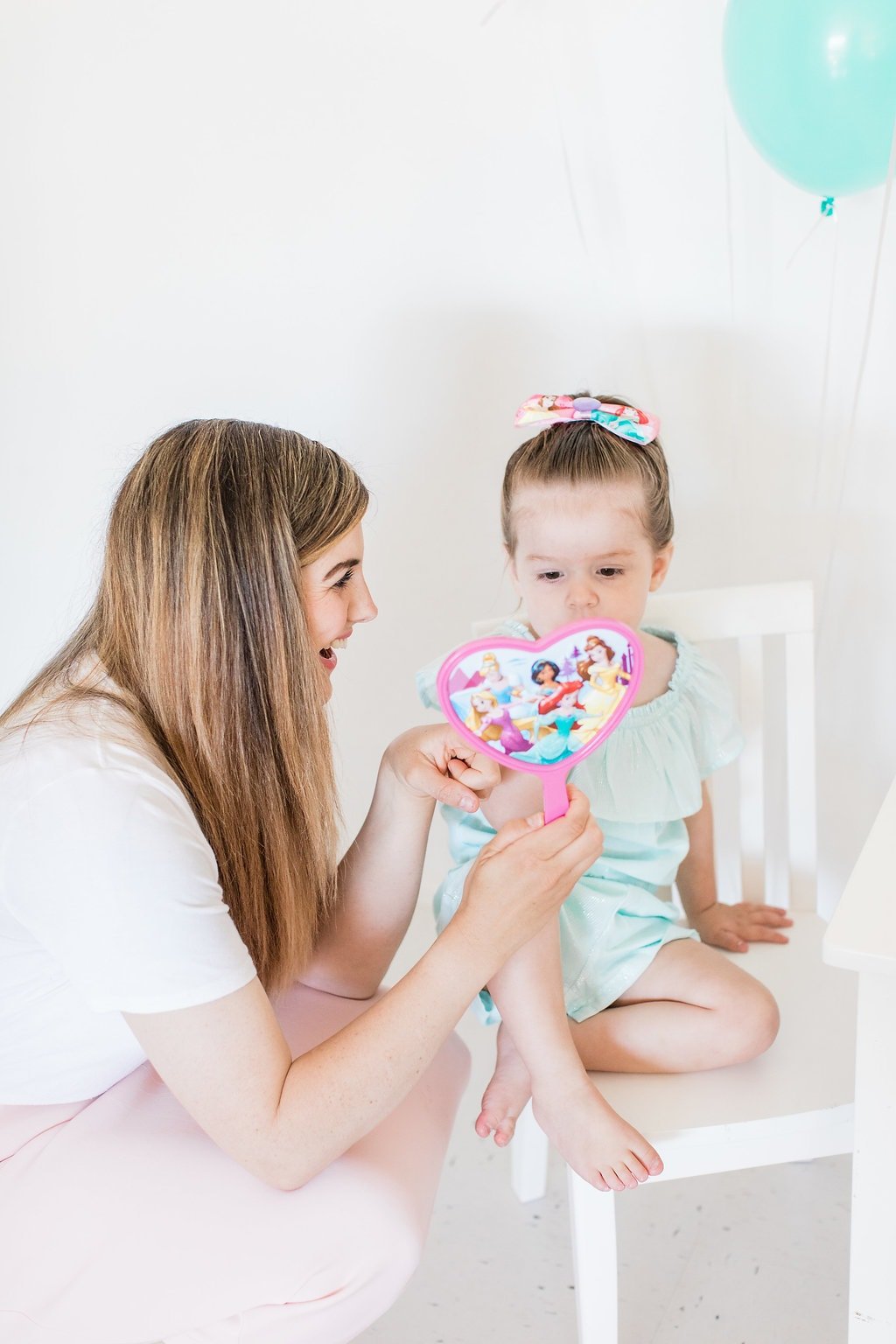 Sweet Princess Treats
The sweet desserts were one of the my favorite parts of this party. Each individual treat was designed and baked by my friend Ashley Ornellas of Peace, Love, and Eat Cake. I love working with Ashley because she is absolutely amazing and we always seem to be on the same page! We both totally agreed the best menu for our little princesses meant sweet treats and lots of pink! I did not take much convincing for that plan. ;) Ashley baked this gorgeous pink cake as the centerpiece for the table, but didn't even stop there! She also made a heart-shaped sugar cookie for each one of the girls. These were by far my favorite! We decorated each cookie with the girls' names on them, so they really felt like little VIPs! Before the party started, the girls all kept trying to sneak these cookies. It was so funny! Claire's favorite part though, were these ice cream cupcake cones! She was all about these adorable cupcakes! She actually threw a huge fit over them as were photographing the table. She was dying for one, but I wouldn't let her have one until we had photographed everything. I have never felt so mean! Once they all got to finally taste all of Ashley's creations though, the little princesses were much happier! ;)


Princess Products with TownleyGirl
Have any of you ever shopped TownleyGirl? I have only been shopping it for a few years since I've had Claire. It's honestly become my first stop when shopping for pieces for Claire's parties or just for fun surprises. ;) I ordered some cute accessories and activities for the party from TownleyGirl and they were amazing! The first things I found were these little clip-on hair bows. I just had to have them for the girls! SO CUTE! I also snagged this bigger hair bow and had to debate getting a matching one for myself. ;) The girls had such a blast with the hair bows and styling each others' hair with them. It was the funniest thing! They took turns being stylists and giving each other royal-worthy hair-dos with this hairbrush. Plus then of course with our princess hair came our princess spa day! No princess is complete without a full makeover right?? ;) I had so much fun with this part! I had ordered the girls lip gloss, some press-on nail kits, and a full spa nail and pedicure package for the full royal treatment. They were all so affordable, but the girls thought they were being full on pampered! We all joined in and took turns getting our nails done. Claire even did mine for me! Hello to my new Beauty and the Beast themed manicure. ;) Above anything else though, this vanity mirror and lip balm set was the biggest hit! The girls were hysterical with this mirror! They would give each other salon-style makeovers and then do the big reveal with this mirror. It was like their own little TV show! Absolutely hilarious!




Overall this party was such an absolute joy. I loved getting to spend some quality time with Claire and my nieces! Plus what adult woman doesn't want to spend the day pretending to be a princess again? Honestly I think I might have had even more fun than them! ;) I totally have TownleyGirl to thank for all of their fantastic princess finds that took the party over the top! I'm already looking for ways to plan another party like this one. Have any of your recently thrown a party for you kids? Or come up with any fun themes for them? I would love some inspiration from you guys for another one or maybe one for Charlie! :)

Disclosure: This post has been sponsored by TownleyGirl. Thank you for supporting the brands who support BFFF!