Summer is nearing its end, which is officially the most perfect excuse to host as many summer parties as possible before it's all over, right?! If you're anything like me, we already share a love of pineapples and pink, so of course I had to utilize this combo to its fullest extent! ;) I've had my eye on this bar cart (along with half of everything else in the store) from Marshalls for months and months and months. When I finally caved on buying it, they were SOLD OUT! =( Luckily, I found it at another Marshalls in a city about 30 minutes from my house. I had the perfect vision for this piece! Plus, I've been on the edge of my seat to incorporate inspiration from these Palm Leaf Balloons by Studio DIY into something fun! ;) I'm so happy it all worked out so well before the end of summer! ;)
I have to tell you guys, my summer has been absolutely crazy because of our big move, and at times I have felt overwhelmed. ;) This was the perfect little project to get my mind off of the move, while still producing something that would be a blast for summer entertaining in our new house! I promise I'll have more home updates your way soon! ; )
Making the tiki frame was not wildly hard – I promise! You just need a few pieces of wood, a drill, and then some fun decor! I know it sounds intimidating, but this was as easy as one, two, three!
It will sit perfectly on top of your bar cart. I was impressed with how sturdy this was!
And of course you will want to dress it up with some fake grass skirting. This is what truly ties in that tiki vibe! I also ordered some palm leaves from Amazon but decided not to use them as it felt too festive.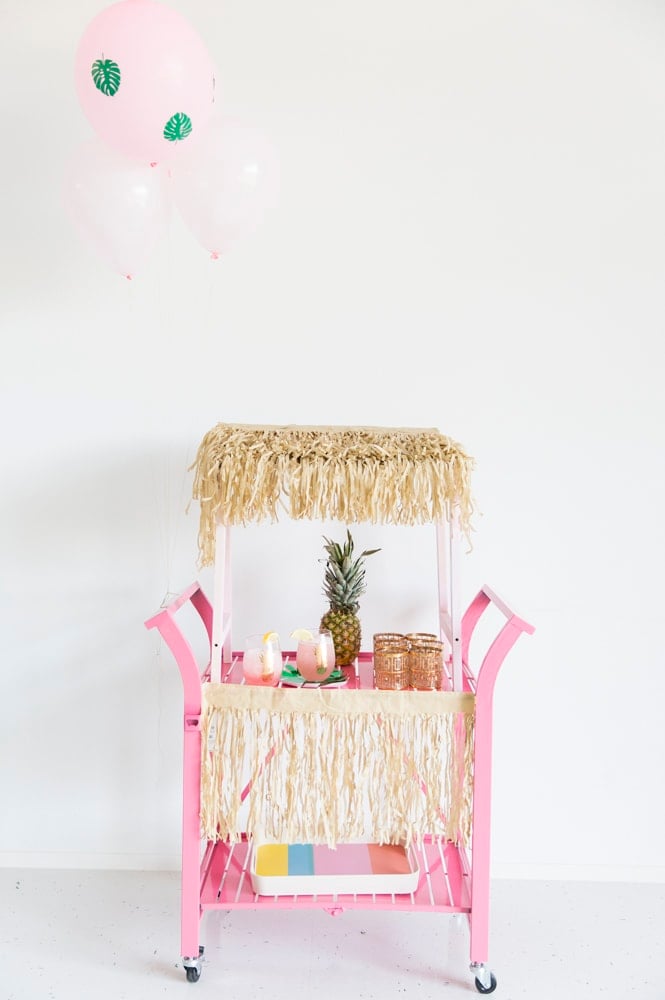 Add your favorite bar cart essentials and one of your favorite tiki drink recipes, and you're all set! Ready. Set. Party!
Did I mention this makes a fun Instagram-worthy background! ;) So grab your gal pals and your hot glue gun, because you'll want to remember this Pink Tiki Party for years to come! P.S. Stay tuned later this week, I'll be sharing the kid's tropical pineapple tablescape from the party!
HOW TO MAKE A DIY TIKI BAR CART
Materials
Four 1in X 3in X 24 inches long pieces of birch wood
1/4in wood drill bit and screws
Drill
Cardboard
Fake grass
Hot glue gun
Pink spray paint
INSTRUCTIONS
Step 1
Cut out your wood pieces to fit the measurements and base of your tiki bar.
Step 2
Using a drill and screws put your tiki bar frame together.
Step 3
Spray paint your tiki frame pink.
Step 4
Tiki Roof
Measure and cut your cardboard to the width and depth of your tiki frame.
Step 5
Measure and cut your grass the same length as your cardboard roof. Hot glue it onto the cardboard.