Are you ready for some football?! The Big Game (AKA the Justin Timberlake Concert) is just around the corner and I am totally in full party planning mode around here! Who else has already started gathering party decorations?! I am right there with you sister! ;)




Every year I go to a Game Day party, but this year we're hosting at our new house. Who knows, it might just become my new thing. ;) With the excitement of the game and the commercials, plenty of football themed snacks, and fun times with friends – there's nothing quite like a Game Day party! ;)




Decorating for the party and coming up with new decorations is always so much fun! There are so many different ways you can tie in a fun football theme- the options are endless. Believe it or not, this is my first party post on BFFF that does not include an ounce of pink… unless you count the pinkish tomatoes on the sliders! ;)




I think the key to decorating is to have fun with it and really go all out. If you have fun with it, your guests will too and they'll definitely appreciate the little details! These Football Brownies are the perfect example. They are so inexpensive and easy to make, but add such a cute touch, don't you think? I literally bought brownies from the bakery and piped on white lines with icing to make them look like footballs.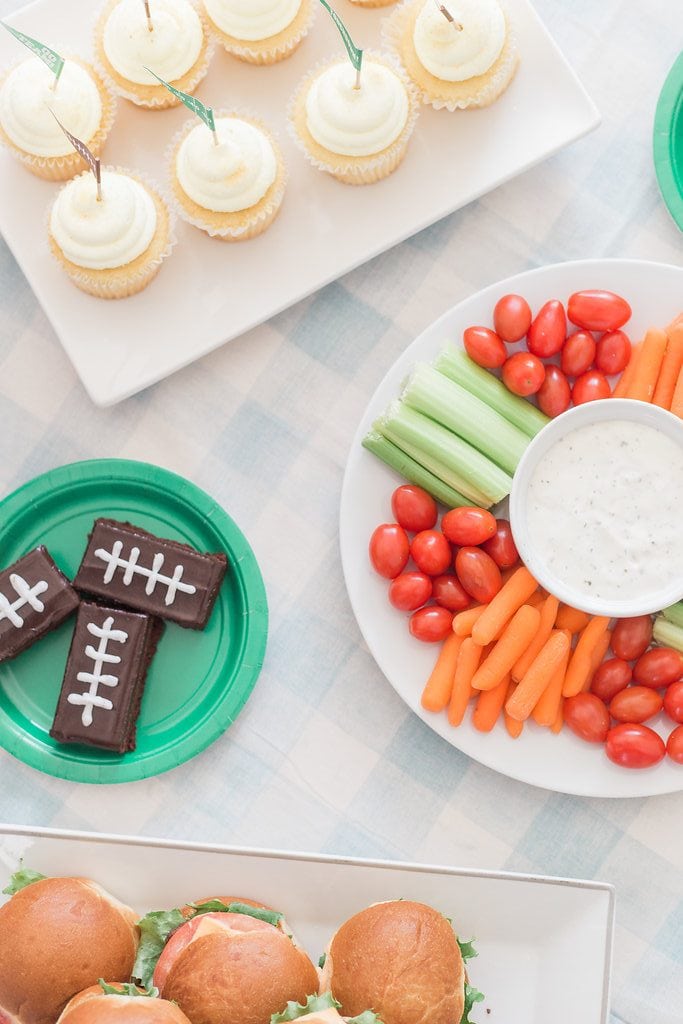 And of course a party is not complete without balloons. I added a variety of balloons from colorful latex balloons, to mylar balloons, and metallic letter balloons that spelled out "Game Day". Don't be afraid to mix patterns and materials with your balloon set up. It's such a fun way to tie in the theme.




Of course we can't forget about the different Game Day snacks! I'm setting up this Slider Bar for easy snacking throughout the game. Feeding a crowd can be daunting, but buffets, bars, and "make your own" stations like this one will be so easy on you and your guests. You can add bacon, cheese, onions, lettuce, or tomatoes – the toppings are endless.




We also always include a big pot of this Jalapeno Artichoke Dip at Game Day! It is seriously so addicting and a huge crowd pleaser. If you're headed to a Game Day party, I highly recommend whipping up some to bring along. I'm telling you, with a batch of this, you will instantly be everyone's favorite person at the party!




For the kids, you can't go wrong with these Lemon Cupcakes. I guarantee you'll see plenty of adults enjoying them too! I decorated these with Game Day cupcake pics, but the sky's the limit with this football theme! You can even decorate your cupcakes with some turf-green frosting and piped on white frosting for quick yard lines.




The decorations and food are of course a crucial part of the Big Game. But most importantly, if you're hosting a party this year, make sure your guests get home safe. I recently learned that California looked at 5 years of data and determined there was a 77% increase in alcohol-related crashes causing injury or death on Game Day- this affects every single city. I also found out that in 2015-2016, drunk driving deaths went up for the first time in over 30 years. I am a huge fan of Uber and how easy it is for anyone to be a #DesignatedRider, reduce impaired driving and get home safe after the Big Game. If you want to go the extra mile, I highly recommend setting up an UberEvents. Last year, we went to a party where the hostess set one up and it was such a game changer (pun intended!) It takes seconds to set up and allows your guests free rides home from your party. You only pay for the rides that were actually used, but it was so great to know that everyone got home safe that night. You or your guests can always call Uber (or any other form of transportation that will get you home safely) for a responsible ride, wherever Game Day takes you. You can learn more about the #DesignatedRider initiative here.

Disclosure: This post was sponsored by Uber. Thank you so much for supporting that brands who support BFFF.