Hallmark Christmas Movies Party
Could you imagine the holidays without Hallmark Channel Christmas movies? I couldn't even imagine! As I type this post, I am drinking hot cocoa and blasting Christmas music. The season is officially here, and this season is sooo joyous! Hallmark Christmas movies were an uplifting childhood staple for me. I always associate the winter holidays with hot cocoa and Hallmark movies, and that feeling is still going strong! Bring on ALL the warm blankets and cute Christmas mugs, right?!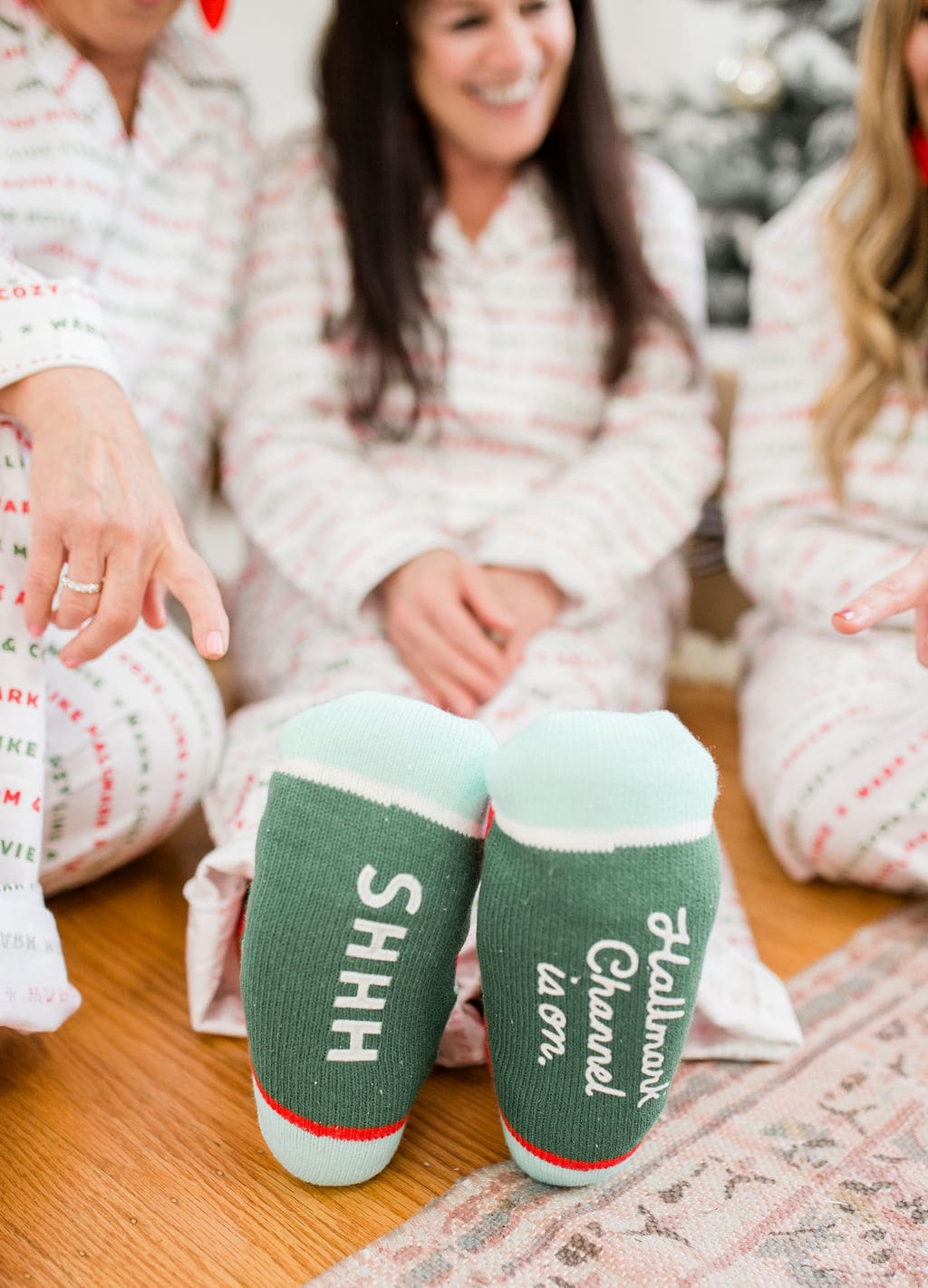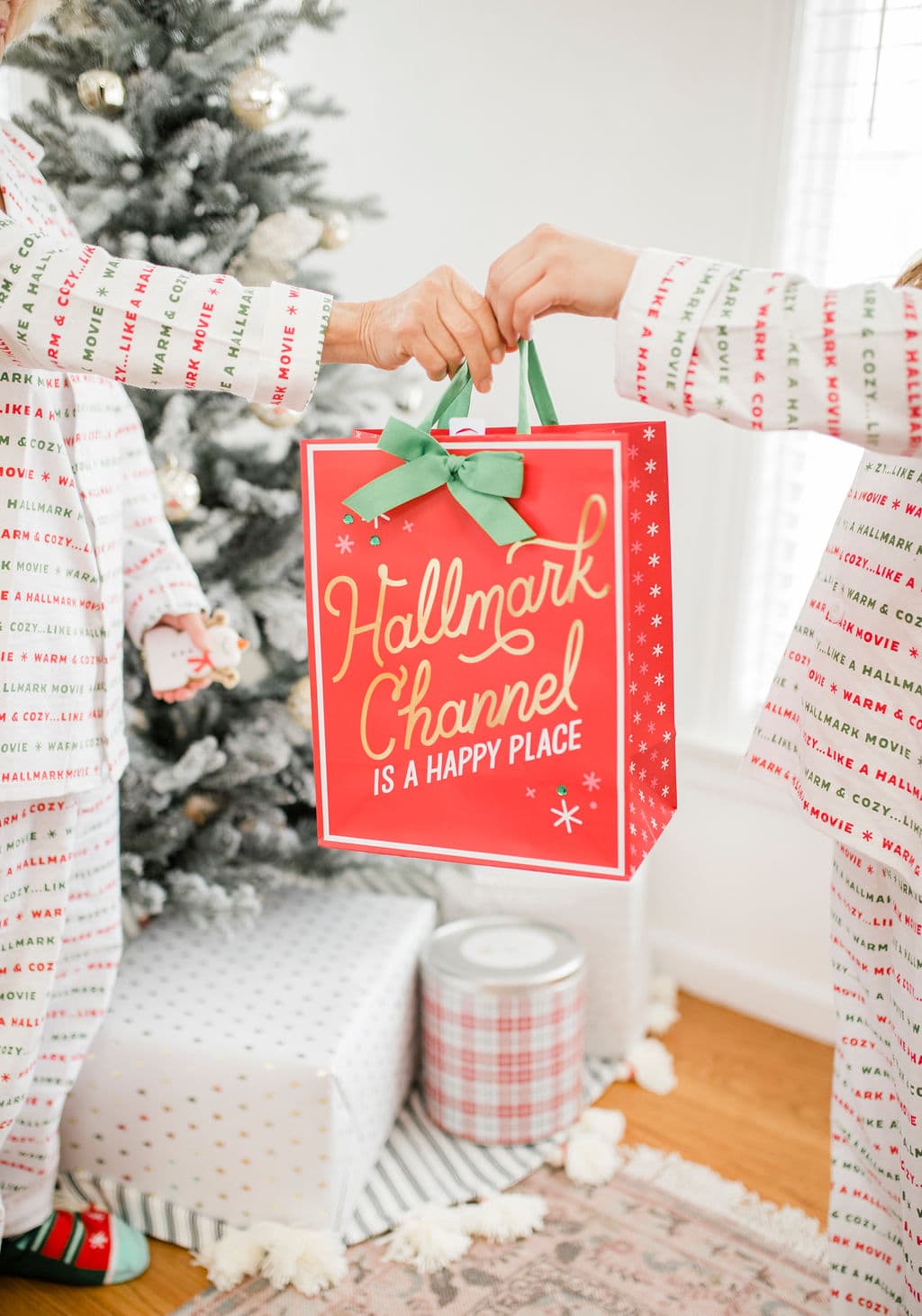 Confession: I have been dreaming of doing a Hallmark Channel Christmas party for years… but when they dropped their large movie fan line, I was officially determined to check this one off my blogging bucket list! ;) I was like, this is THE YEAR we're doing this. Truly, the timing could not get any better. My mom's sisters, Aunt Jo Ann & Aunt Patty were in town just at the right time, so I knew this party would be an extra cherry on top of their stay!
Christmas Decorating
Kim and I decked out our #SOBestFriendsForFrosting Airbnb, Hallmark Style, and I had so much fun surprising them the next day with a Hallmark Movie Watching Party! My wheels were spinning! I wanted to do all the fun things they do in Hallmark Channel movies- many of which are our favorite family traditions! I am sure you can relate too! I ended up decorating the Airbnb with so many fun Christmas decorations, incorporating Hallmark's 'Things I learned from Hallmark Movies' sign and even Hallmark Channel countdown to Christmas decor to top it all off.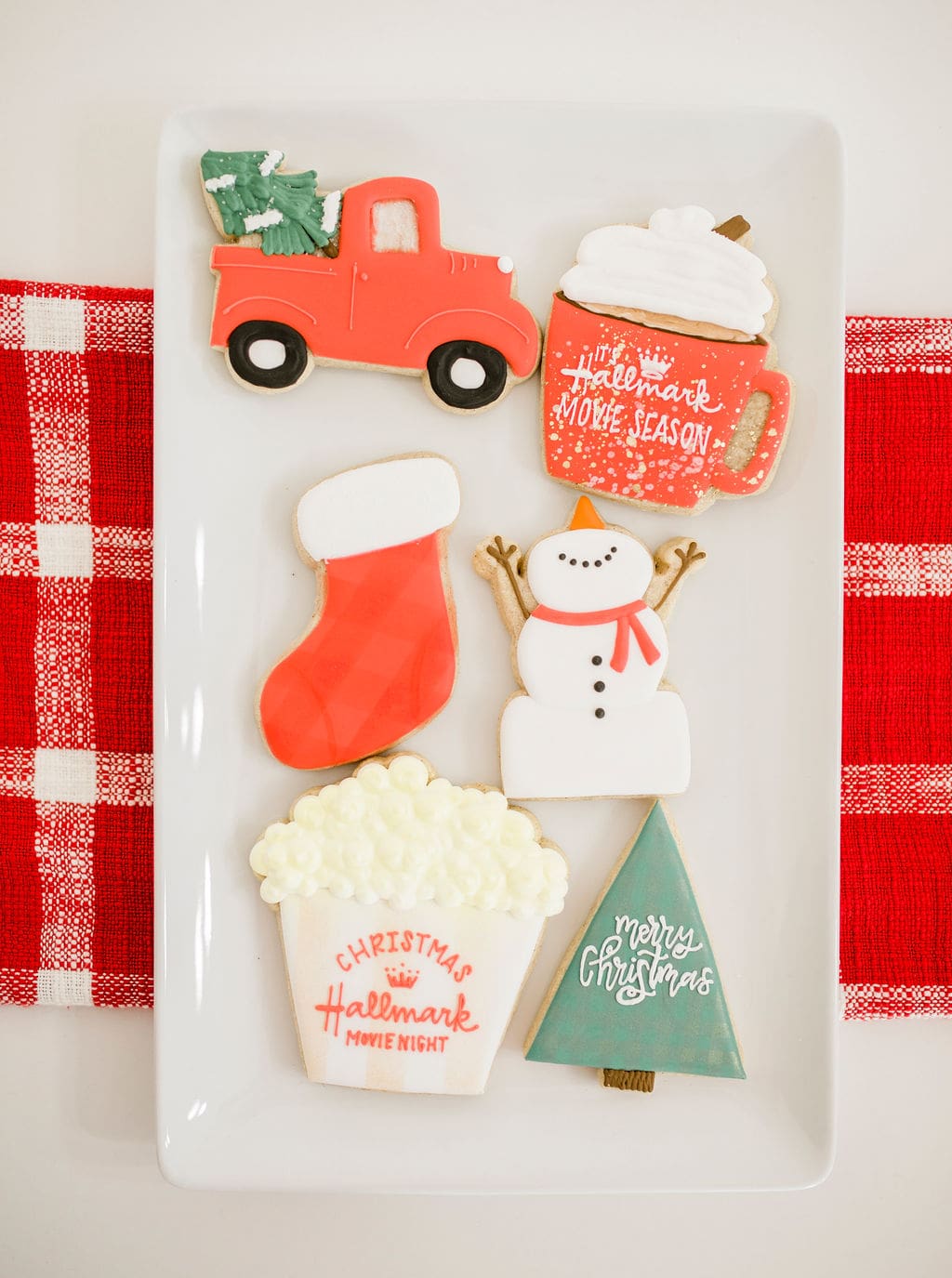 I played the description down VERY low key to my mom and aunts. I asked if they wanted to come over to watch a Hallmark movie and said we could have a party but didn't go into many details. I had this one totally up my sleeve! After Charlie's surprise Target birthday party, you're probably getting to know how I roll a little better these days. ;) Thematic parties are sort of my thing! It's so fun to make a splash!
Hallmark Channel Christmas
So when my mom and aunts came over, they SCREAMED with joy! I think the Hallmark doormat may have tipped them off a little bit, but they still had no idea what was really up my sleeve. It was one surprise after another. They didn't know much about the new line (surprisingly), so they were floored stuff like this even existed. The new line full of all of these amazing authentic Hallmark Channel products is only available at Hallmark Gold Crown stores or on Hallmark.com. What a joy it was to be the bearer of such wonderful news and gifting. I love my aunts so much and have a very close friendship with all of my aunts (I have even more that aren't pictured here). Family is my whole heart!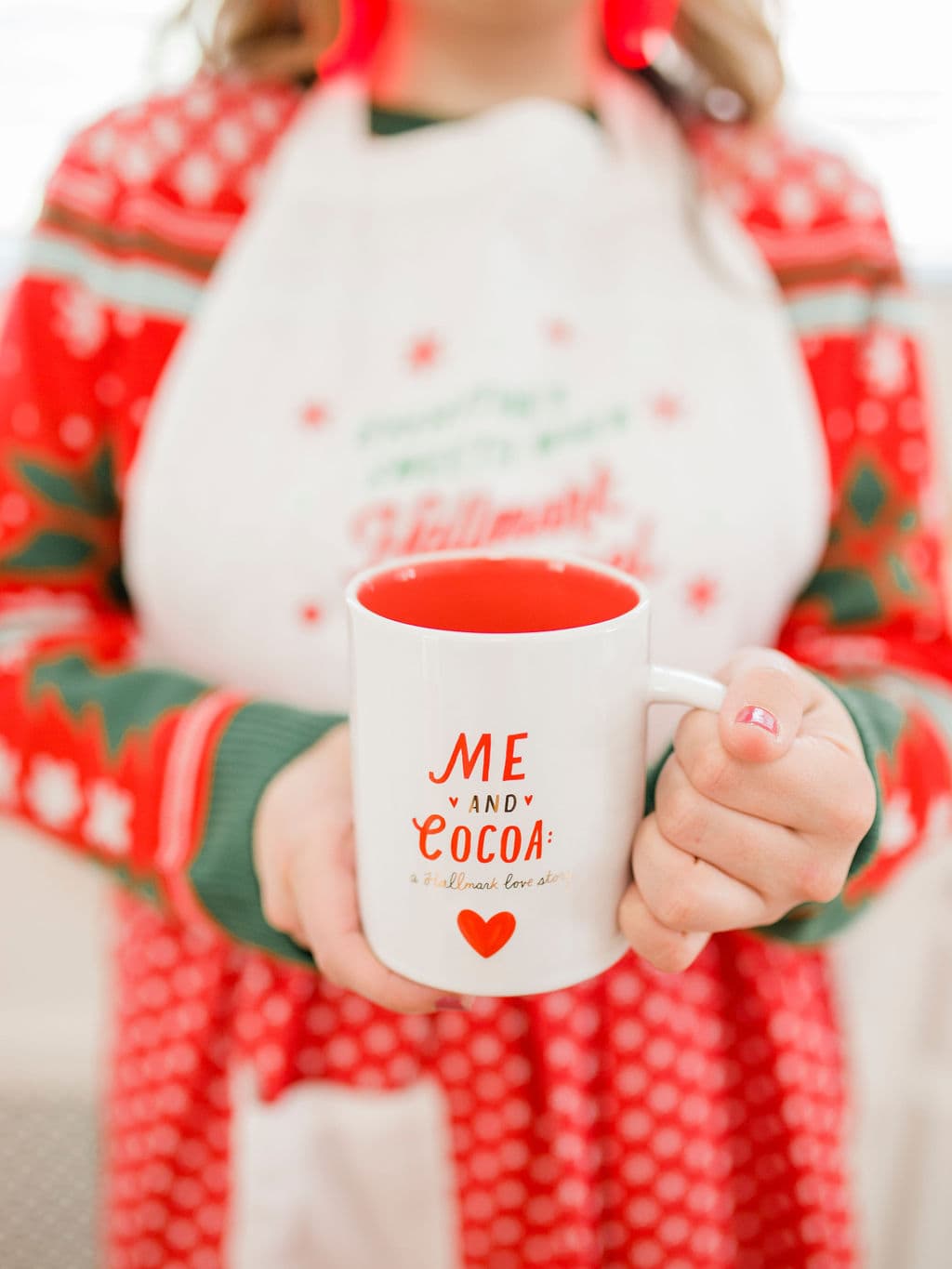 Hallmark Movie Day
I greeted them to the party with big mugs of hot cocoa with my new favorite 'Let's Watch Hallmark Movies' mugs. My aunts were ALL so excited. As one surprise rolled out after another, they would scream with glee! I was so happy to have this time together and to even get photos while we were at it. We took a million silly and serious photos in our matching Hallmark Channel Christmas Movie sweaters. We also added fun red bulb earrings to the mix for our photos, and the new Hallmark line even features green bulbs and reindeer antlers for your own party! So so fun! The stockings were hung by the chimney with care… and I felt like Santa Clause this year! ;) HO HO HO!
My Favorite Christmas Movies
I have so many favorite Hallmark Channel Christmas Movies. From Mrs. Miracle — to anything Debbie Macomber writes to A Godwink Christmas, the list is like a mile long. Who else agrees that Hallmark Movies are the heart of Christmas? What is your favorite Hallmark Christmas Movie? Who do you normally watch them with? Hallmark Movies make me see the good in people, forget about my stresses and uplift me! Do you feel like that too? It's no wonder so many people are obsessed and identify with their love of this channel. This is ALSO coming from someone who does not watch the News. I call it the blues. ;) I always try to surround my media time with happy and uplifting opportunities to offer value into my life, and Hallmark is definitely a big part of that. Who's with me? Hallmark marathon here we come!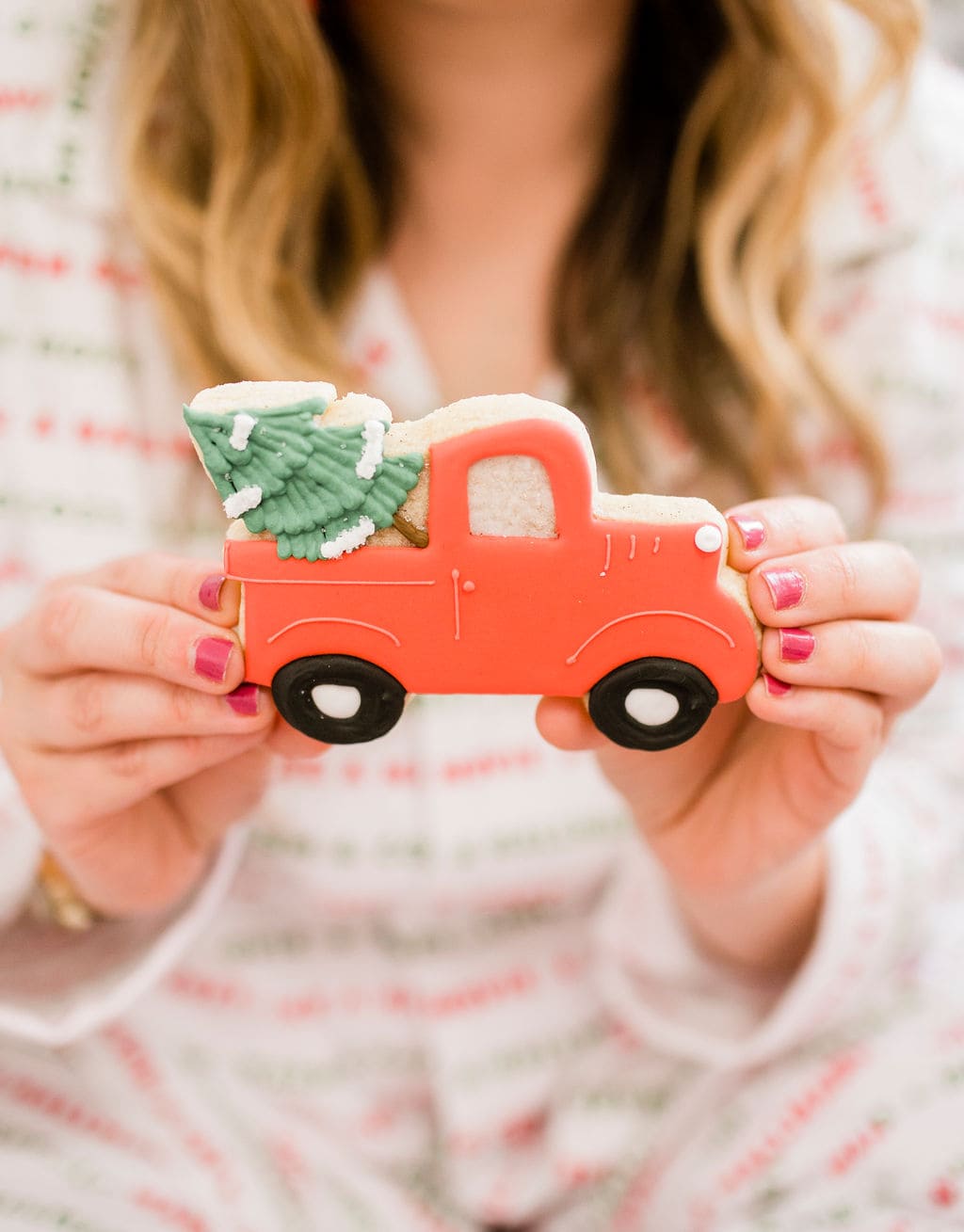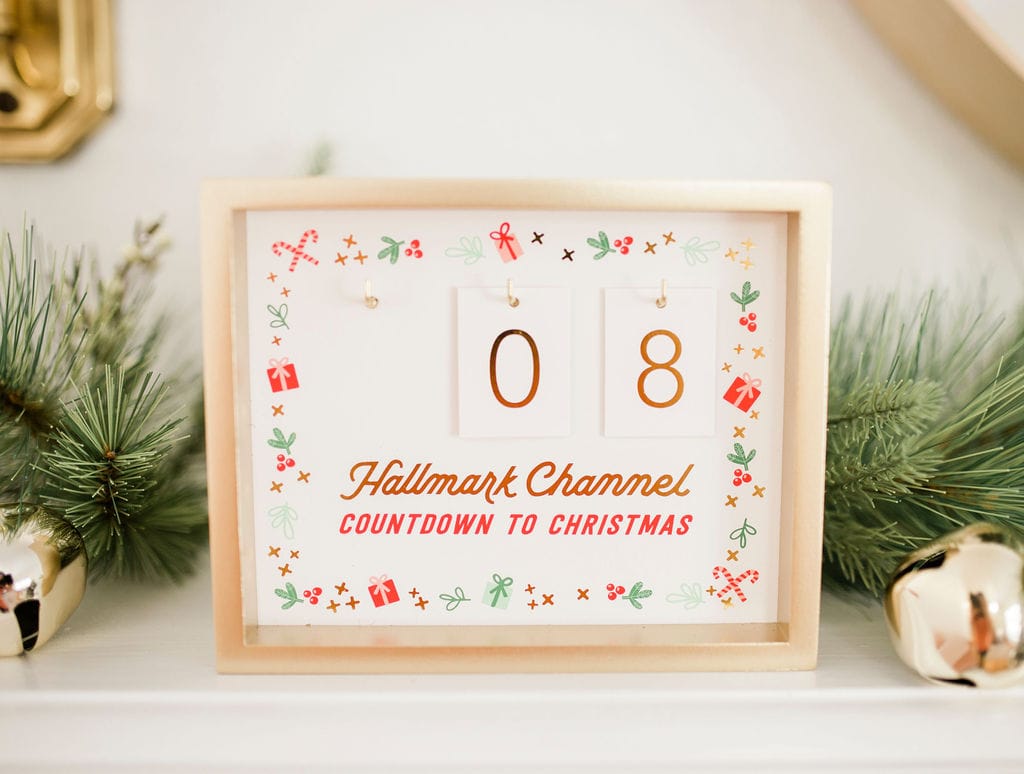 I have to admit, I am so happy traditional Christmas colors are trending harder than they have been in years. In the past, it was pinks, teals, and blues but I too am over that. I am loving hard on what I was accustomed to growing up, and this was the perfect way to bring it all together!
Holiday Dessert Bar
The dessert bar was decked out with a custom 3 tier party cake from Pretty Sweet Desserts (one of my favorite bakeries in Sacramento – Folsom to be exact). For the cake inspiration, we wanted it to feel very Christmas-y! The first tier was plaid to tie in traditional Christmas colors. The second tier was a watercolor painting of a scene from a Hallmark movie. And finally on top, was a fondant cup of Hallmark's new hot cocoa mug which I LOVE! The fonts and colors were spot on point. They also brought over the vanilla petit-fours and mint chocolate bonbons – SO delicious.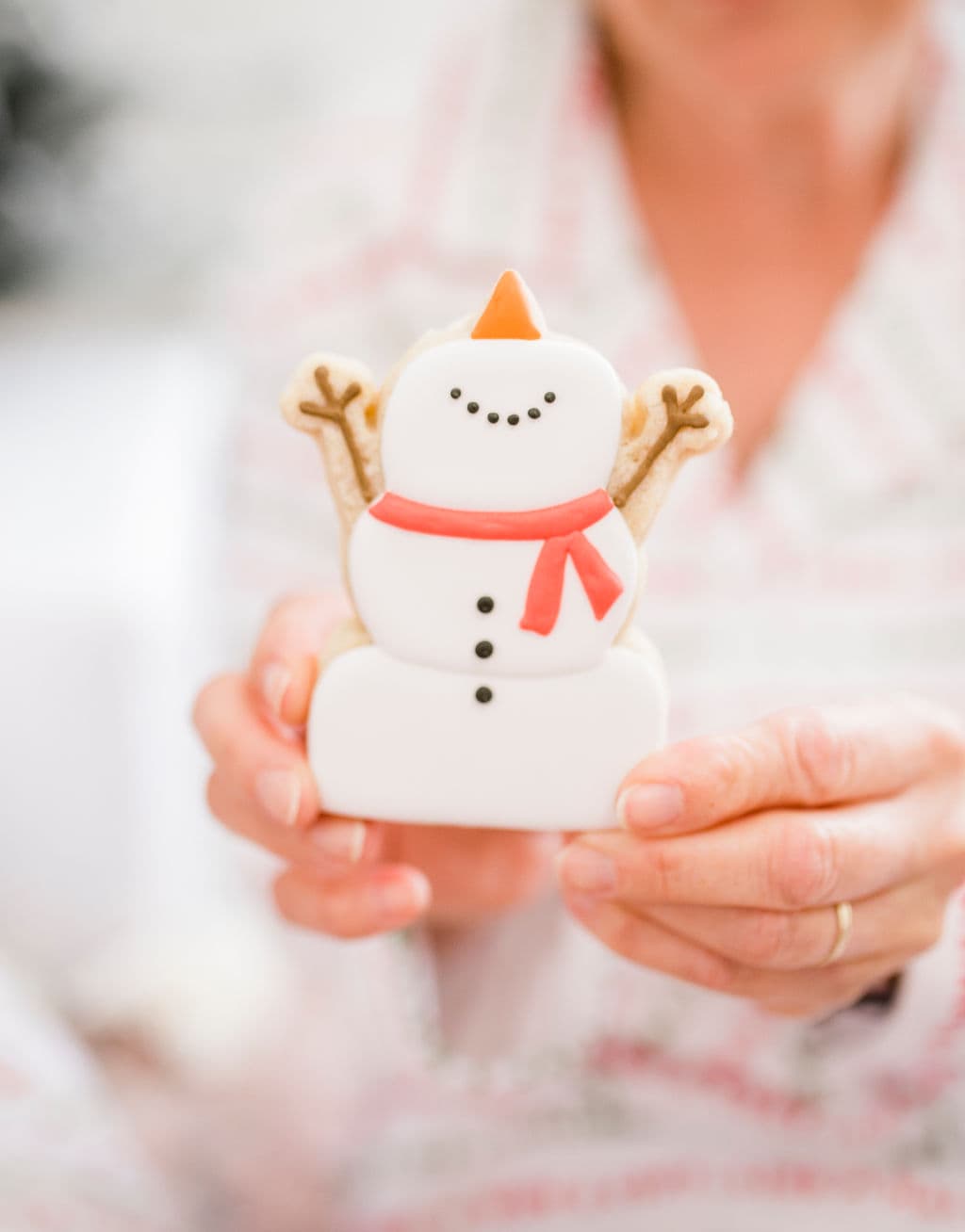 Christmas Cookies
One of my favorite Cookiers and friend, Kelsie of Sweet Creativity Baking made all the cookies. Full disclosure, she looks like Anna Kendrick in real life. Ha! I posted a picture on my story and my DMs were FILLED. ;) Kelsie made all of the Hallmark Cookies and I about fell. out. of. my. chair. when she came over to deliver. Everything was PERFECT as you can see. The colors and designs truly tied in the heart of the Christmas season- Hallmark-style!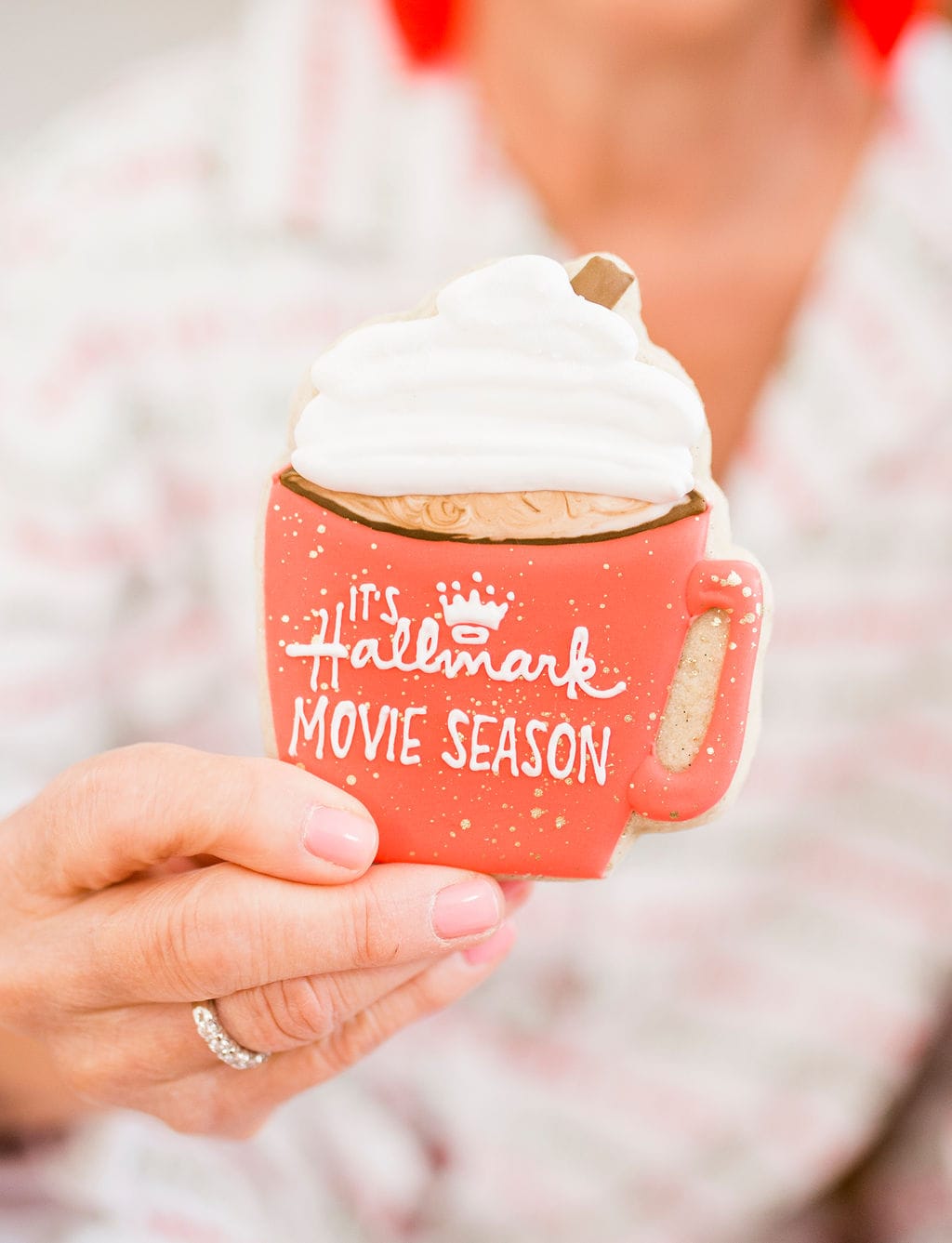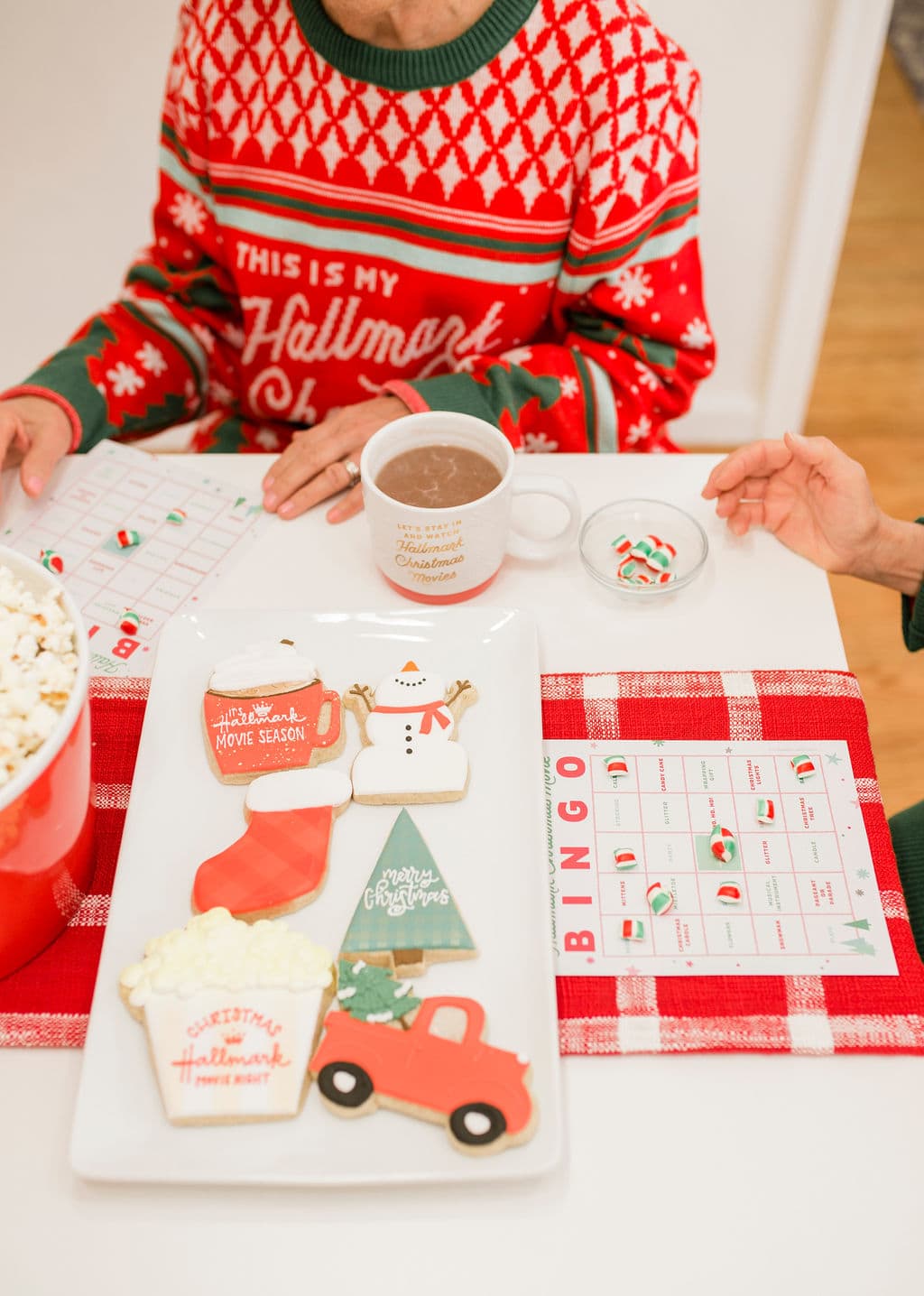 Hallmark's new LINE of swag has everything I could ever imagine. From Christmas sweatshirts to my new favorite PJs to cozy socks to coffee mugs and gift bags, they have it all! The fonts and colors are right on point too (hello designer in me- ha)! I could hardly contain my excitement and joy to surprise my aunts and mom with all of these goodies. They are just as much of Hallmark fan girls as I am. They watch every single episode of Hallmark Home & Family annnnd all of the movies too! You can only imagine their excitement when I was named dropped on the show earlier this year. I actually had no idea until one of the grandmothers at Charlie's school told me. I was over the moon!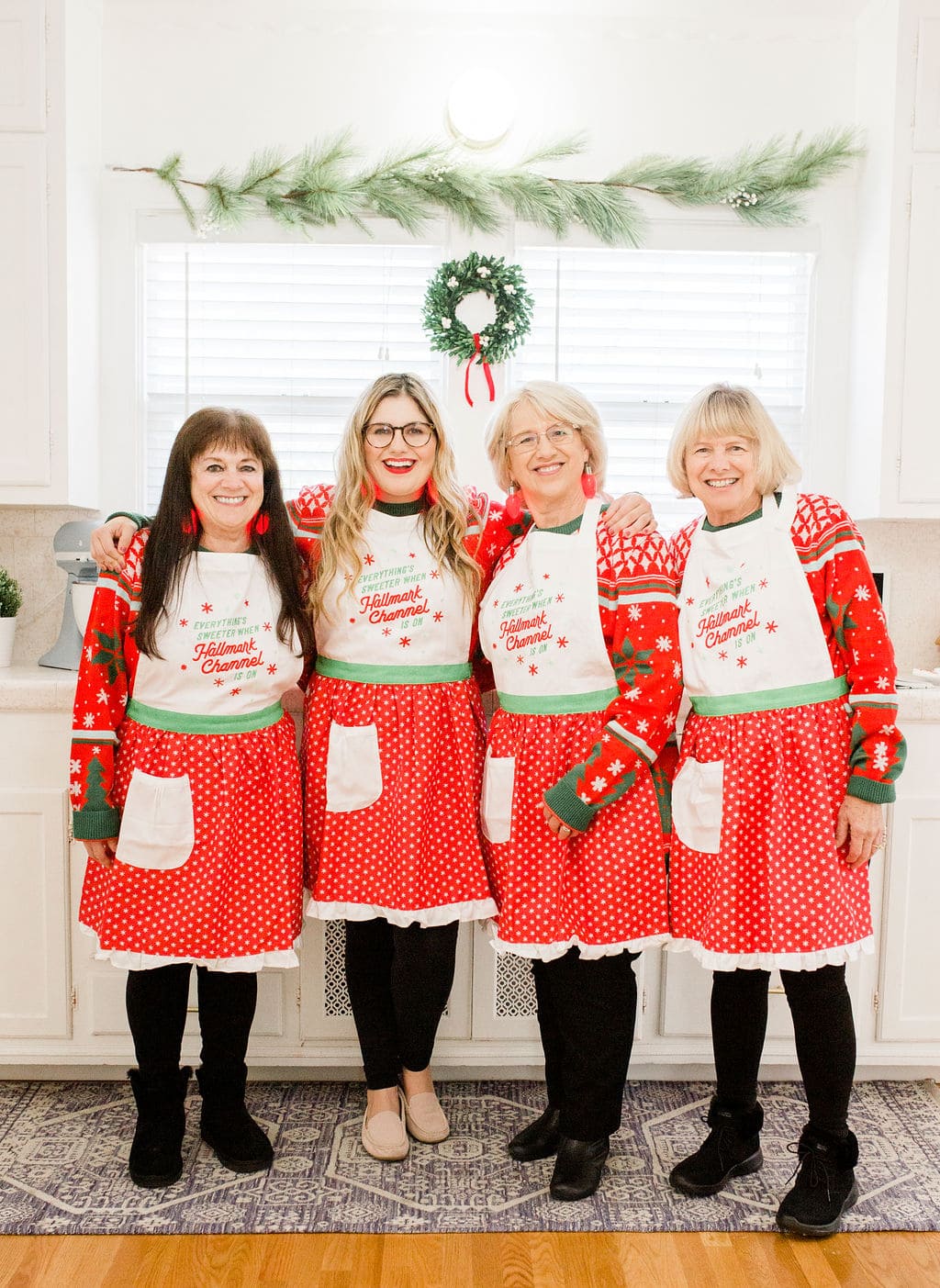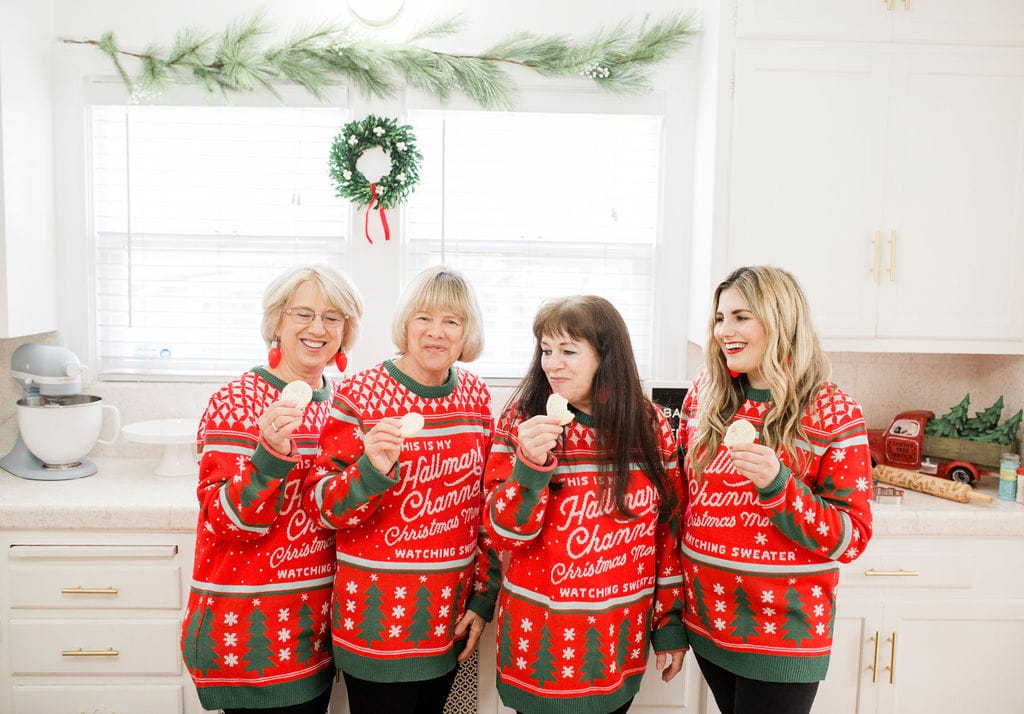 Before we got to our movie, there was some holiday baking to do. We whipped up a batch of sugar cookies with shiny, pretty sprinkles, and we all had so much fun in our matching Hallmark Channel aprons!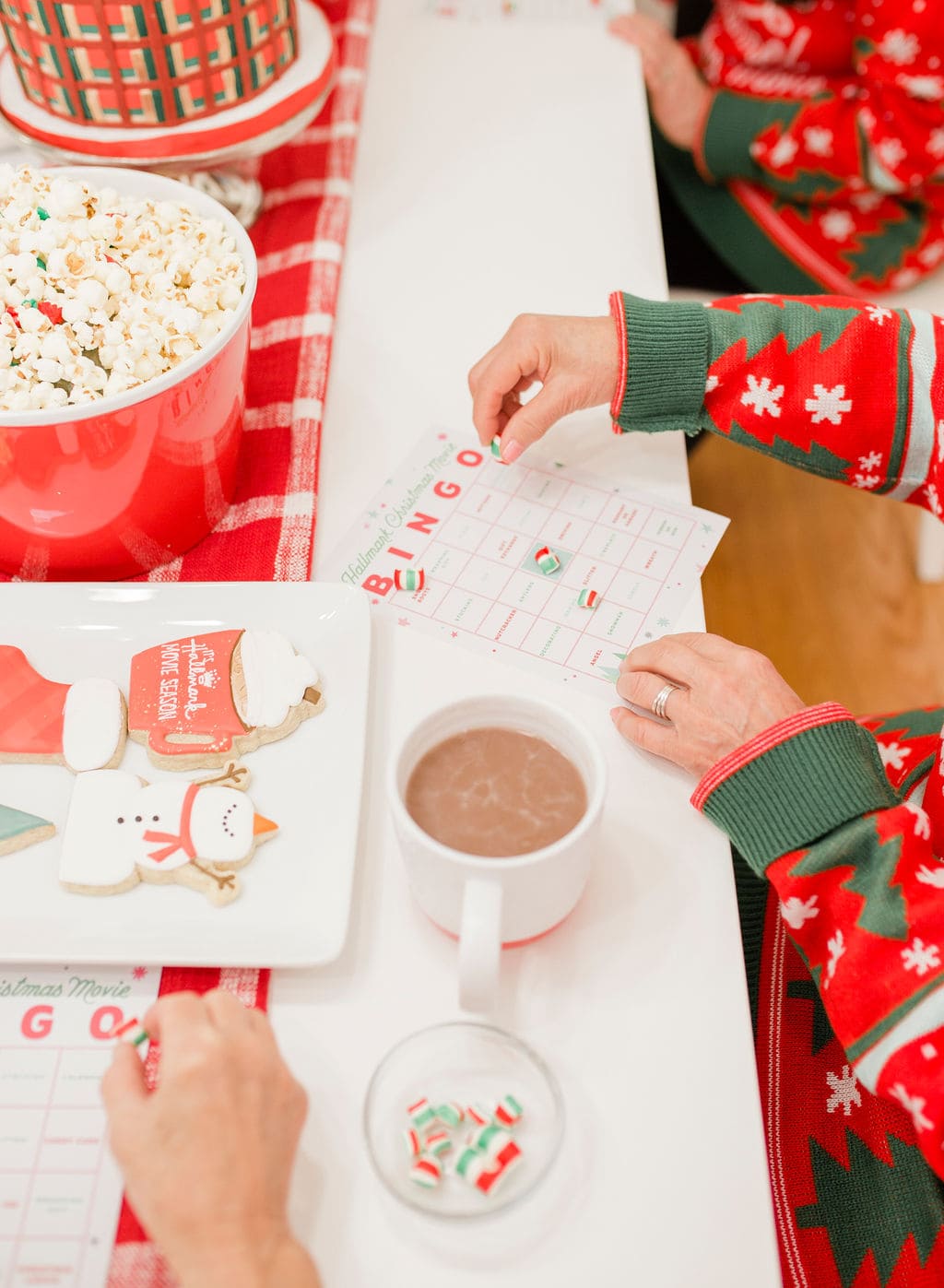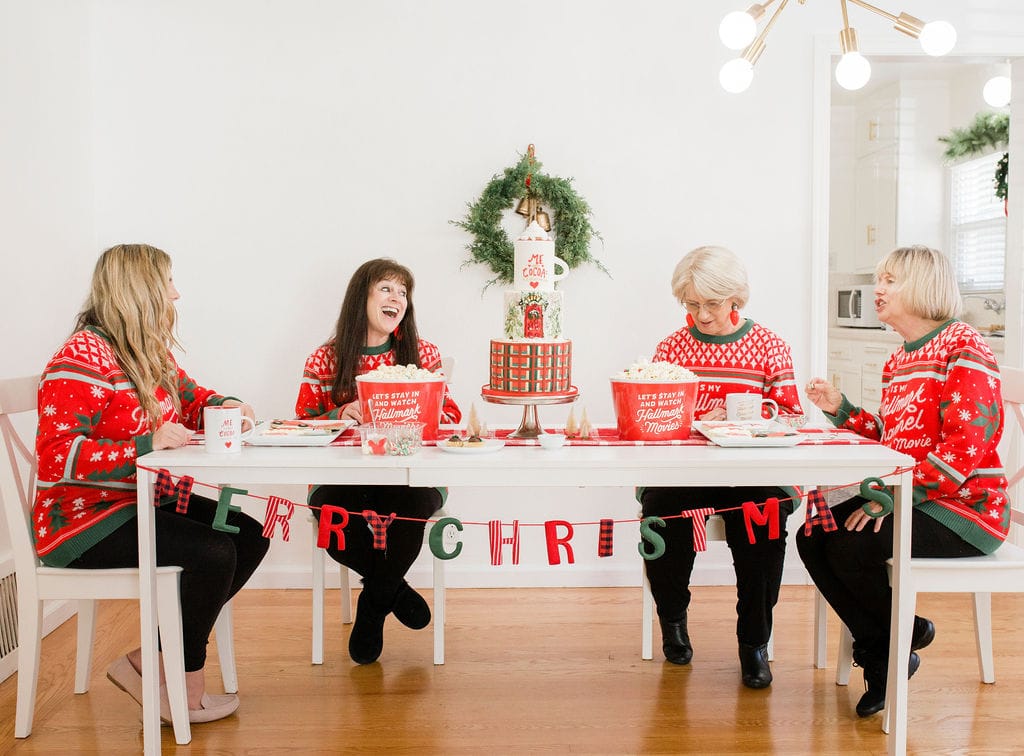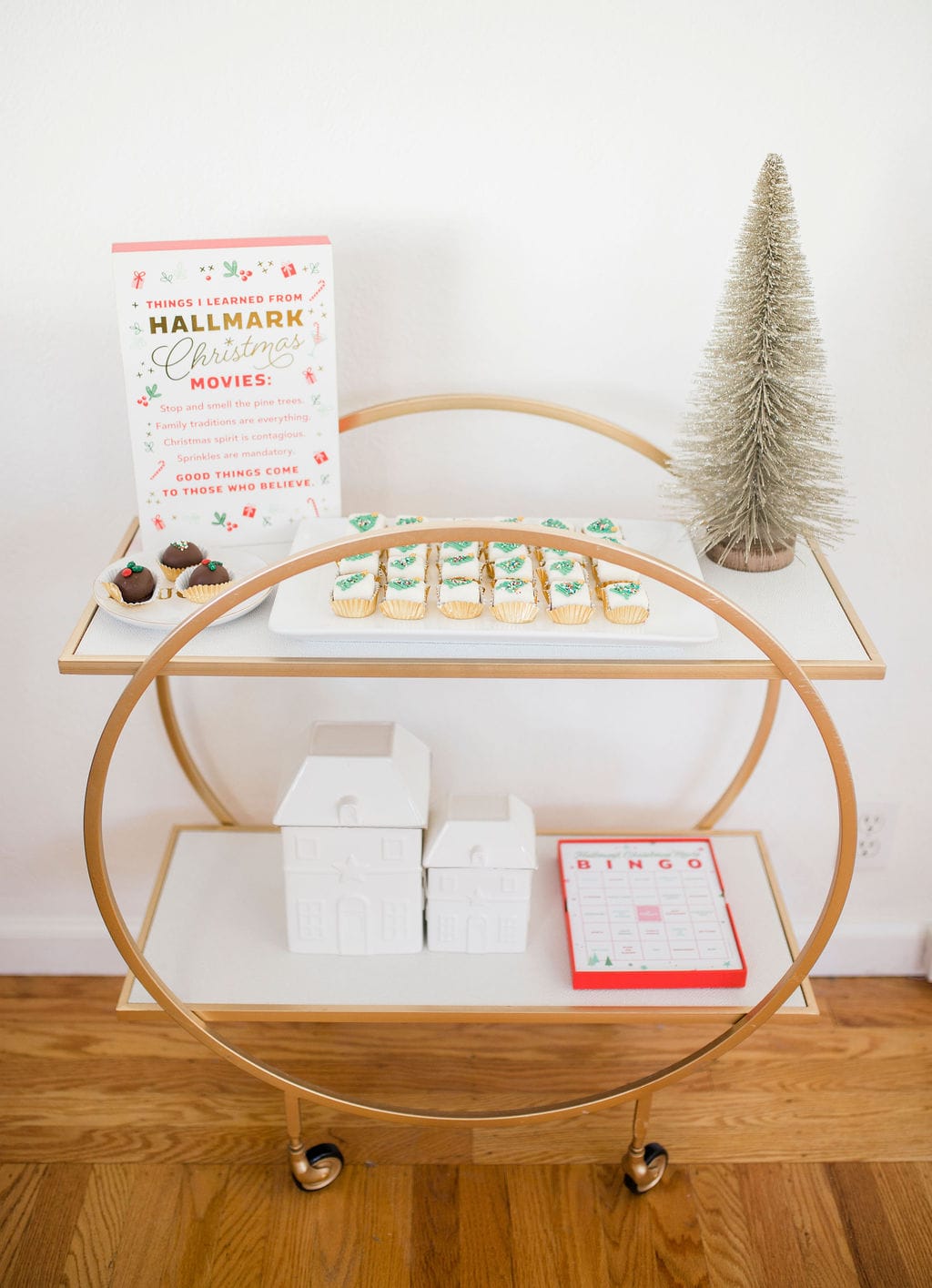 We also set aside time to play a few rounds of Hallmark movie bingo with their new set, and it was so much fun! We can get a little competitive around here with our Bingo, but it's all in good fun. ;)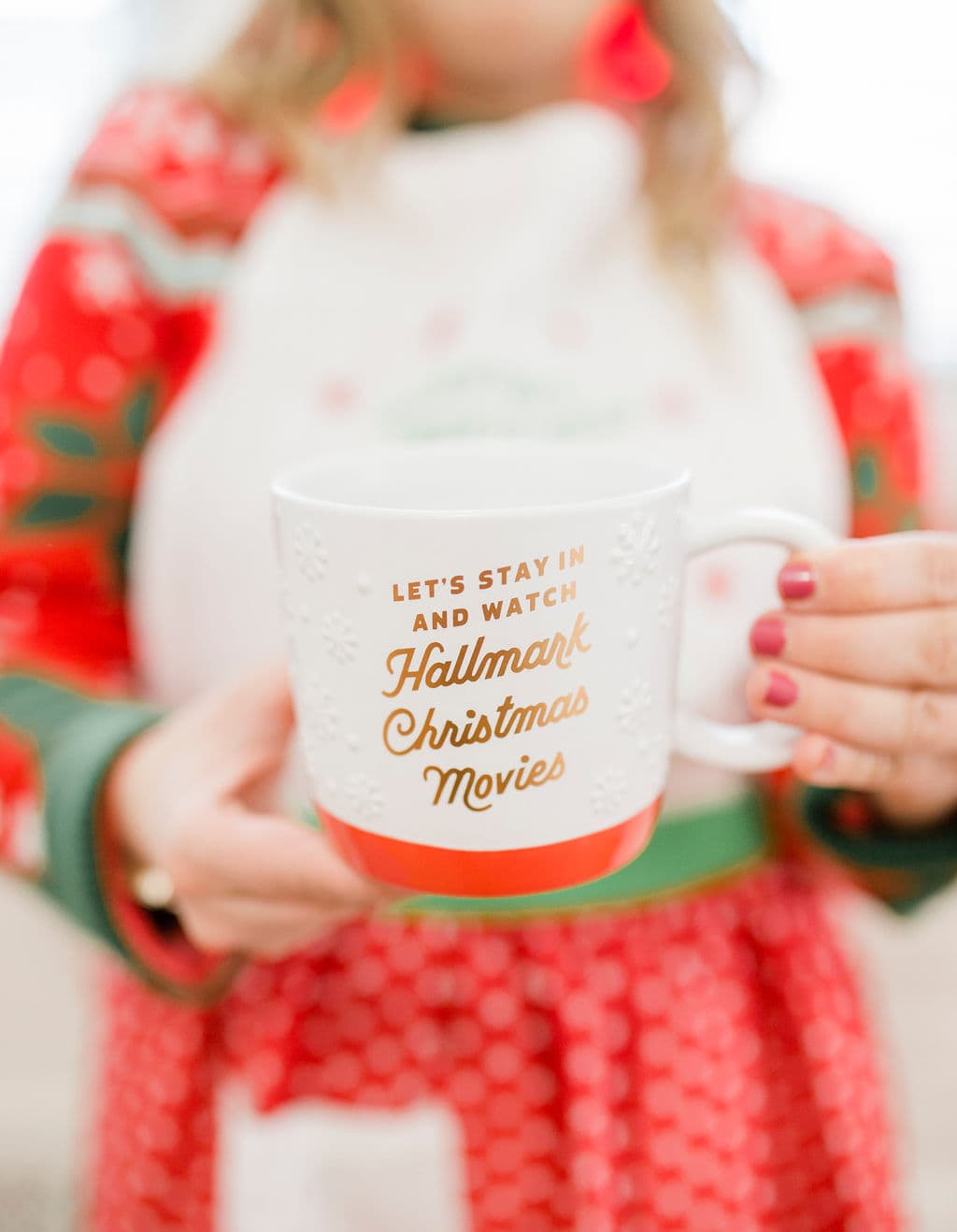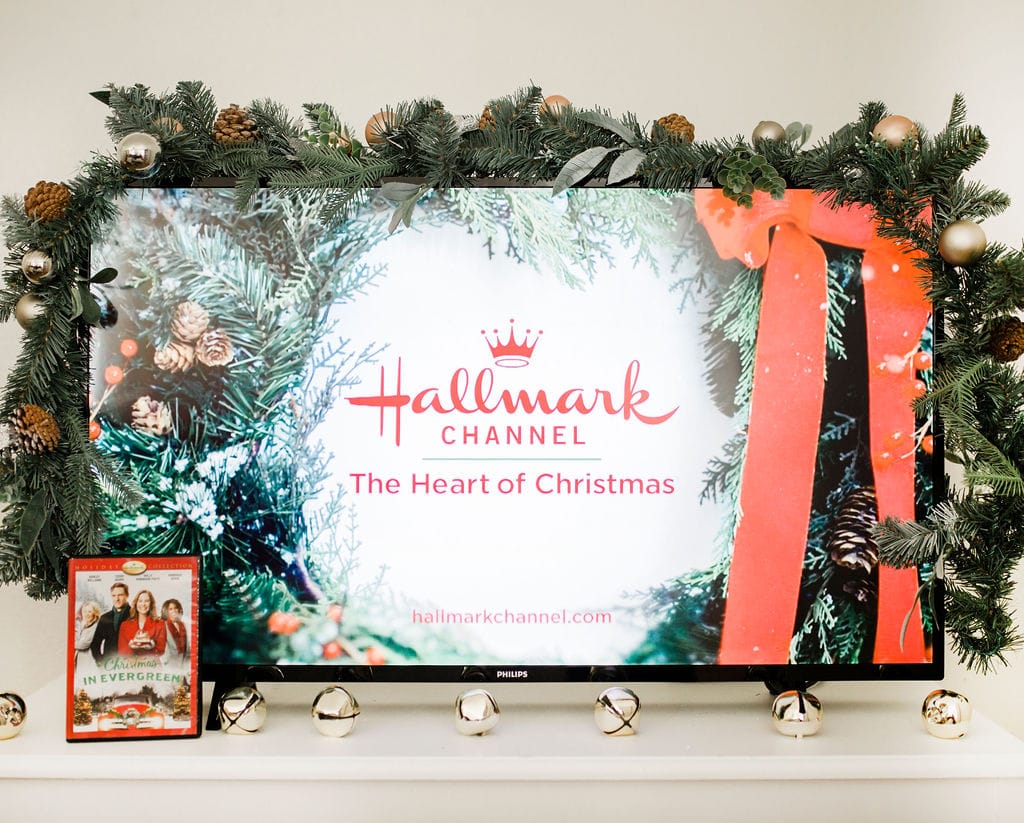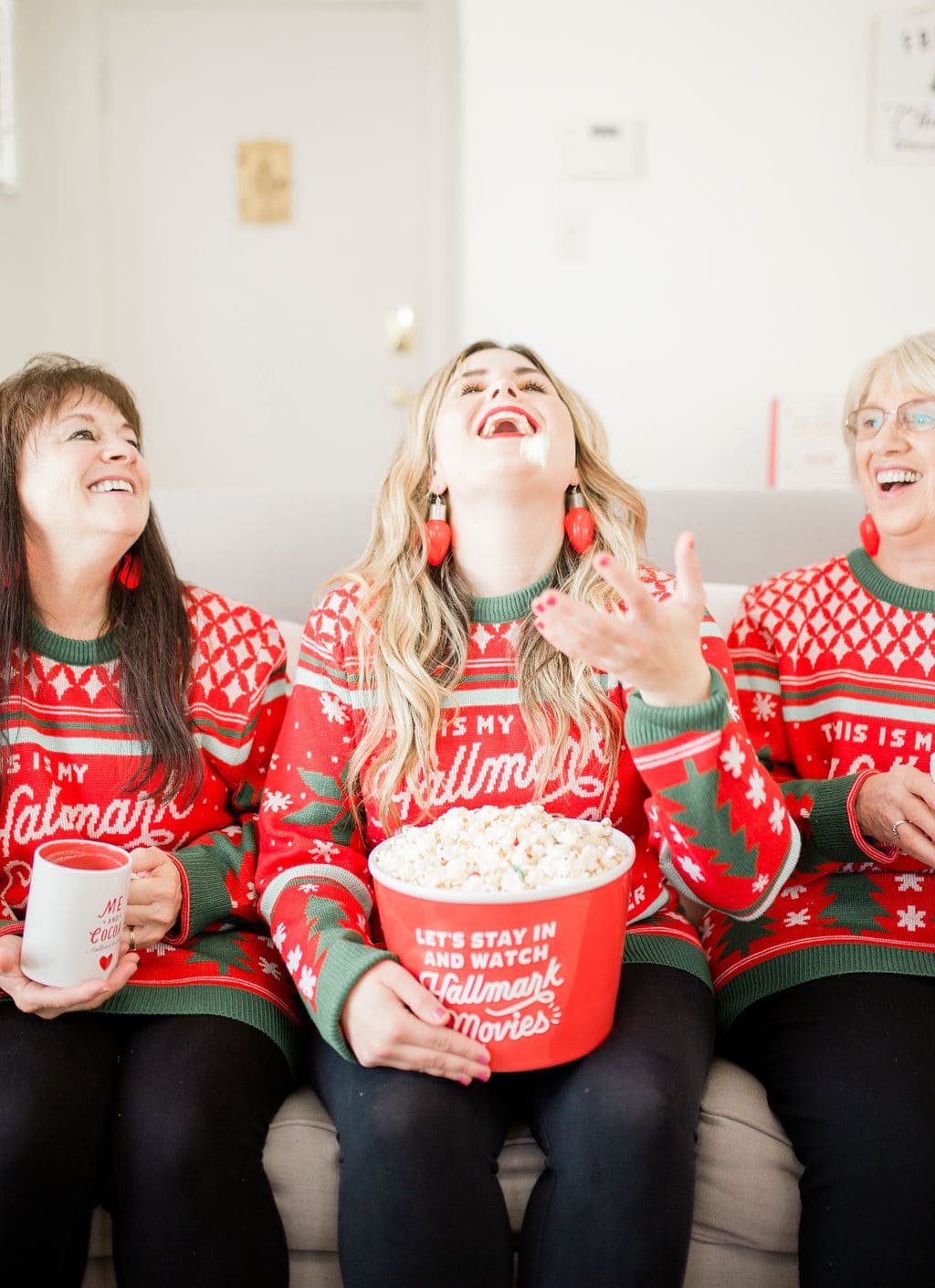 Then it was time for movies! We curled up on the couch with Hallmark movie blankets and even themed pillows, and I seriously can tell you it was one of the happiest days EVER. You know me, I love a good theme! ;)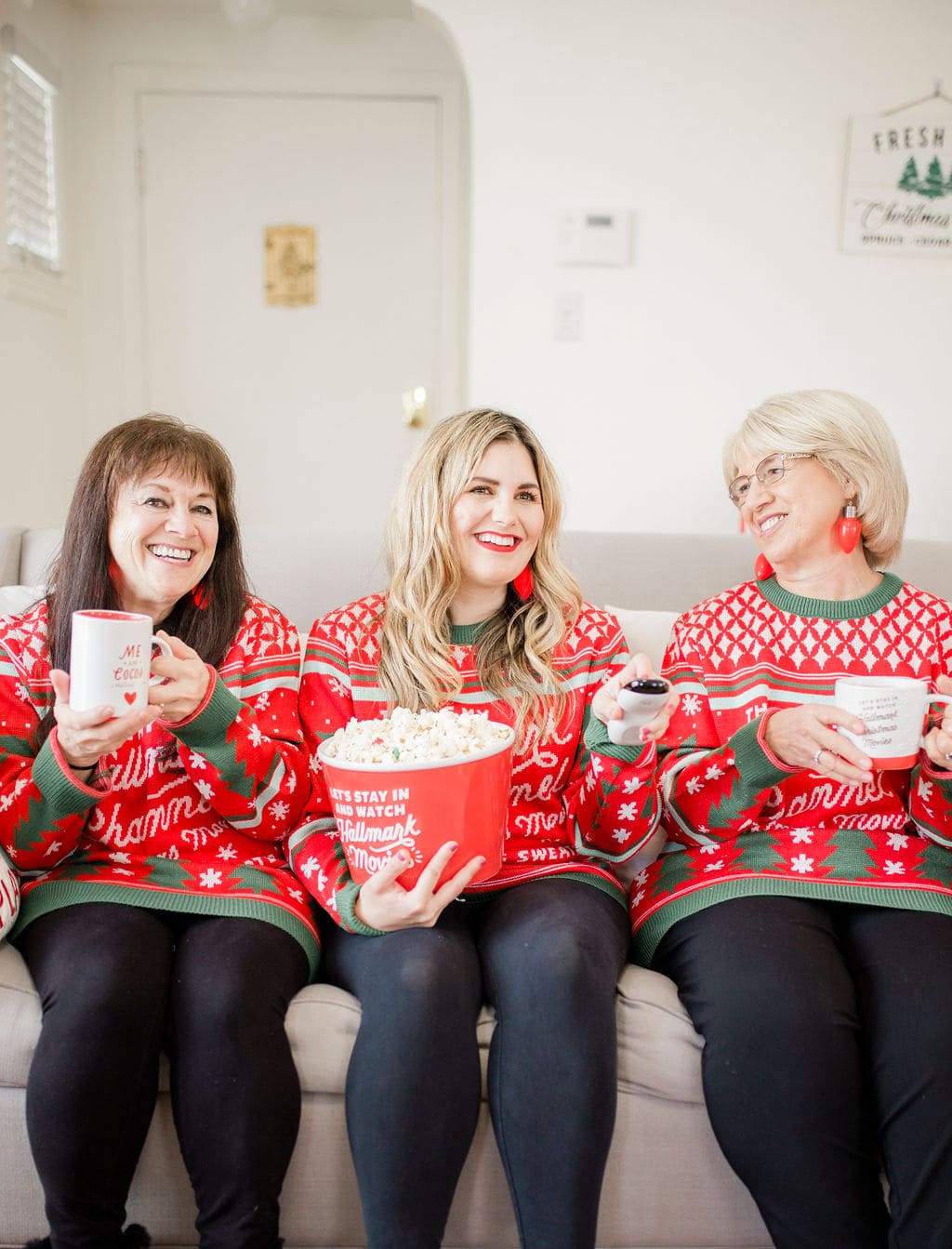 My New Favorite Christmas Movie
We watched A Christmas Love Story with Kristine Chenoweth – which is now one of my top favorite Hallmark Christmas movies of all time. Yes, I did cry too! It's a real heart warmer and tear-jerker. I swear, there was one surprise after another. They really lead you on your toes. Scott Wolfe was in it too! Anyone else remembers him from Party of 5? I used to have a BIG crush on him in Junior High School. I even had a poster of him, LOL! Shhh. Don't tell Andy. J/K! But in all seriousness, it was perfect in every way and the best movie to watch with our new Hallmark movies popcorn bowl with my favorite people! Even the humor was right on point – I am a natural silly willy so I extra appreciated it!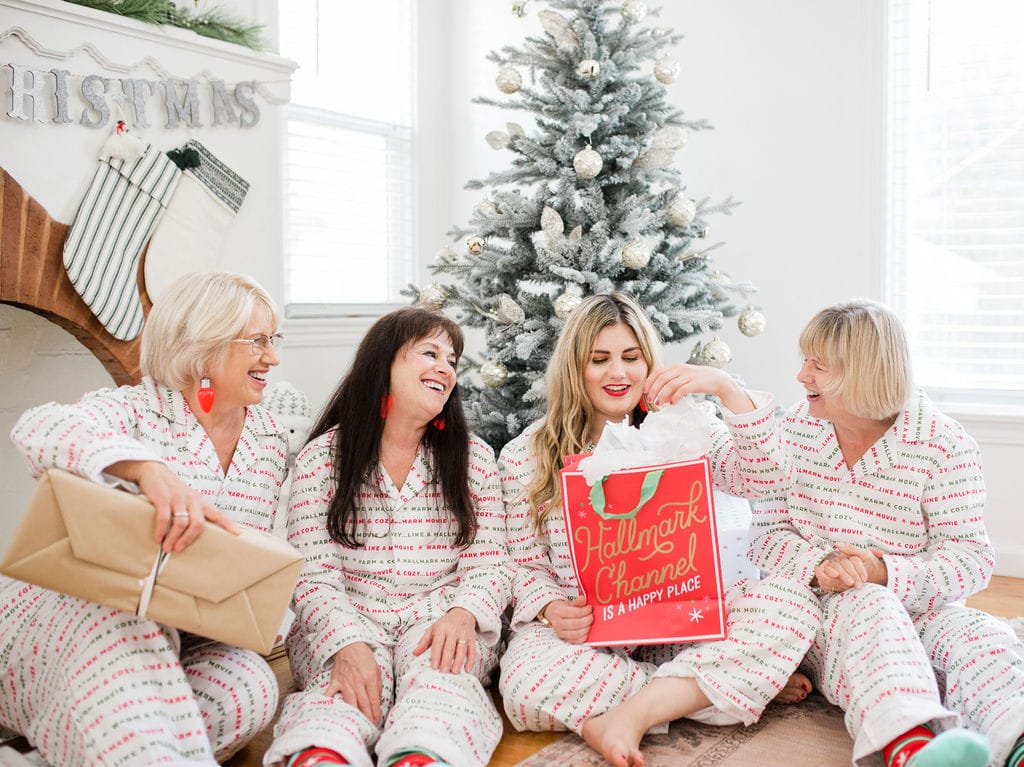 I feel so grateful and blessed to have had this opportunity to have this party for my aunts. And a huge thank you to my friends at Hallmark for believing in this fun idea and helping me surprise my aunts. Hands down, THIS is one of my favorite blogging memories of all time. It's moments like this that I pinch myself that we can pull this off and make it happen!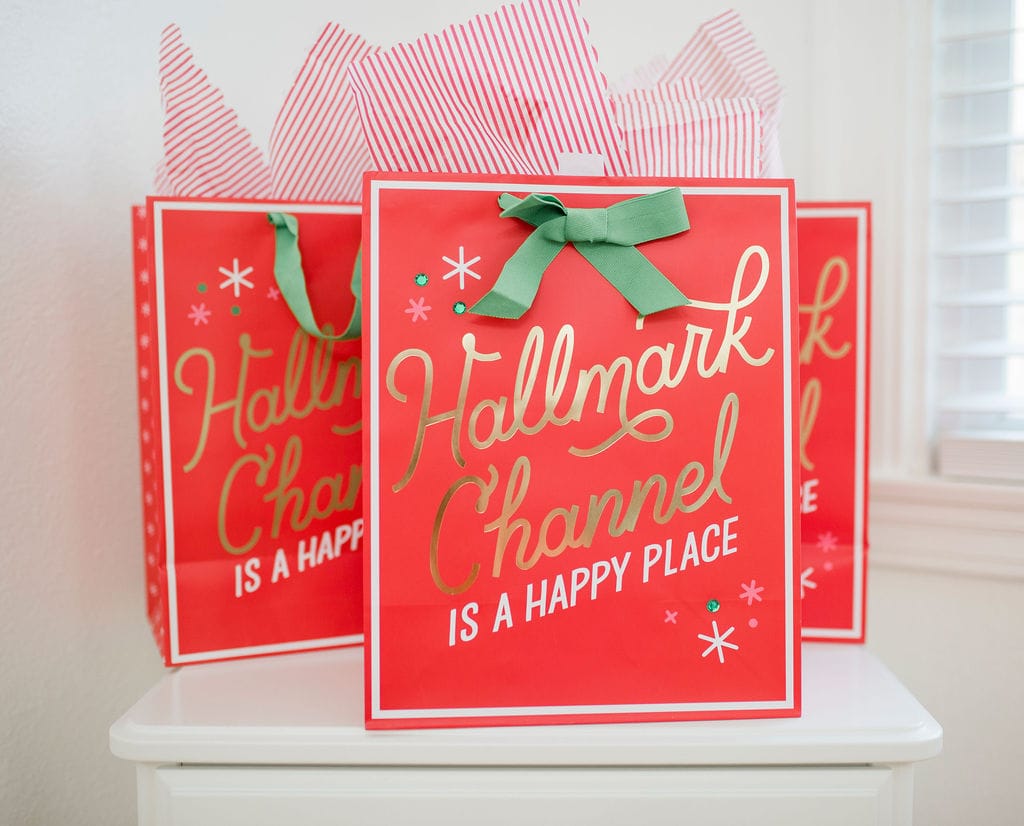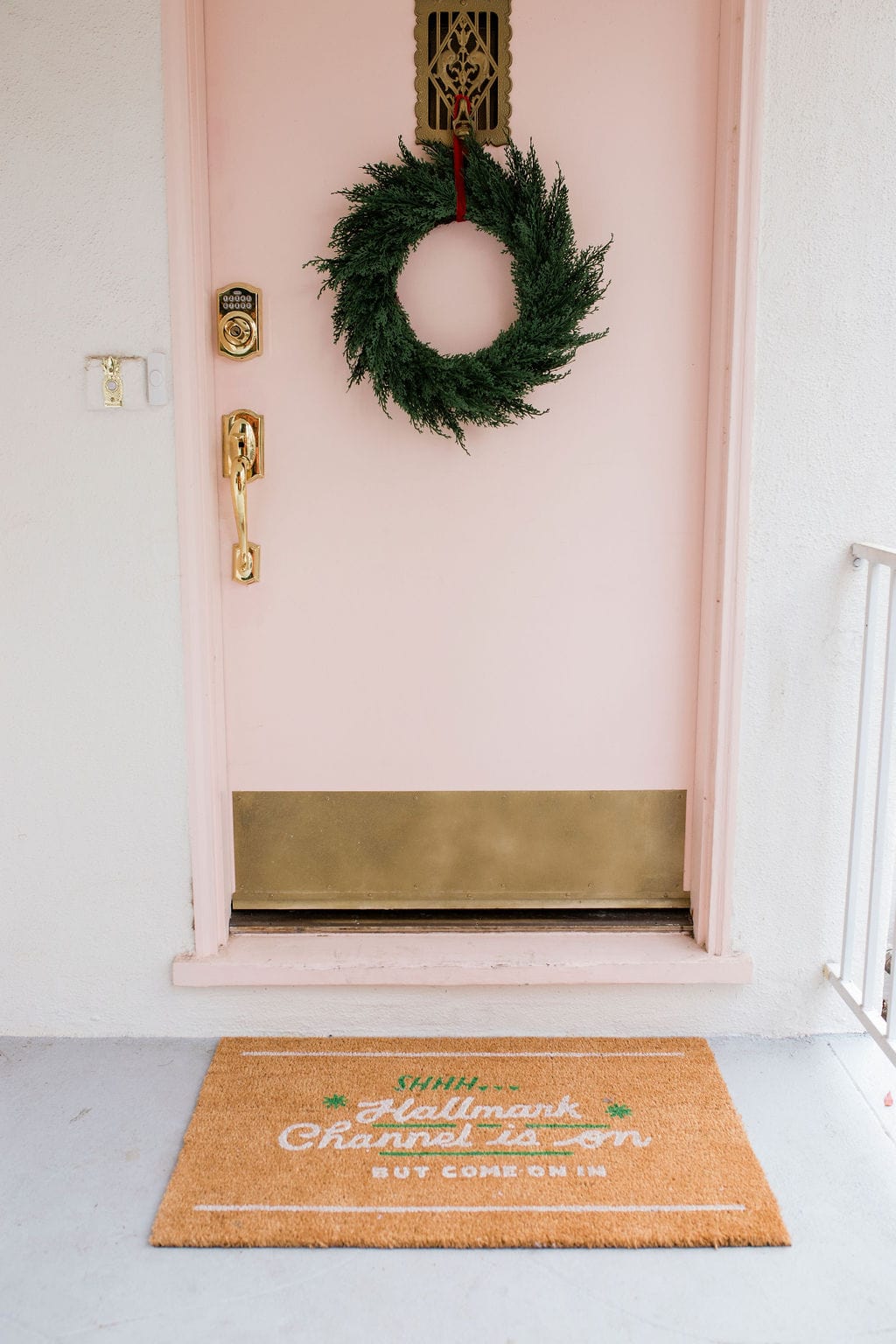 My cup of hot cocoa is all gone but the Christmas music is still going. I guess it's time for me to get some sleep now and talk Andy into letting me watch the Hallmark channel… we'll see! ;) Sending you all bear hugs from (cold these days) Sacramento, California. From my living room to yours, Merry Christmas & Happy Holidays!
Note: Special thanks to Hallmark for gifting authentic @hallmarkchannel product from @hallmarkstores for this photoshoot. You made our Hallmark dreams come true!