Halloween Party Spider Ice Cubes
I cannot believe that Halloween is already next week! On the other hand, I'm so excited to take Charlie and Claire trick or treating and to have some candy of my own! ;) I'll confess – I'm a total chocolate girl and my faves have always been Reese's Peanut Butter Cups, Kit Kat bars, Watchamacallit, Snickers, and the list goes on! ;)
If you're looking for some EASY last minute Halloween ideas for your party or just want to add some fun to your child's day, look no further! This DIY is seriously so easy but also so perfect for adding just a little something extra! No need to break the bank or your back over ice cubes! ;)
Surprise your kids by putting these cute spider ice cubes in their morning drinks or offer them to your guests at a party. Wash your plastic spiders with dish soap and go ahead and freeze those spiders in ice cube trays the night before! While you may opt for the typical black look to keep them looking extra creepy crawly,
I was so excited to find these pink spiders! After all, you know me and pink. ;)
Have little little tiny ones?! My (almost) 2 year old Claire was intrigued and not the slightest bit scared. Kids have no fear! ;)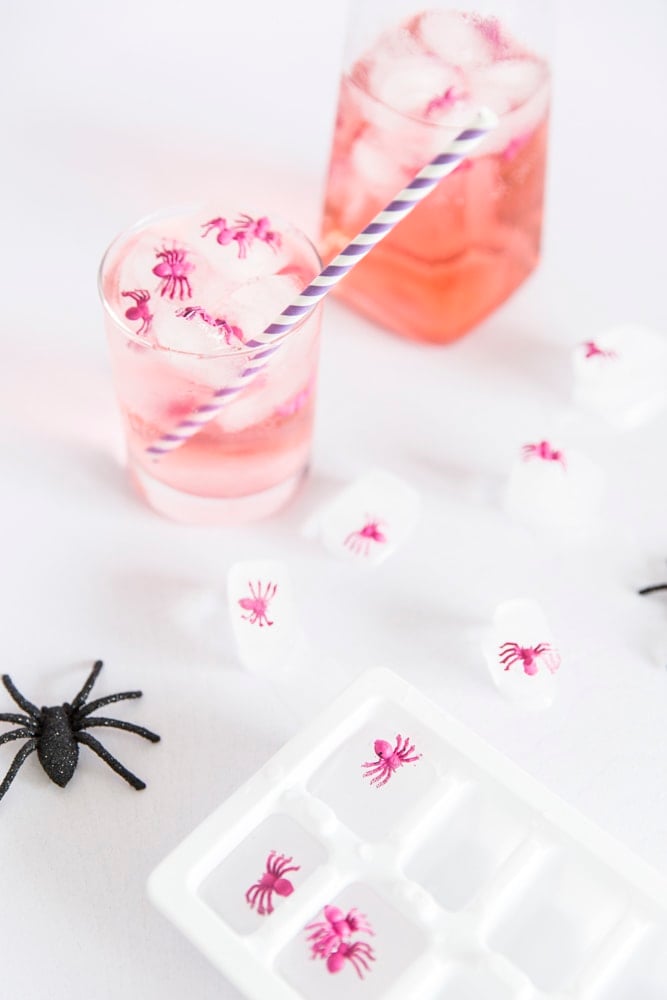 Cheers to another holiday for the books! What are you looking forward to most this Halloween??
How to make Spider Ice Cubes
Materials
Ice cube trays
Pink spiders
Instructions
Step 1
Fill your ice cube trays with water.
Step 2
Place 1 to 2 spiders in each slot while the ice tray is filled with water. Freeze.