How to Decorate for Halloween
If you don't have your Halloween decorations up yet, now's the time! If you're looking for Halloween decoration ideas, I have just the inspiration for you! A few simple touches can truly go a long way to celebrate the best season ever.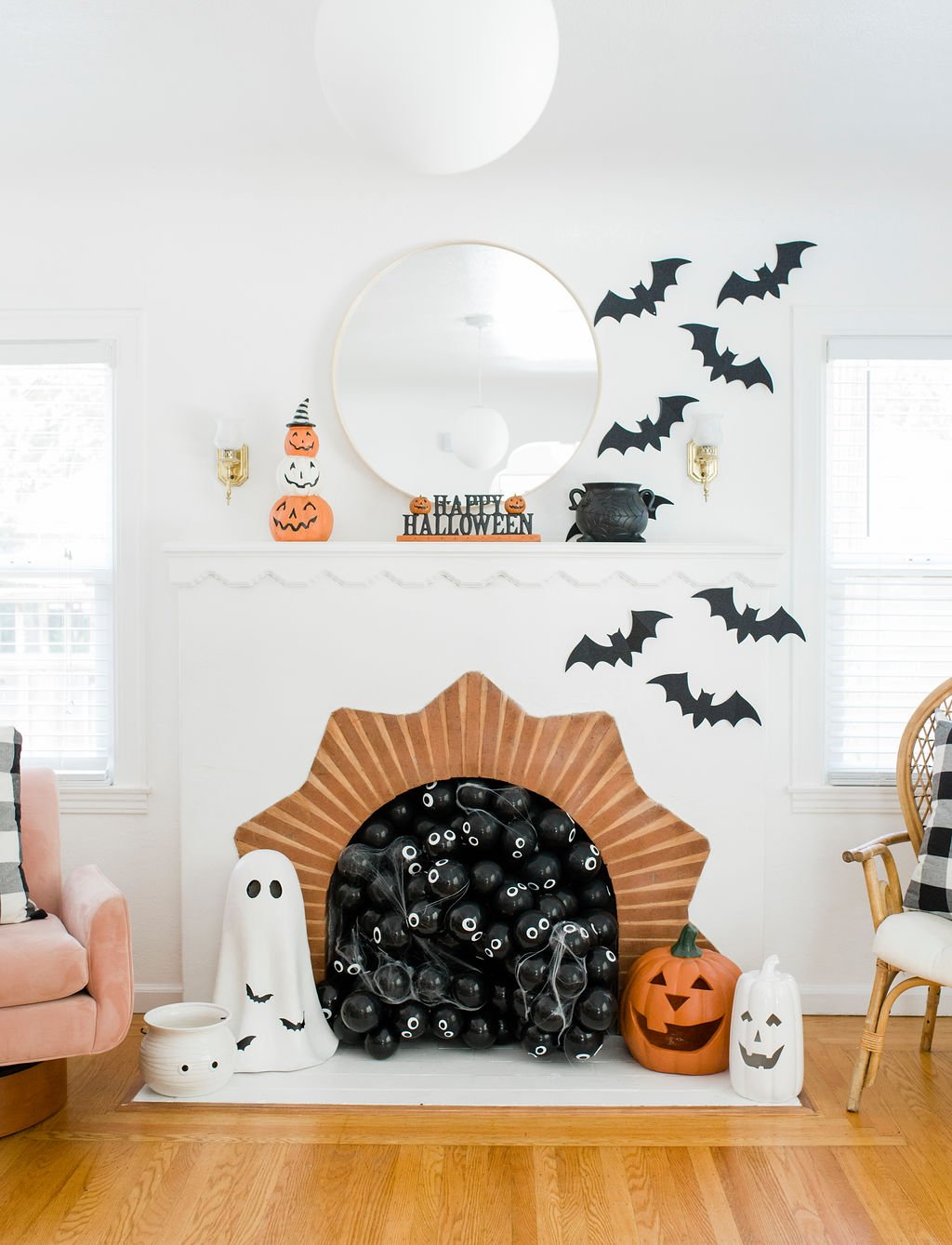 Decorating for Halloween
Fall has always been my absolute favorite season, and Halloween is seriously one of my top favorite holidays. I can't get enough! There are so MANY opportunities to make memories and to continue old traditions and to make new ones! Seriously, when October and Halloween is over, it's the saddest day in my house. I love it that much! But for now, we're focusing on all the fall vibes with decorating the house! I am so excited to share a few tips on how to decorate your home for Halloween!
Halloween Decorations
Decorating around the house for every holiday is one of my top favorite traditions! Raise your hand if you find endless joy in Pumpkin Spice everything, crunchy leaves, crisp cool breezes, carving jack-o-lanterns, buying festive fall scented candles and soap, the Target dollar bin, making Halloween desserts, going to the pumpkin patch, filling up your candy dish full of candy corn, watching Hocus Pocus, snuggling with the kids watching Charlie Brown and The Great Pumpkin, roasting pumpkin seeds, hayrides, hot apple cider, busting out the boots, wearing pumpkin earrings, making 18472 drives to HomeGoods to see if they put new Halloween decor items out, sending Halloween cards to loved ones, waiting for See's candy to put out nostalgically designed holiday boxes, picking out Halloween costumes, and watching that rekindled discovered joy in your child's eyes as they find the heart of this season and holiday! I can't tell you how darn excited I just got writing all of that! All of that comes with celebrating the season and putting decor around your home that makes you feel so good!
Halloween Fireplace Decor
That moment when you realize all those HomeGoods shopping scavenger hunts (finally) paid off! ;) I kid you not, I went to like 4 different locations in California – some which I frequented like 6 times. Their inventory is always changing so it turned into a fun game for me to find the perfect way to decorate the fireplace. I've never gambled before, but I'm guessing this is sort of how it feels. Even some of the employees started knowing me on a first name basis. After I recently hit a standstill, I decked out the fireplace at our SO Best Friends For Frosting Airbnb (booking link in profile) with all my HG scores, minus the bat decals which were from Amazon for like $7. My friends over at Ready Set Confetti did all the balloons in the fireplace, and I am so obsessed. Just a few fun pieces and a bold statement can make all the difference. Now I'm really feeling in the spirit! Are you feeling it yet?

Halloween Entryway Decor
To do the entryway bench, I found my new favorite banner from Pottery Barn Kids. It's the cutest felt banner with the best colors of Halloween, and I'm just obsessed. I paired the banner with this fun glitter pumpkin to give that corner of the room a little sparkle. It was such a fun way to dress up the entryway bench for the holiday!
Do you have your house decorated for Halloween yet? It's almost time! Let me know in the comments where your favorite spots to shop are or what you've done to get the decorating party started. I can't wait to hear all about it!