We are seriously amazed at how easy and quick these mixed berry bruschetta bites are to whip up! It doesn't hurt that they are absolutely gorgeous in addition to being incredibly delicious. Our contributor, Jessica Potts of A Happy Food Dance strikes again with another one of her easy, inventive and versatile recipes! We love how you can easily interchange the ingredients for new combinations every time! Read on for the recipe and Jessica's thoughts on this creative dish.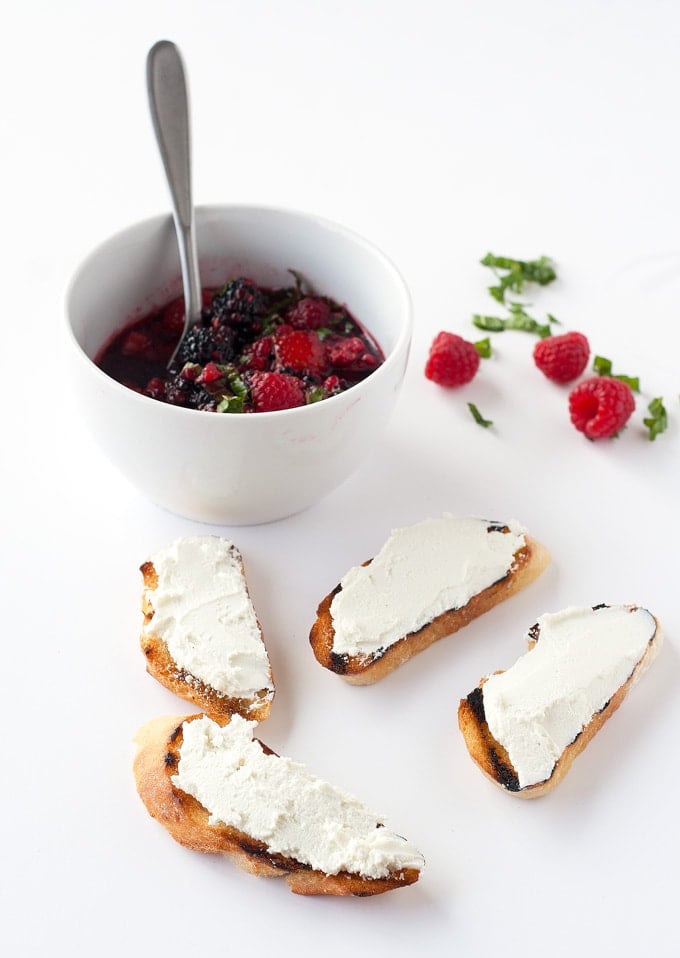 "These little bites are almost embarrassingly easy, which means they are the perfect thing to make up before you have a group of friends over or when someone says, "Hey, could you bring a dish?" But don't be fooled! As simple as these beautiful summer bites are, they are incredibly delicious and addictive!
To put together, I simply grabbed a fresh loaf of bread from our local bakery and slices it about ½"thick. Because it's summer and I refuse to turn on the stove, I drizzled a little olive oil on the bread and grilled it right on our grill. Once the bread is grilled, just slather it with some room temperature goat cheese, top it with some slightly smashed mixed berries and sprinkle it with torn mint leaves.
I also did a slight drizzle of honey over the top, which just elevated the flavor. It was a bit salty from the goat cheese, tart with the berries and sweet with the honey, all with that crunch of freshly toasted bread. Divine!"
MIXED BERRY BRUSCHETTA BITES
***serves 4-6
prep time: 15 minutes
1 large French bread baguette, sliced on a bias
Olive oil
6 ounces goat cheese, room temperature
1 ½ cup mixed berries (I used a combination of strawberries, raspberries, blueberries and black berries)
5-6 mint leaves, torn
honey
1. Drizzle sliced bread with olive oil and grill or broil until toasted
2. Let bread cool slightly, and then slather each slice with goat cheese.
3. In a small bowl, combine berries and smash slightly with the back of a fork.
4. Spoon berry mixture over goat cheese covered bread slices and sprinkle with mint leaves.
5. Drizzle a small amount of honey over the tops of each.
6. These are best served immediately after building.
Recipe & Photography for Best Friends for Frosting by: Jessica Potts, A Happy Food Dance