Pink Lemonade Decorated Cookies
When life gives you lemons…make sugar cookies! How darling are these decorated pink and yellow cookies? We're always on the hunt for a good sugar cookie – one that isn't too hard but not too soft either, ya know? Well…look no further! Cookie designer extraordinaire, Meghan Rosko of Nutmeg and Honeybee, is here with this super cute and summery recipe that will be perfect for your next picnic on the beach! Happy baking!
"Looking for the perfect summer treat? Then you must try this amazing sugar cookie recipe! I wanted to incorporate my two favorite colors in the set (pink and yellow) while creating a whimsical feel. This is a great cookie to bring to your next summer party!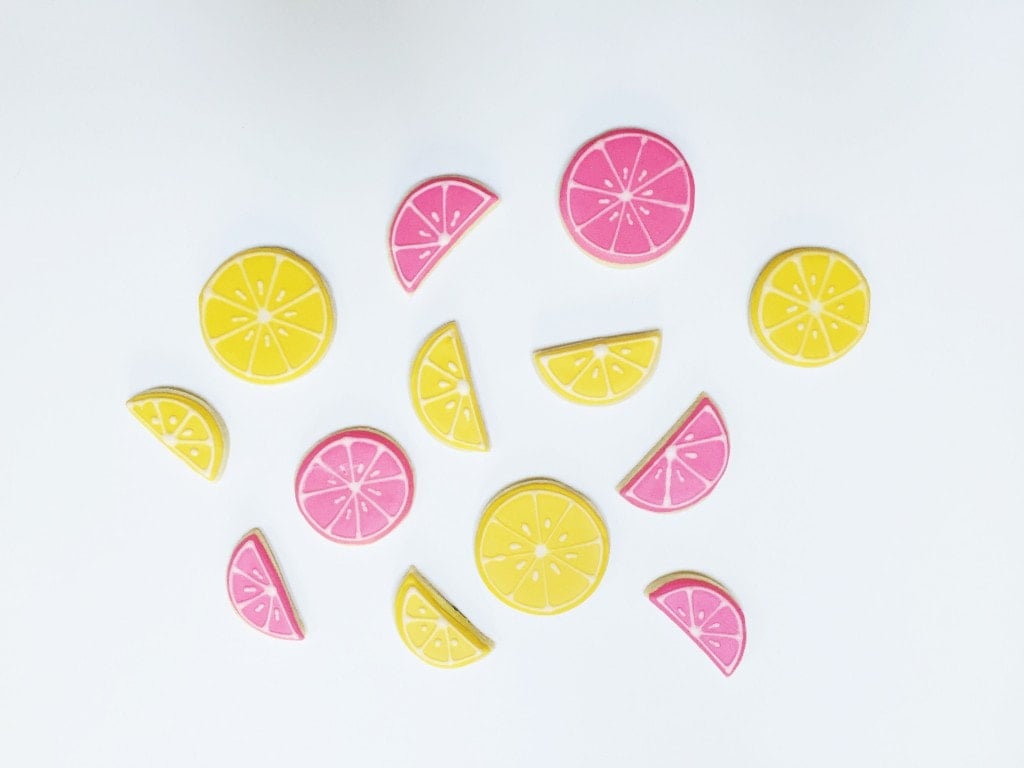 Pink Lemonade Sugar Cookie
Cookies:
2 cups softened butter
2 cups sugar
2 eggs
3 tsp vanilla
5 cups flour
1 tsp salt
Icing:
2 lbs confectioners sugar
5 tbsp meringue powder
3/4 cup water
3 tsp vanilla
Cookies:
Preheat oven to 350 degrees. Begin by mixing butter and sugar on slow speed until combined. Add eggs and vanilla. Mix together for one minute. Add flour and salt and mix for 2 minutes. Roll out the dough and grab whatever cookie cutters you would like to use. For this set, I stuck with a mason jar cutter and various sizes of a circle cookie cutter. Place cut out cookies on cookie sheet lined with parchment paper and bake for 10 minutes.
Icing:
Mix confectioner sugar and meringue powder on slow speed and then incorporate water and vanilla. Mix on slow for 1 minute and then mix on high for about 7 minutes, or until your icing forms a stiff peak.
Decorating:
Making the dough and icing is easy, but the decorating gets a little difficult. You will need piping bags, piping tips and food coloring.
To decorate the the yellow and pink lemon slices, take some icing from your bowl and add the food coloring to your liking. Then, you will need to put the icing in a piping bag and outine each cookie. Once you let the ouline dry, you will need to flood the cookie with the same color. To flood the icing, use a spray bottle and water it down. The consistency should be that of shampoo. Once you flood each cookie, let it dry. Once you let dry for anout an hour, you can go back in with white icing to add the lines and seeds.
For the masor jar, you will need to flood the cookie with a lighter pink, and while the icing is still wet go in with white icing to make ice cubes, and yellow icing to make lemons. Let that dry and then use a gray icing to make the top of the mason jar. Let dry and add any other details you would like.
After a few practice rounds, you will have the perfect pink lemonade cookie set!"