Looking for new easy weeknight dinner ideas? This just might be the best homemade pizza recipe I've ever had, and it comes together in a matter of minutes!
PIN Sheet-Pan Pizza With Magic Crust for later!
Easy Homemade Pizza
Raise your hand if your kids can't get enough pizza like mine! Who's with me?! Seriously, pizza is hands down one of their favorite foods, but it's not something I like to get as carryout very often, and making it from scratch with homemade dough is definitely an undertaking for a weekday meal! That's why I was so excited when I found this recipe for Sheet-Pan Pizza With Magic Crust from My Food and Family. This was one of the recipes from My Food and Family's Spring 2020 magazine, and we've been making it every week since I found it! It seriously comes together in just 15 minutes of prep time, making such an easy weeknight dinner option.
Easy Weeknight Dinners
My Food and Family has definitely become my new go-to for weeknight meals. We all know it can get a little wild around dinner time, trying to figure out what to make that everyone will love. But I'm all about easy and attainable! The recipe collection is huge, and all of them are incredibly easy to follow. I love recipes that I can grab accessible ingredients for, and I love recipes that only take a few minutes to prep in the kitchen. That way, there's more time for spending with the kids! After all, those years go way too fast.
Homemade Pizza Ingredients
All you need for this delicious pizza is two eggs, milk, flour, KRAFT Grated Parmesan Cheese, Italian seasoning, pizza sauce, KRAFT Shredded Mozzarella, green peppers, and OSCAR MAYER pepperoni. So many easy and simple ingredients already in the pantry and fridge!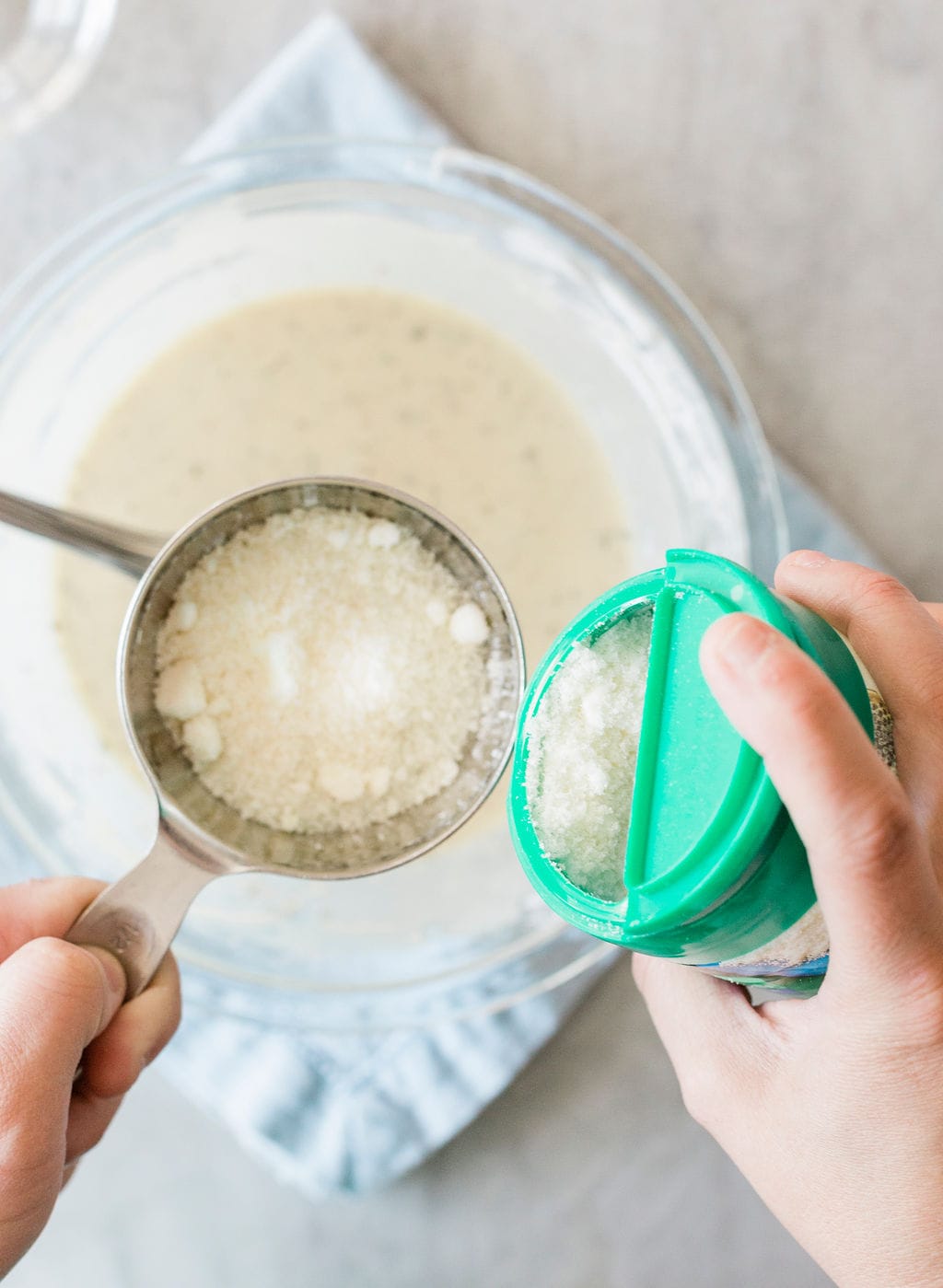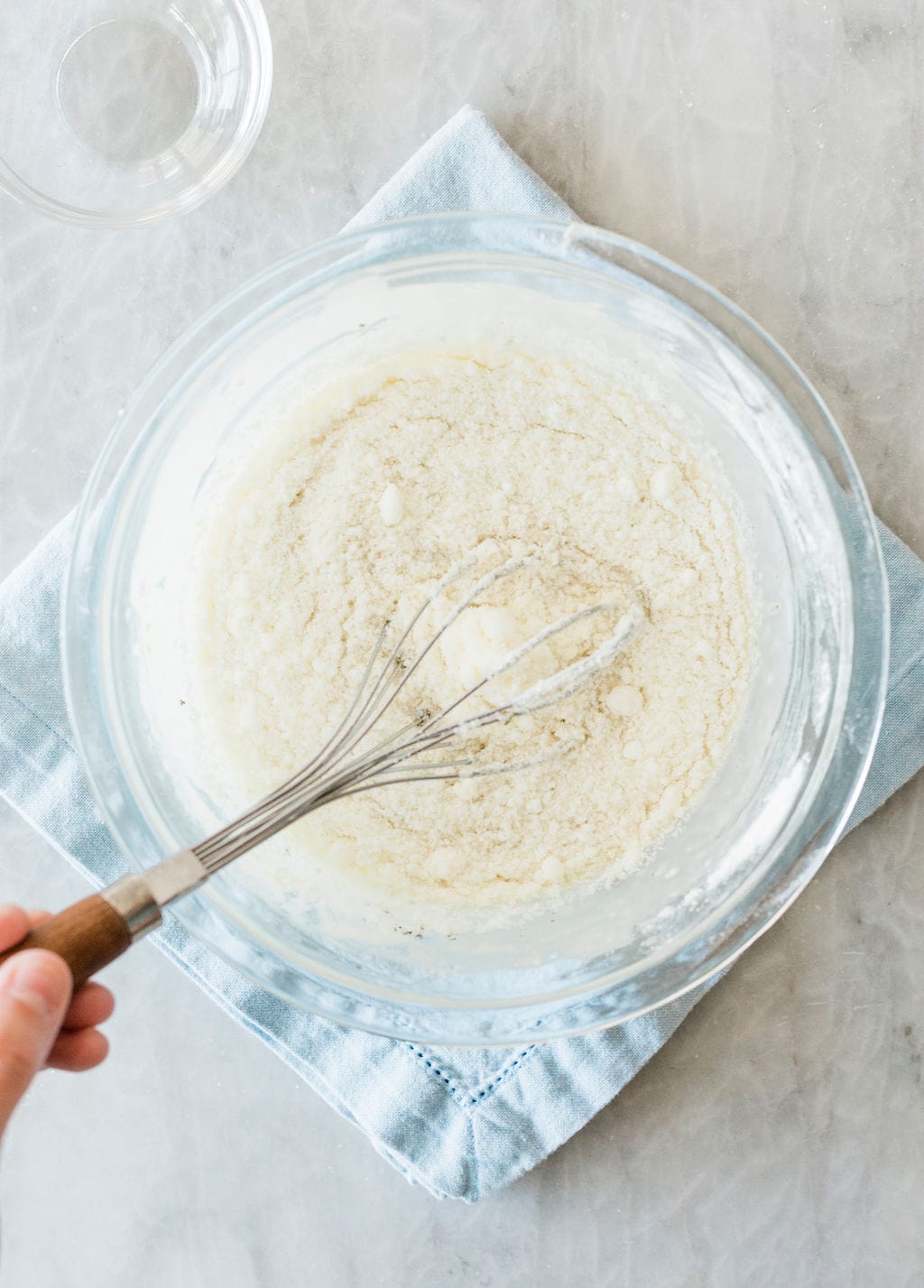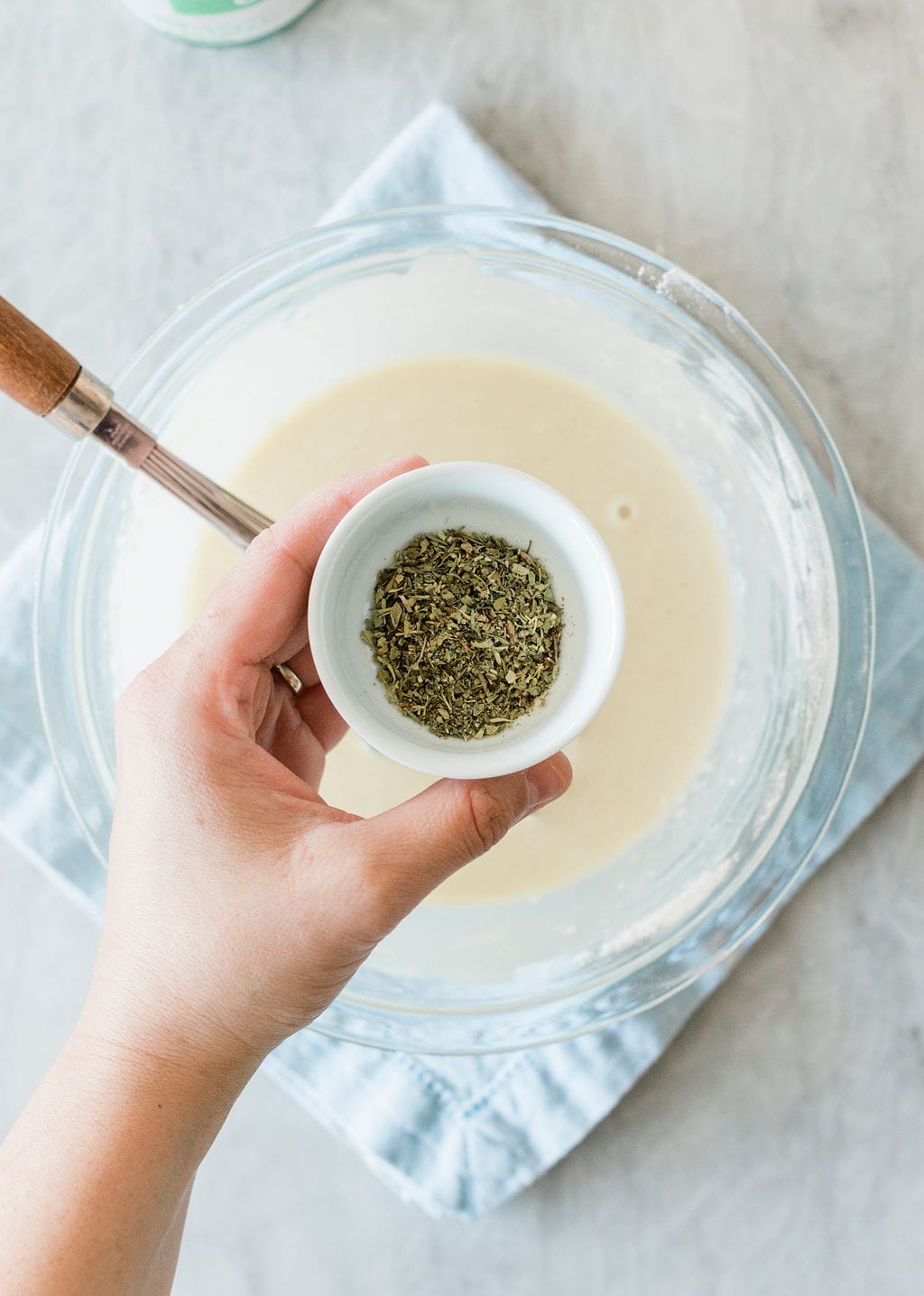 How to Make Pizza Crust
To make this super easy pizza, all you do is whisk the eggs and milk together, and then add the flour, Parmesan cheese and Italian seasoning. Mix it all up and then pour it into a rectangle sheet-pan sprayed with cooking spray. Bake your crust at 425 degrees for 20 to 25 minutes until the crust is lightly browned, and then it's ready for all of your toppings!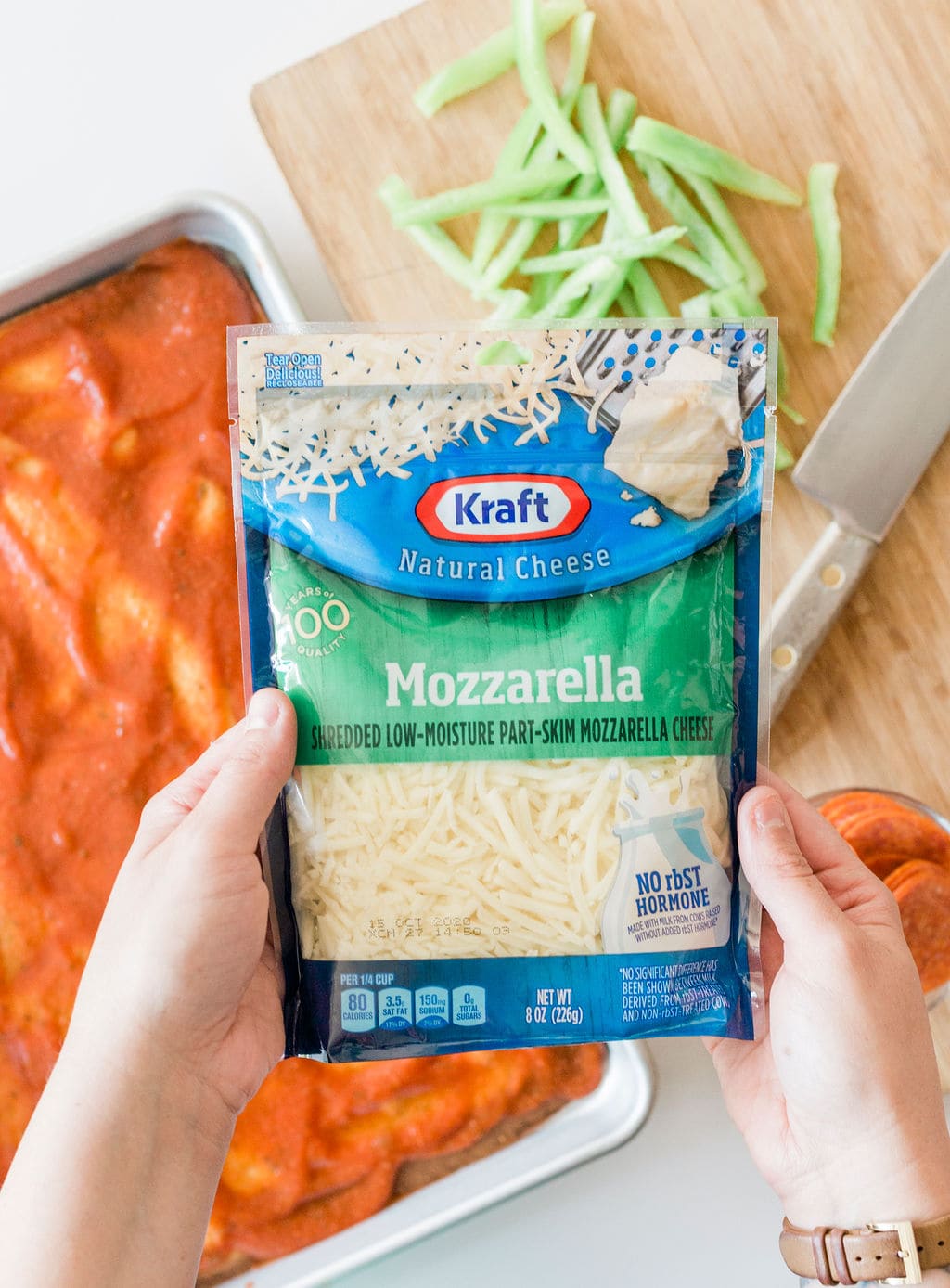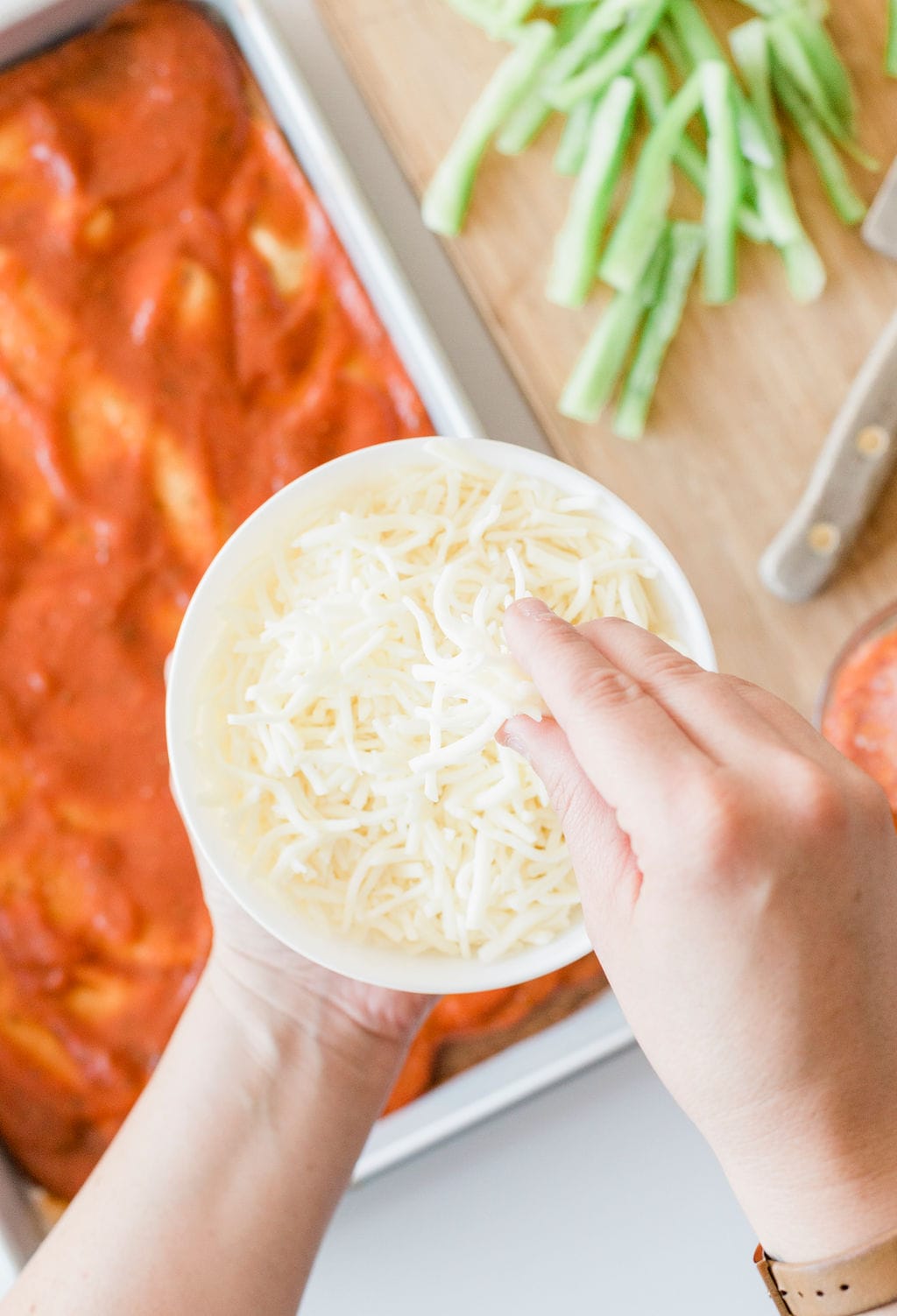 Pizza Toppings
Take your crust out of the oven, spread with pizza sauce, and then top with mozzarella, peppers, and pepperoni before putting it back in the oven for another 8 to 10 minutes to let the cheese melt.
Easy Dinner Recipes
We first made this recipe for a fun mid-week meal, and I was SO excited about how easy it was. And of course, with how much the kids love pizza, they went wild! It was the perfect answer to the mid-week chaos, and I can't wait to see what other topping combinations we can come up with next time! We've definitely bookmarked My Food and Family as our go-to for dinner recipes. What's your favorite weeknight meal? Tell me all about it in the comments below!