Looking for your new favorite slow cooker recipe? Pasta night just got so much easier with this Slow-Cooker 'Baked' Ziti recipe!
PIN Slow-Cooker 'Baked' Ziti for Later!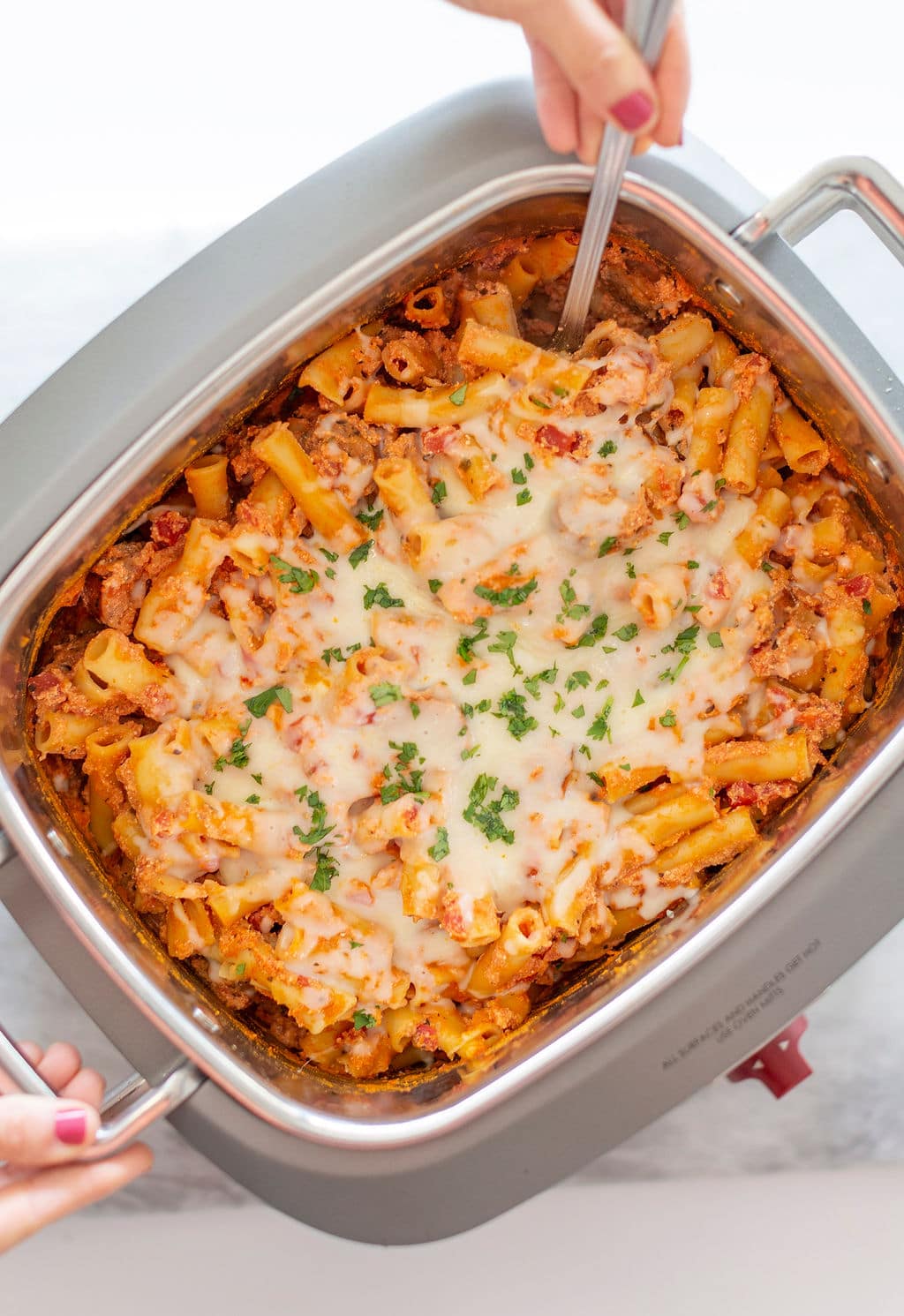 Quick Dinner Recipes
Who doesn't love a great easy and delicious dinner recipe? Seriously, having a good recipe at your fingertips can be such a game-changer. I love being able to spend more time around the table as a family instead of running around trying to get dinner on the table. Lately, I've been building up my recipe collection for that exact reason, and I'm so excited to share one of my new favorites with you.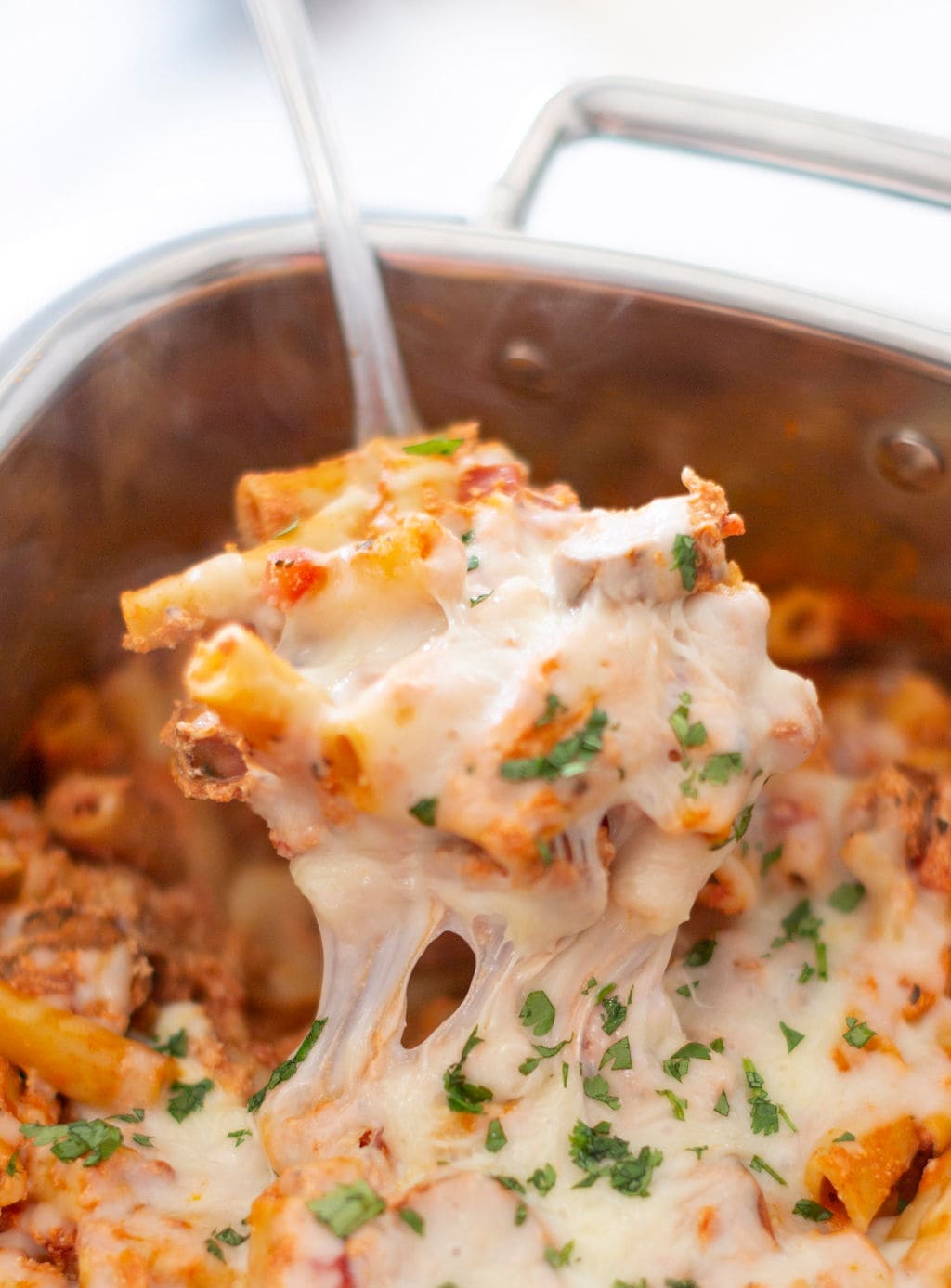 Easy Slow Cooker Recipes
Fall is here, and that means it's time to break out the slow cooker and all of the cozy recipes! I absolutely love a good slow cooker recipe. I love that I can throw everything into the crockpot, set it, and forget it. And I think I may have just found my absolute new favorite recipe. We're going to be having this one on repeat for fall for sure!
Easy Baked Ziti Recipe
We recently tried out this Slow-Cooker 'Baked' Ziti recipe for a weeknight dinner, and it was such a hit! I've been trying so many new recipes from My Food and Family's extensive online collection, and I just love this option from the My Food and Family Summer 2020 magazine. I'm obsessed!
I can't believe how easy this recipe was to put together by just throwing all of the ingredients in the slow cooker and letting it sit. It only took 10 minutes to prep! Once everything was in the slow cooker, I was able to leave it to cook, and it was ready in three hours. I was able to get everything ready and then focus on other activities with the kids throughout the afternoon. What an easy way to get a weeknight dinner ready while focusing on spending time with the kids instead of being in the kitchen all evening!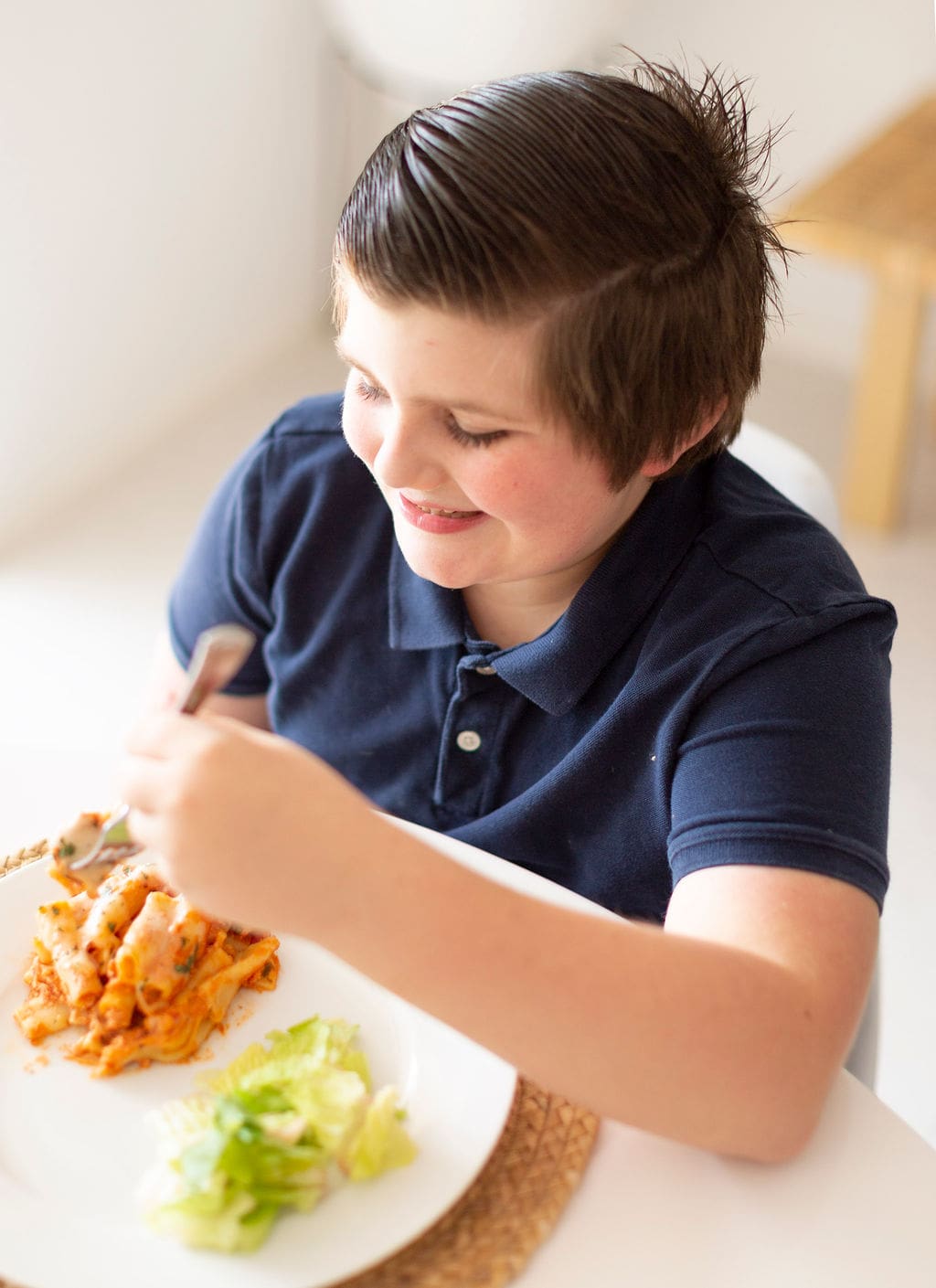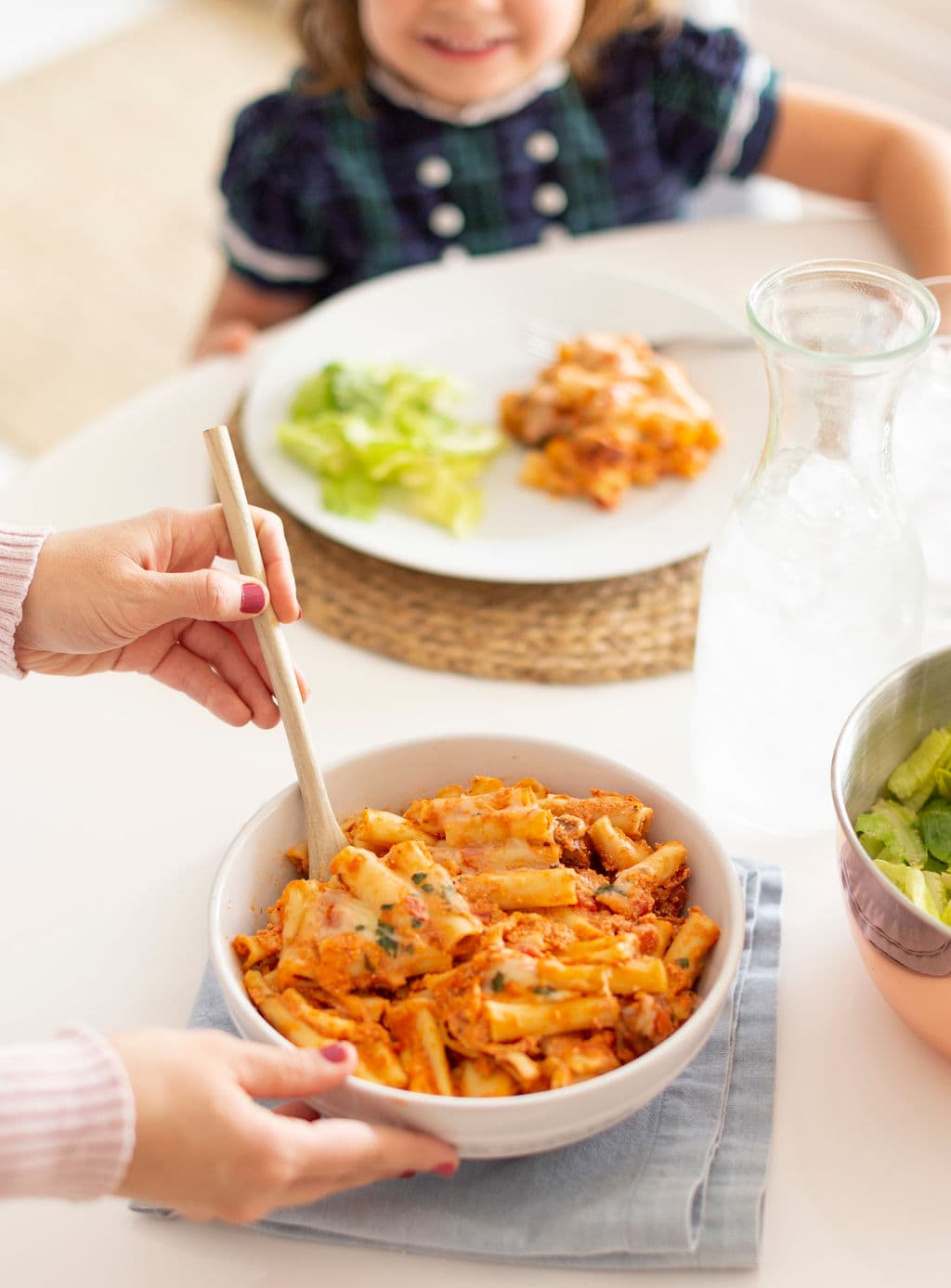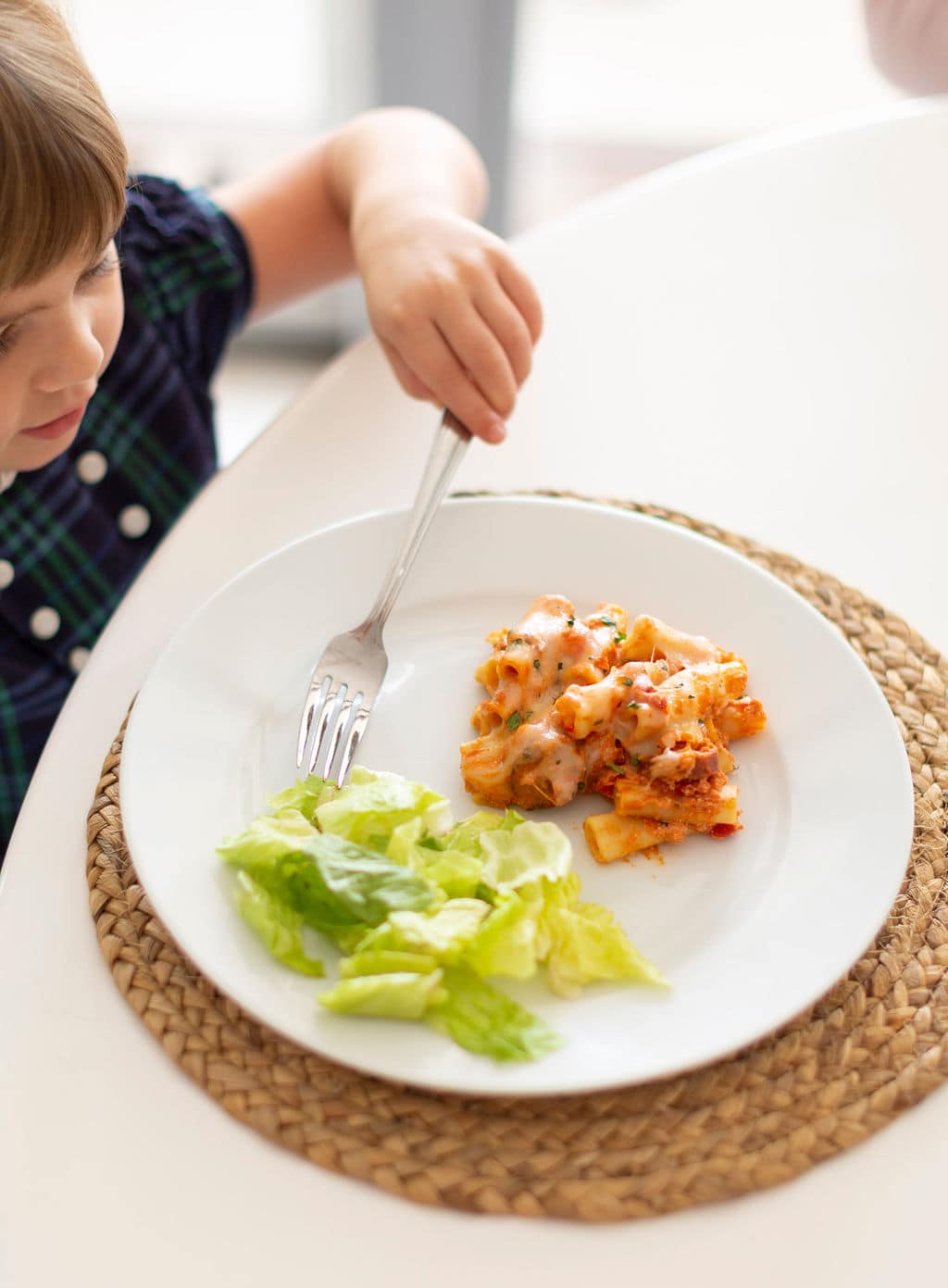 Slow-Cooker 'Baked' Ziti Ingredients
This recipe comes together with just a few simple and delicious ingredients. All you'll need is one package of ziti pasta, one package of KRAFT Shredded Mozzarella Cheese, a jar of pasta sauce, POLLY-O original ricotta cheese, a can of diced tomatoes, a can of fat-free reduced-sodium chicken broth, and fully cooked chicken Italian sausage links. That's it!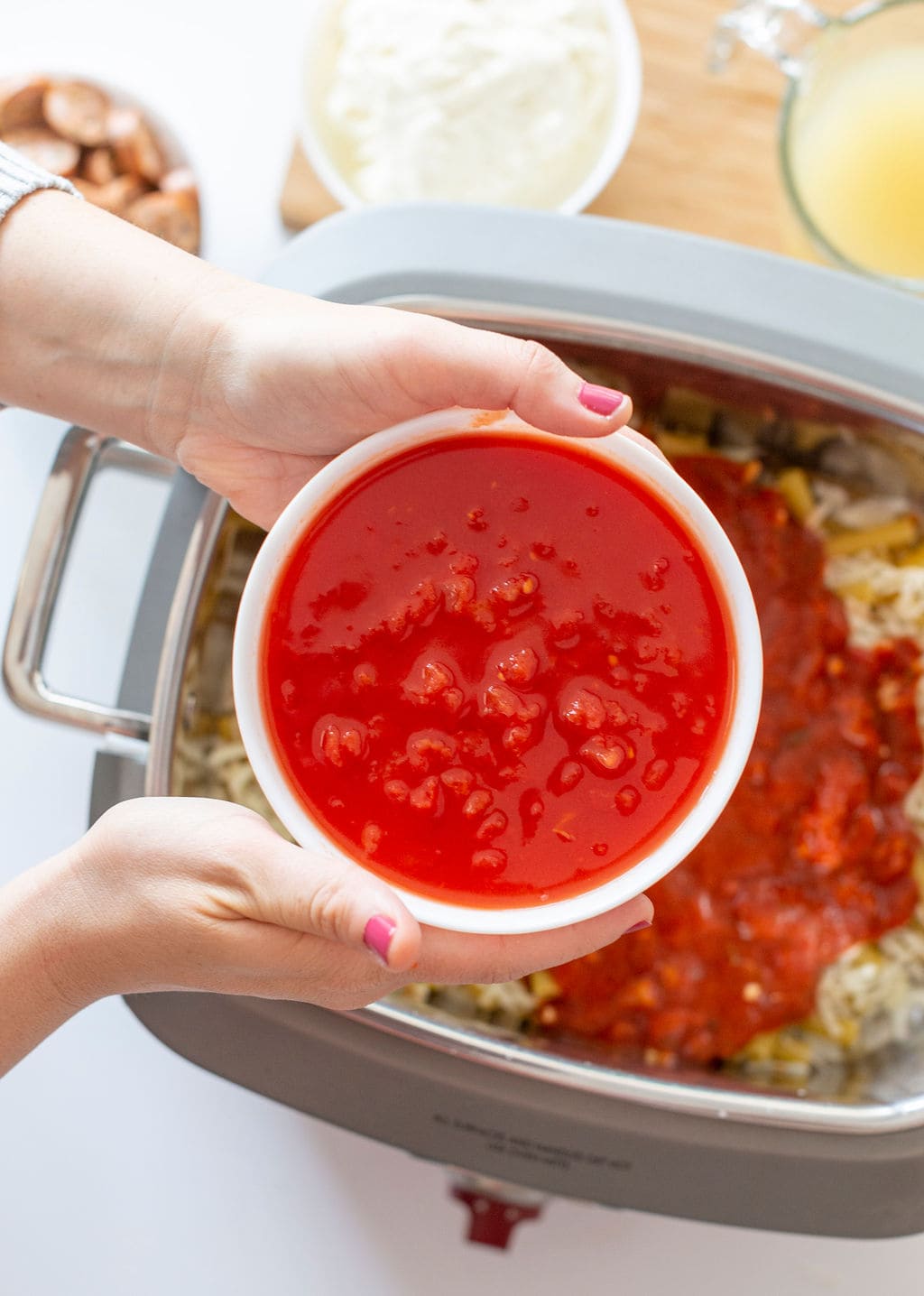 How to Make Slow-Cooker 'Baked' Ziti
Pasta night just got so much easier! Who would have thought that was possible? To make this super easy Slow-Cooker 'Baked' Ziti, all you have to do is prep your slow cooker with cooking spray, and then add in your pasta. Keep ½ cup of mozzarella off to the side for later, but add the rest to the slow cooker. Add in your pasta sauce, ricotta cheese, diced tomatoes, chicken broth, and chopped up chicken Italian sausage. Mix everything together lightly, put on the lid, and let it sit! You'll cook your meal on low for three to four hours. Or, if you're in a hurry, cook it on high for two to three hours. Once the ziti is ready, top it with the rest of the mozzarella cheese and cook it on high for another 10 minutes to melt the cheese. It's that easy!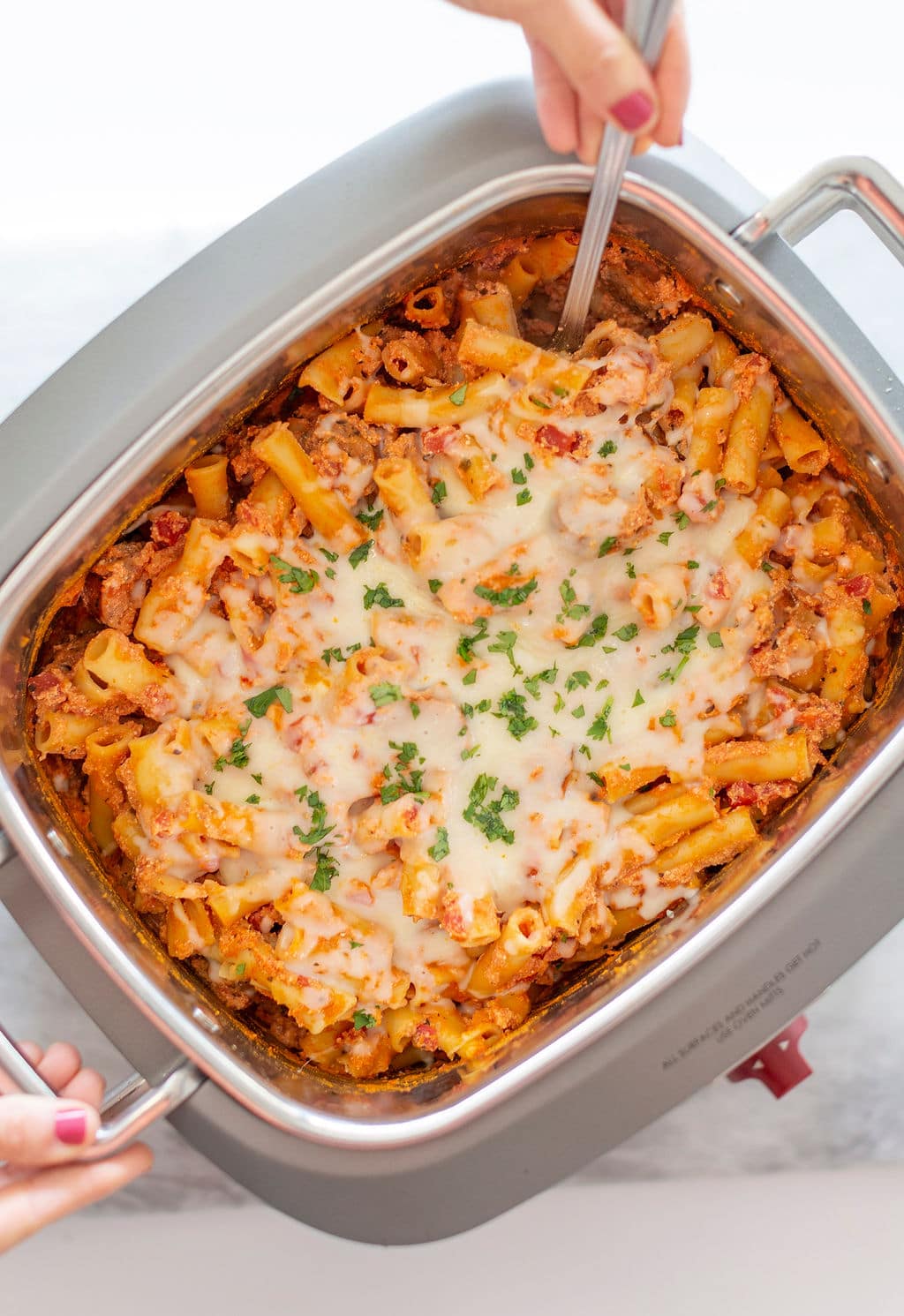 Pasta Night
If there's anything I've learned over the years of being a parent, it's that dinner doesn't have to be hard! Pasta night as a family is one of our absolute favorites, and we love the option of spending less time in the kitchen prepping dinner and more time spent with the kids, and the recipes in the My Food and Family collection allow just that. There's so many delicious options to choose from, and they are definitely kid-approved in our house. The kids went crazy for this Slow-Cooker 'Baked' Ziti. And with how quick and easy it was to put together, we'll definitely be making it again! Next time we may top it off with a sprinkle of freshly chopped basil. What would you add to this recipe? I'd love to hear if you make it. Tell me all about how much your family loved it in the comments below!