Spring is just around the corner! Here at Best Friends For Frosting, we are switching over our wardrobes, catching up on spring cleaning, and making our favorite springtime desserts! We love the bright and airy desserts that come with this beautiful season, and these Spring Celebration Brownies by Beth of Food, Fashion, and Fun are sure to brighten up anyone's day! Here is what she has to say:
When it comes to springtime, we know that your family wants to get out there in the sunshine and have some fun. Whether it's spring sports at school or fishing trips, everybody's schedules don't always add up. That's why it's so important to spend that time together gathered around the dinner table.
Adding dessert as an after-dinner treat is a surefire way to keep your family at the dinner table a little bit longer. With a little help, you can pull off a quick and easy dinner and dessert pairing that will not only impress your family, but leave them asking for more! And the best part? You can pull this off any day of the week!
Today we're sharing these Spring Celebration Brownies from the Bisquick's Betty Crocker Collectio. Think of how thrilled your family will be when they find out they get delicious, brownies on a weekday.
SPRING CELEBRATION BROWNIES
Makes 12 squares
INGREDIENTS:
– 1 box (1 lb 2.4 oz) Betty Crocker Original Supreme Premium Brownie Mix
– Water, vegetable oil, and one egg called for one brownie mix box
– 2 cups of miniature marshmallows
– 2/3 cup of pastel-colored candy-coated chocolate candies
– 3 tablespoons of semisweet or milk chocolate chips
– 1/4 teaspoon of shortening
INSTRUCTIONS:
1. Heat oven to 350°F (325°F for dark or nonstick pan).
2. Grease bottom only of 9-inch square pan with cooking spray or shortening.
3. Mix and bake brownies as directed on box.

4. Sprinkle with marshmallows; bake 5 minutes longer or until marshmallows are puffed and golden.
5. While the marshmallows are still hot, sprinkle with candies.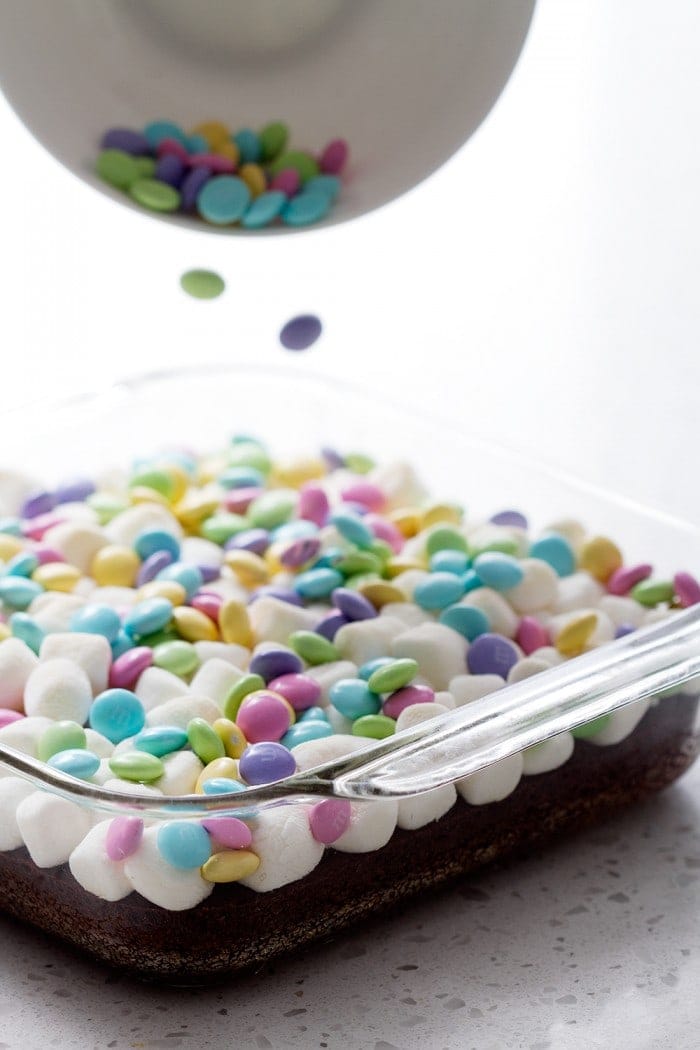 6. In small microwavable bowl, microwave chips and shortening uncovered on high 10 to 15 seconds.
7. Stir until smooth and then drizzle over bars.

8. Cool completely.
9. For easier cutting, use plastic knife dipped in hot water. For bars, cut into 4 rows by 4 rows.