Mini Floral Cakes with Vanilla Frosting
This homemade Vanilla buttercream Frosting recipe is one of the best frosting recipes you will ever try!  If you're looking to learn how to make Vanilla Frosting, you will not want to miss this easy frosting recipe! Before we talk all about frosting, I have to give you a quick update… What a week you guys! Things with our home renovations have been in FULL swing around here and I'm definitely due for a break! It's all been so worth it though! I'm almost done hanging up my absolute favorite wallpaper in my office (spoiler alert: it's pink ;)) and just ordered a brand new desk to finish off the space. I can't wait to share the finished looks with you guys!
The Only Vanilla Frosting Recipe you Need
With all the craziness of the home renovations though, I've definitely been in a treat yourself kind of mood! And honestly, what cures a little stress better than a little sugar right?! OR better yet, Vanilla Buttercream Frosting! Baking has always been one of my go-to stress relievers and the past couple weeks have been no exception! I actually got the inspiration for my recent baking binge, from a friend of mine, Jennifer Jacobs.

Perfect Frosting to Decorate Cakes
Jen and I connected several years back through the #sobestfriendsforfrosting community. She's the owner of the Wandering Whisk Bakeshop in St. Petersburg, Florida and gets to spend all of her time creating the most amazing and delicious recipes. Seriously everything she makes is so stunning! If only we lived closer and she could bring me on as her official frosting-taster! ;) In the mean time, I am so excited to share with you her raved about Vanilla Buttercream frosting recipe. The consistency is perfect for piping gorgeous ruffles of frosting!
Mini Floral Cakes with Vanilla Buttercream Frosting
Jen channeled some hard-core spring fever and created these Mini Floral Cakes using her best Vanilla Frosting recipe. And you guys – I am seriously in love! These cakes are the perfect party dessert. I also absolutely guarantee this vanilla frosting recipe will be a total lifesaver for any spring party, event, or occasion you have coming up!
Best Homemade Vanilla Frosting and Cake
The cakes themselves are the lightest and fluffiest Vanilla Bean Cakes ever and they're layered between some purely addictive Strawberry Buttercream frosting. Be very, very, very careful when making this buttercream frosting! Trust me- you'll start tasting it and then suddenly have a completely empty frosting bowl. (Oops!)
How to make Mini Floral Cakes with Frosting
The secret to these mini delights is to cut the Vanilla Bean Cakes into little identical circles using a cookie cutter or serrated knife, so you can flawlessly stack them into towers with the Strawberry Buttercream frosting as the delicious glue. It's such a simple little trick that will wow your party guests, your family, or whoever you decide is worthy of these amazing cakes ;)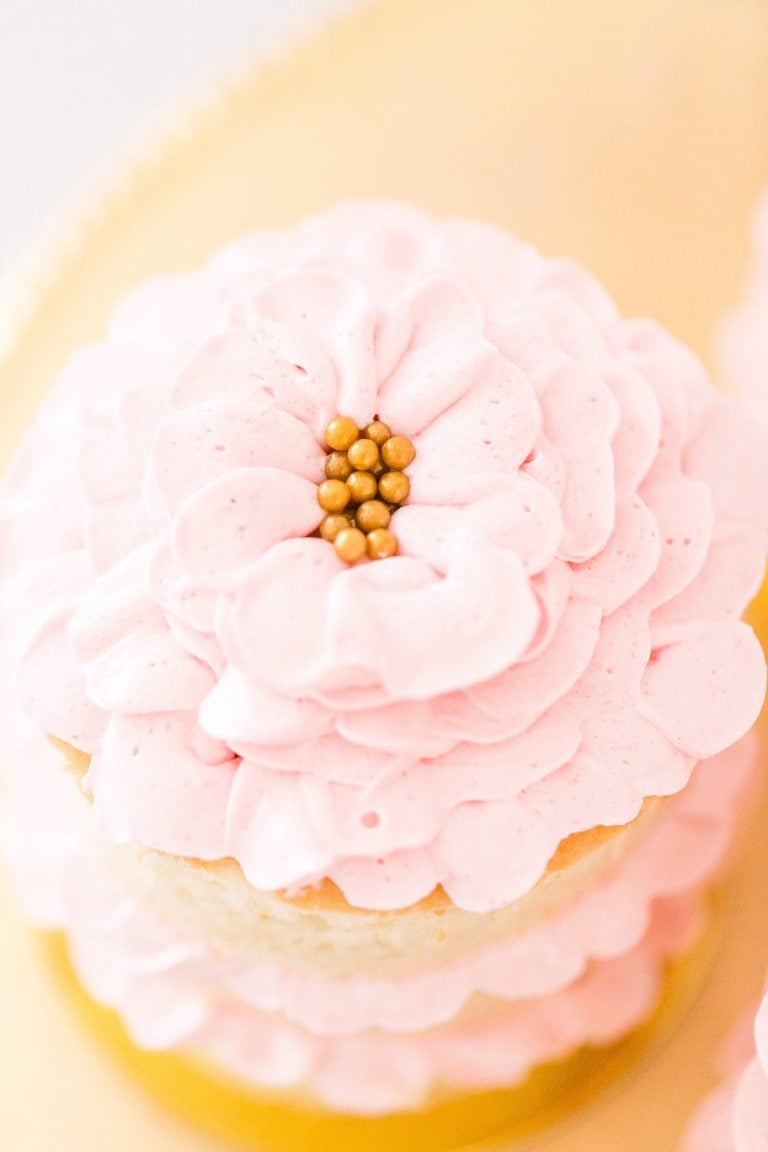 How to Pipe Frosting
For the final flower design, just pipe some of the buttercream (if there is any left after sampling ;)) in a few petal shapes and add some gold sprinkles on top to create the look of the flower center. With a little piping practice for the petals, these cute vanilla cakes can be decorated so quickly! I love, love, love the final look of them. I think the layers of the cakes give them an extra wow factor, rather than just a single decorated cupcake. The amazing vanilla buttercream frosting recipe is the perfect added bonus!
Dessert Party Table Ideas
These little cakes were exactly what the Spring Fever Doctor ordered, but I love how creative you can get with the party presentation of this! I'm totally kicking myself for not thinking of these a few years ago for Claire's Garden Baby Shower – they would have been perfect! But you can also use these cakes with vanilla frosting for an Easter dessert party or for summer garden parties. Whatever the occasion, these cakes are simple enough that you can really play up the presentation! You could present your Mini Cakes on a tree stump serving board for a truly woodsy party theme or even stack them on individual cake stands of different heights to make them really feel like flowers!
I couldn't get enough of the Vanilla frosting and Strawberry frosting cake combo, but you can also totally play up different varieties of flavors and colors to create a mini garden for these mini cakes! I also think it would be amazing to really commit and go for the floral frosting flavors. Frosting flavors like orange and basil, lemon and lavender, raspberry and rose, and so many others would be perfect combinations for this garden party feel!
I can't wait for you guys to try this cake & frosting recipe and I can't wait to hear about all the creative flavors you try out and see all the amazing designs!
Vanilla Frosting Recipe
Ingredients
2

cups

unsalted butter

4 sticks - at room temperature

4

cups

powdered sugar

2

teaspoons

vanilla extract or vanilla bean paste

Gel food coloring
Instructions
-In the bowl of a stand mixer with the paddle attachment, beat the butter for 1 minute until creamy.

-Add half of the powdered sugar and continue mixing on low for 1 minute.

-Add in the rest of the powdered sugar and vanilla extract. Mix on low until the powdered sugar and butter have blended. Use a spatula to scrape down the sides of the bowl.

-Turn the mixer to medium-high and mix for 2-3 minutes until the frosting looks light and fluffy. Add a few drops of gel food coloring and mix for another 30 seconds.
Vanilla Frosting Recipe > Join the Conversation
Styling a dessert party table that was made for this vanilla frosting recipe? Whether you're hosting a Spring party or baby shower or Easter Party, don't be intimated to try this amazing vanilla frosting recipe. You're tastebuds will be thanking you later!