Smart Cookie Back to School Party
Looking for back to school party ideas or back to school decorations? These easy ideas are sure to be a hit!
Back to School Season
The end of August is officially upon us, and that means it's back to school season! With Claire starting kindergarten and Charlie starting 5th grade this fall, I knew I had to put together a fun spread to celebrate these milestones. We love to do it every year! Seriously, where is the time going?! Are you feeling the same?! Charlie was only six months old when I started this blog. I can't believe it!
To get the back-to-school celebration started, we had so much fun putting together a "One Smart Cookie" themed back to school party at home for the kids, complete with Pencil Cupcakes and Apple Pretzels!
Back to School Backdrop
To get the party started, the backdrop needed to be set up first. What better way to celebrate back to school than with a note paper-themed backdrop!
We used a white wall at home as the base and then added party streamers in blue and pink to create the design. It's SUCH an easy and inexpensive hack to pull off at home. Just be sure to measure with a ruler to evenly place your blue streamers, and then add a pink streamer down the wall on the left side to finish the note!
Easy School Themed Party
With the backdrop ready to rock, it was time to add a sweet note for the kids. We used silver mylar balloons to spell out "One Smart" and then used a cookie balloon below. We couldn't find the perfect smart cookie to include, so we painted our own to finish the phrase "One Smart Cookie."
Pro Tip: If you can't find the perfect balloon, be the designer! Paint a Mylar balloon to achieve the look and style you would like for your party.
Back to School Desserts
Next up it was time for party treats! I used store-bought cookie dough and baked it for 45 minutes in an ungreased cake pan to make the circular cookie cake. Once it cooled, I used store-bought tube frosting to draw a face and glasses and pink candy melts for the rosy cheeks. The kids giggled and thought the smart cookie was so cute!
Easy Pencil Cupcakes
The dessert table was finished off with adorable Pencil Cupcakes. We used ice cream cones for the base, a quick cake mix, store-bought frosting, and dressed them up with pink and yellow scrapbooking paper and a Hershey's kiss to look just like #2 pencils.
Cute Apple Pretzels
Last up was my favorite – these super quick and easy apple pretzels! They're so cute and so fun to snack on! We simply dipped pretzels in red candy melts and then added a fondant leaf and stem to dress them up. The perfect apple for teacher!
Pro Tip: Prep the party desserts the day prior so you're not rushing around to set up your party at the last minute. Don't be afraid to take halfway homemade shortcuts like we did with the Smart Cookie Cake.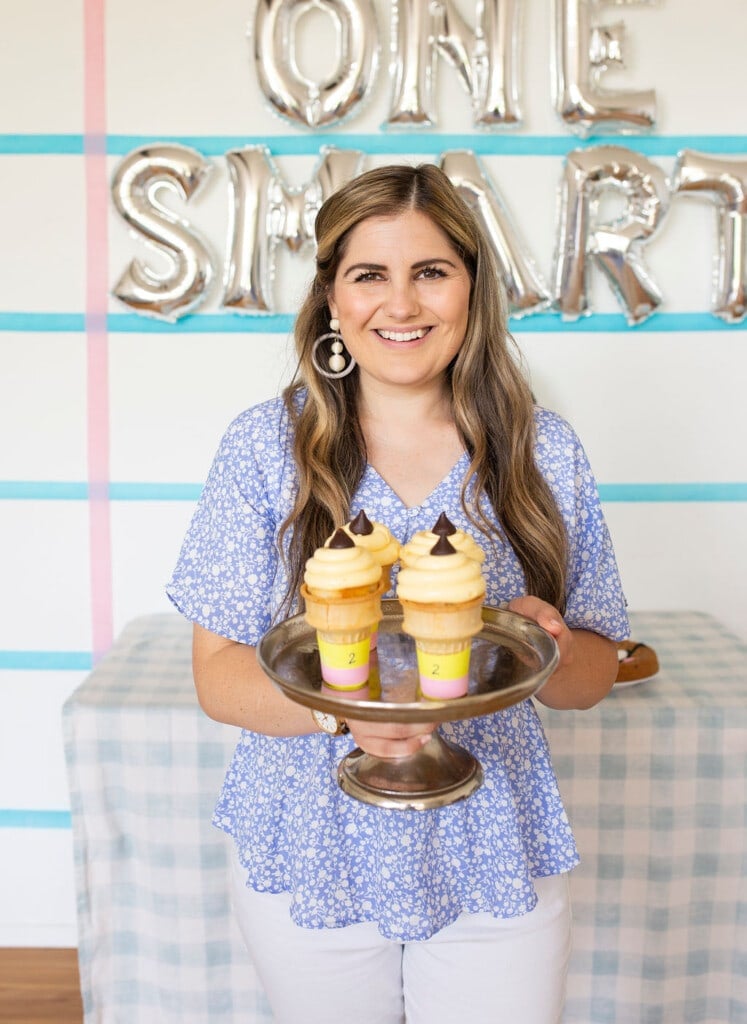 Celebrating the New School Year
Do you have any plans in the books for your kids to celebrate back to school? We're celebrating all month long, most recently with our feature in Woman's Day!
Pro tip: Consider ordering fun and easy back to school printable signs on Etsy to print and customize at home within minutes. Then, dress up your favorite room and throw a party!
Remember, parties don't have to be super elaborate. It just has to be straight from the heart as you celebrate the next big step for your kids. Happy back to school!