Colorful Kid's Party for Better Homes & Gardens
Looking for a modern kids party that hits all the best popular trends? This colorful kids birthday party styled by our very own founder, Melissa Johnson, is not one to be missed. Decking out furniture pieces that were already placed around the house was a must, and displaying dessert across the white credenza was such a fun way to showcase the dessert bar. This fun party included an arrangement of cactus cupcakes, watermelon donuts, fruit decorated cookies, cookie truffles, and cereal treats–all made by Sweet Cakes by Rebecca. And let's not forget the variety of DIYs this party has to offer. You're invited too, but no need to RSVP! Christie Spencer Photography captured all the best shots so you'll feel like you're there in spirit. We're thrilled to invite you to download additional supporting printables, grab exclusive recipes, and view the entire post styled by Melissa directly on Better Homes & Gardens. I can't think of a better time to throw your very own version of this party!
No fruit says summer like watermelon. So juicy and so colorful…the kids love it! We love how colors like pink and green are repeated throughout the cake and other desserts.
With lots of white and lighting, Melissa incorporates splashes of color to this minimalist space with balloons, confetti, and colorful treats.
And mini watermelon doughnuts with chocolate sprinkles to match? Absolutely adorable.
As if the cake and donuts weren't perfect already, we cranked the fruit and cactus theme up a notch with these perfect frosted sugar cookies and cactus-topped cupcakes. Add multi-colored rice crispy treats and you've got a rainbow to go with your sunshine!
Believe it or not, there's more dessert! We could totally go for one–or two, or three–of these cookie truffles right about now. The best thing about these little guys is, they're so easy to make it at home! Grab the recipe on Better Homes & Gardens.
When it's too hot to play outside, just get creative and plan some indoor fun. Grab some art supplies and have the kids cut out and decorate their own crowns and tiaras! Make sure paper confetti is abundant! Once they're all assembled, complete the look with DIY candy and cereal necklaces!
Oh, and don't forget balloons (of course)!!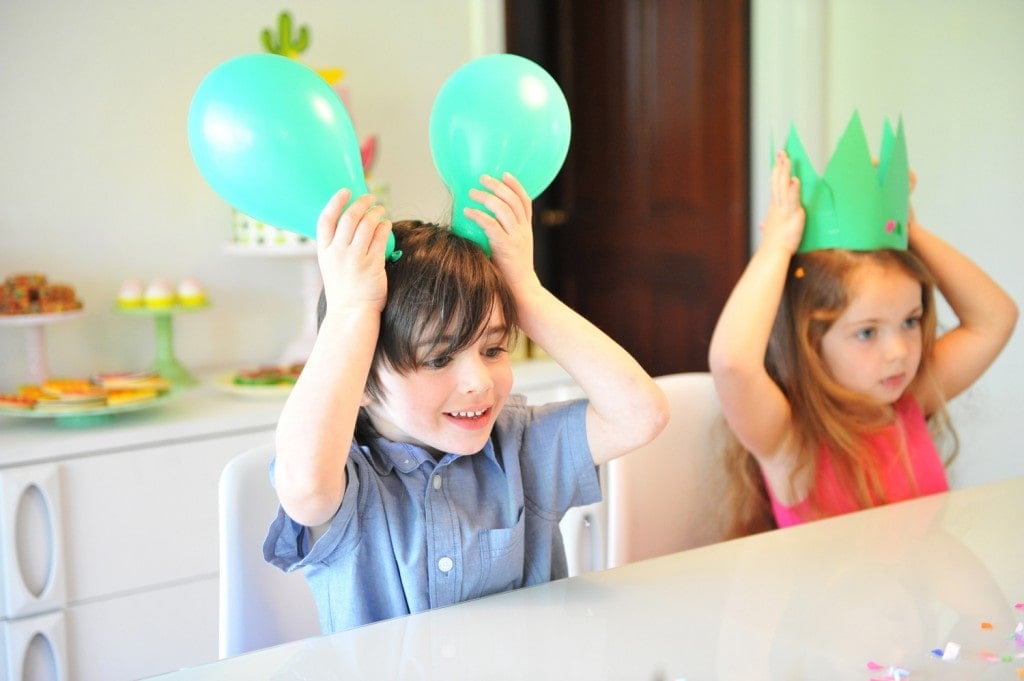 We surprised the kids outside with an ice cream break! Let's be honest, they will literally scream for ice cream when they see this awesome children's ice cream truck booth from Land of Nod!! We're obsessed!
Cup or cone? Take your pick! These colorful green and white polka dot cups with popsicle sticks are hard to resist. Download the exclusive printables from our graphic design team on Better Homes & Gardens.
If you had to choose, which of the awesome desserts from this party is your favorite?
Download free printables, exclusive recipes and more from this post which was originally featured on Better Homes & Gardens.
CREDITS: