Looking for a great DIY project this summer? Then look no further! We're loving this fun, bright DIY Confetti Bracelet project Jessica from The Confetti Bar and Madeline from Oh My Gemini are bringing to us today. What a fun way to add a pop of color to any outfit! Here's what these ladies have to say:
"What better way to use confetti than to turn it into a fun accessory? We're thrilled to bring you the cutest confetti-filled project that is sure to brighten up even the gloomiest of days. A new spin on the idea of a friendship bracelet, these would be super fun to make with a close group of girlfriends on a quiet night in. With these DIY chunky, colorful bangles you're sure to make a statement! The best part about them? You can add in a personal, hand-written intention or goal that will be shredded up and added to the rest of the confetti so that it is always with you as a secret yet beautiful reminder. These would also make a thoughtful, meaningful gift for a sweet friend to write a little hopeful message or note of encouragement."
-clear vinyl tubing – you should be able to find it fairly cheap at a hardware store such as Home Depot. You will need two sizes: one that has an outer diameter (OD) of 1/2″ and an inner diameter (ID) of 3/8″ & one that has an OD of 3/4″ and an ID of 1/2″ (basically the smaller tube needs to fit snugly inside the larger tube)
-hot glue gun
-confetti & glitter
-small pieces of paper & pens
-shred scissors (or regular scissors)
-a pencil or pen or thin stick
-washi tape, tassels, ribbons, and other assorted embellishments
1. Start by cutting your smaller tubing to a length of about 10″ – you can do with with a good, heavy-duty pair of scissors, or a knife (just be very careful!)
2. Using the hot glue, fill one end of your tube and let dry so that it "seals" shut.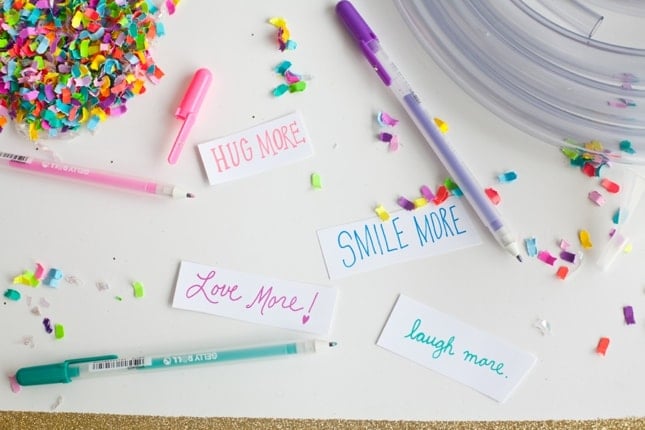 3. While you wait for that to dry, take a moment to write out your own personal intentions, goals, or reminders. Write one, or write a few. When you're finished, shred them up and mix it in with the rest of your confetti!
4. Once the glue is completely dry, start adding some confetti and/or glitter into the tube.
*It may help to use a small funnel to add in fine particles of glitter, and a pencil/pen/stick can be used to help push the confetti further down the tube.
5. Once your tube is completely filled, seal up the open end with some more hot glue.
6. Once that is dry, you will need a piece of the larger tube that is about 3/4″ (again, you can cut this with heavy-duty scissors a knife, but a knife tends to work better for the thicker tubing). Use that as the connector between the two ends of the bracelet.
7. Use some washi tape, ribbon, tassels, charms, or anything else you'd like to embellish your bracelets, paying particular attention to the connector piece so you can hide the hot glue ends!
Mix and match with your other favorite bangles and bracelets, and you've got one seriously colorful arm party going on!
And every time you wear your super special bracelets, you will be reminded of your secret messages inside – what a chic way to stay motivated & inspired!
Photography by Karissa Van Tassel Photography