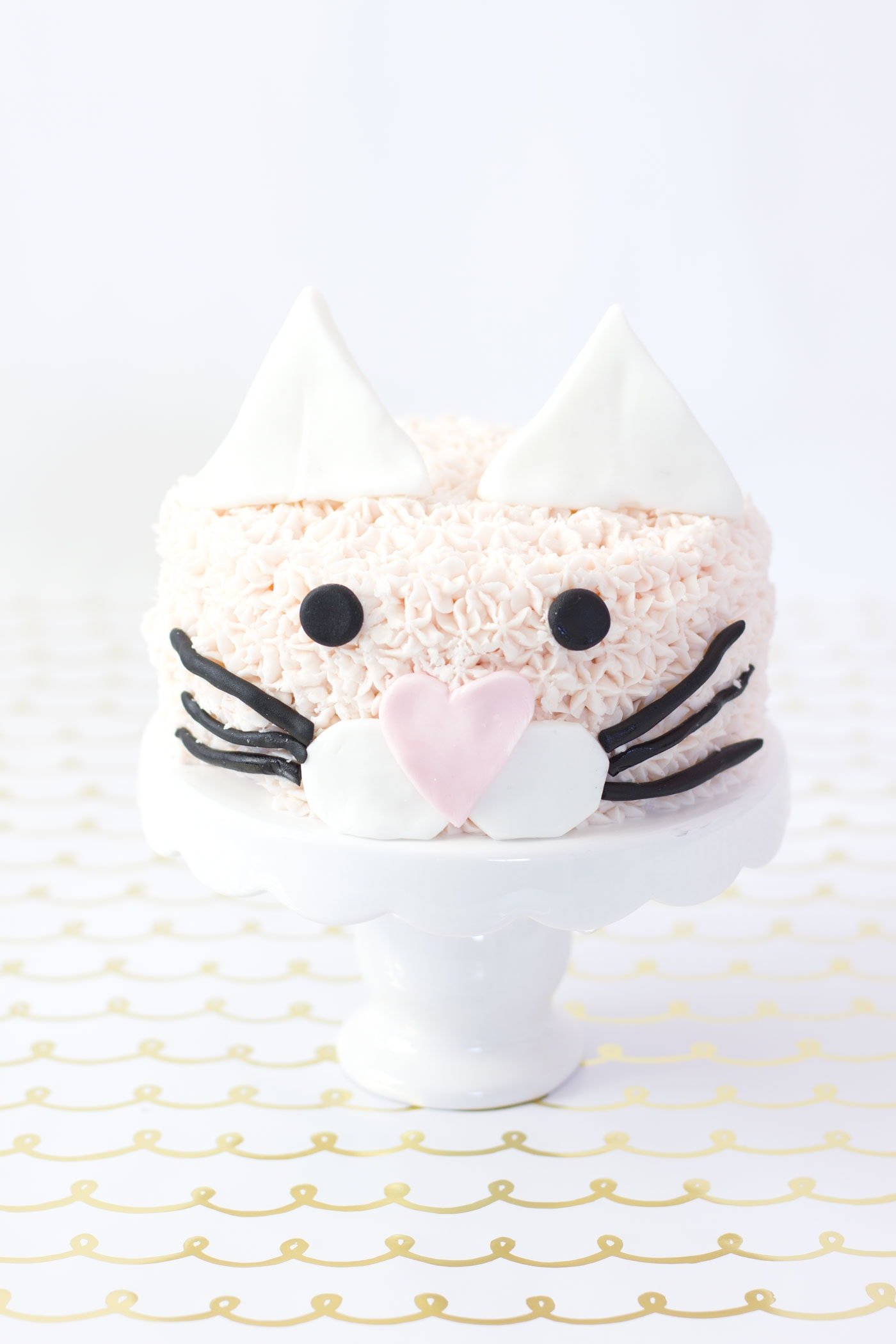 You guys! Thank you all so so sooo much for all of your sweet messages from our Instagram Story sneak peeks of Claire's first birthday cake last week! I still cannot believe she fell asleep on her big day before we cut the cake and opened presents. I finally know what the term "sleeping like a baby" really means! ;) It was so hard to wake her up but after 30 minutes, I was successful! A party is just a meeting without a cake, right?! Her baby book may or may not now say "I woke Claire up on her first birthday to eat cake because I thought it was absolutely necessary. That would be the strangest thing for her not to have cake on her first birthday!"




Looking for the easiest kitty cat cake to make? As promised from last week when I shared Claire's first birthday photos, I am finally sharing Claire's first birthday cake! Here's the low down – I got inspired for the cake design from my talented friend Coco Cake Land. But because she lives SOOOOO far away and goodness knows if she would have even had the time to bake this cake, I had to figure it out on my own. So, I busted out the pink frosting and fondant and added a couple minor tweaks to it! I could NOT believe how incredibly easy this pink cake was to make. I used my birthday cake batter frosting recipe (My FAVORITE) and piped it using a star tip. The star tip gives the frosting that kitty cat fur texture! I had Charlie add on the fondant pieces including cat whiskers, ears, a heart shaped nose, and black eyes! ;) He had a blast! P.S. random side note – kids LOVE fondant! It's basically like the perfect alternative to play dough without having to worry about your kids eating it. My favorite fondant since back in the bakery days has always been from Satin Ice – seriously the best! It's also what all the bakeries I used to work in would use! My friend Tessa from Style Sweet CA would use this in her bakery too – she was the one who originally told me about this magic!




Did I mention having a girl is SOOOO fun?! Claire is definitely a fan of kitty cats and you've probably noticed over the past couple of months that we're super into this kitty cat trend!! From making Kitty Cat Pinatas, a DIY Cat Planter, and searching Pinterest for Kitty Cat Party Styling Ideas, we're making every day a party!