Free Santa Letter & Envelope Printable
It's the most wonderful season of the year! And with the holidays upon us, that means it's time for letters to Santa. Luckily, we definitely have you covered! This free letter to Santa printable is so so cute for the holiday season! And it can be used in your own home in just a matter of minutes!
Are your kids just as obsessed with writing letters to Santa? Mine seriously want to write pages and pages to Santa every year! It's their favorite activity! They tell him about their whole year, ask about his favorite cookies and snacks, and they include notes on all of their gift wishes. So cute!
If you're looking for a cute and easy printable template for your kids to write their own letters to Santa, this printable is definitely it! All you have to do is grab the template below, print it on your favorite paper, and then let your kids have fun. I love the idea of dressing it up with colored cardstock or glitter paper for an extra special touch! The options are endless!
We always love to make a day out of crafting our letters to Santa, and these will make for the perfect addition. There's plenty of room to write a sweet note. Plus, it can serve as a coloring page for the kids too! We set up the table with cookies and hot chocolate and make a whole afternoon of it. It's so much fun!
Check out what our design contributor, Crystal from New Shop Design, is giving everyone away for free today. At the bottom of this post, you'll find a 100% free Christmas printable letter to use to write to Santa. Plus, there's an envelope to help get your special letter ready to go straight to the North Pole. Santa can't miss it!
You can save this Santa letter printable directly from this post, or go to her website to download these free pdfs. It's that simple! Ready. Set. Go! Wishing you all the best holiday season!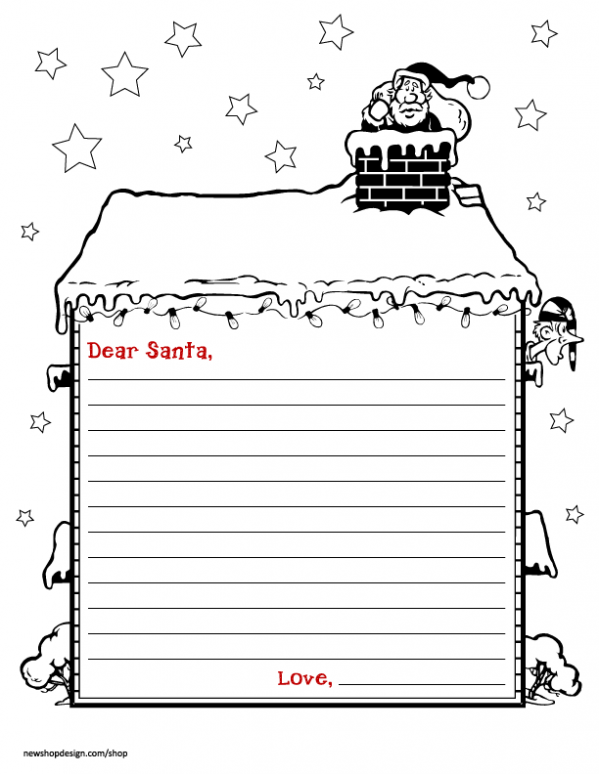 Right click to save each printable to use for letters to Santa in your own home!