Are you planning to host a Halloween Party this fall? Halloween is such a fun time to host a party for your friends, family, or everyone in the neighborhood! If you're looking for Halloween party ideas and Halloween recipes, this is for you!
Halloween Recipes
Raise your hand if you're just as excited about Halloween as I am?! I have been over the full moon excited about Halloween coming… seriously! I just can't get enough of holidays. I started shopping for Halloween home decor pieces in July and we had our first Halloween photoshoot in August. It's so much fun!
As we're weeks away from the big day, I wanted to share some of my favorite Halloween party ideas with you! Halloween is my favorite holiday to decorate for, especially when you can bring in Halloween ideas and make things feel nostalgic with a modern twist. Some of my fondest memories from childhood were decorating for the holidays with my mom at her office and home, which is why I love going all out every holiday for the kids. We are able to make memories and have so much fun, and I am so excited to share a few ideas on how you can do it too!
Putting together this Halloween Party was one of my all-time favorites to date, and these mini candy cauldrons were definitely one of my favorite parts! Just grab candy corn and candy pumpkins, little mini black cauldrons and display them for a fun party treat! (via Best Friends For Frosting)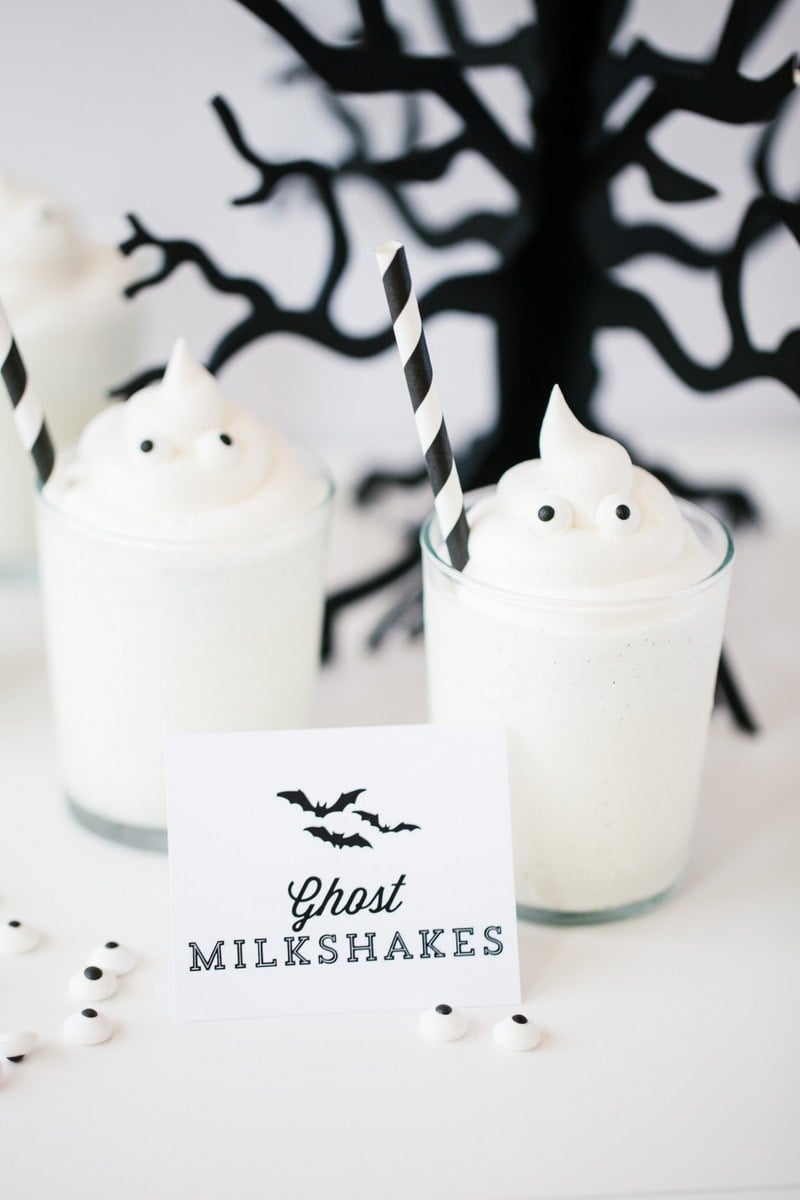 Halloween Milkshakes
Delicious drinks are a necessity for any party, which is why these Halloween Drinks will be a total hit. They are super cute and easy to make, which is a win in my book! (via The Tomkat Studio)
Pin These Halloween Party Ideas For Later!
Pink Halloween Cake
I am totally in LOVE with this Pink Halloween Cake. The color is super cute and I love the little ghosts that decorate the sides! This cake is a perfect table centerpiece for your Halloween party! (via Emma Courtney
Spooky Halloween Cookies
These Spooky Halloween Cookies allow your kids to create their own Halloween cookies. Make peanut butter cookies, put in a white peanut butter cups, and get a black food marker! Claire loves these because she can create her own monsters and draw fun Halloween themed things onto her own cookies and Charlie loves to help with the baking process! (via Design Eat Repeat.)
Halloween Monster Floats
All you need for these amazing Halloween Monster Floats is 7UP, lime sherbet, straws, and gummies! This drink will keep your little monsters happy for sure! (via Salty Canary)
Candy Corn Cake
My favorite thing is when I am able to combine things I love: cake and candy corn! This Candy Corn Cake has layers (which you all know I love a good layered cake) and looks like everyone's favorite Halloween candy. These are so cute! (via Country Living)
Unicorn Pumpkin
Decorating pumpkins is one of my favorite Halloween traditions, and I love to come up with new ideas every year. This Unicorn Pumpkin was definitely one of my favorites! I love how mess-free and cute it is. Claire also loves unicorns now more than ever, so we're definitely doing it again this year! (via Best Friends For Frosting)
Banana Ghosts
Claire is totally obsessed with bananas, so I can't wait to show her these! All you need to do is add candy eyes to make these Banana Ghosts. This healthy Halloween snack takes seconds to make, but the kids will love it! (via Alice & Lois)
Monster Rice Crispy Treats
These Monster Rice Crispy Treats are easy to make, and your kids can help make them too! Just melt colored chocolate and dunk the rice crispy treat, then add candy eyes wherever you like. So cute! (via Country Living)
Apple Monster Teeth
This recipe combines my Charlie and Claire's favorite school snack with a little Halloween flair! Add marshmallows to the mix, and you have these super fun Apple Monster Teeth! (via iHeart Naptime)
Halloween Party Table
I can't get over the set up for this amazing Halloween Party Table. Between the Halloween themed milk bottles, desserts and the modern banner, it all comes together so well! (via The Tomkat Studio)
Dark Chocolate Pretzel Screams
I scream, you scream, we all scream for Halloween! ;) And these Dark Chocolate Pretzel Screams are the perfect addition. They combine salty and sweet, my favorite pairing for any snack! (via Fork and Beans)
Spider Web Taco Dip
Dips have become a staple in my house, since we have entered football season! This Spider Web Taco Dip mixes our family's favorite dip with a Halloween twist! (via Maddie Butterfield)
Halloween Dessert Table
This Halloween Dessert Table is so so fun and easy to put together. I loved the idea of staging a dessert table with the letter balloon garland above. So festive! (via Creative Wife & Joyful Worker)
Snickers Caramel Apple Salad
This has become my favorite! Does it count as salad? ;) This recipe for Snickers Caramel Apple Salad is a big hit in our house, mixing the sweetness of the caramel and chocolate with the tartness of the apple. (via Spicy Southern Kitchen)
Cobweb Cupcakes
These will be the only spiders and their webs I allow in my house! These Cobweb Cupcakes were such a hit at our party last year, with cotton candy acting as the webs. We might just need to make them again this year! (via Donna Hay)
We love celebrating any holiday in my house, but this one happens to be one of my favorites! I know I get ahead of myself, but I can't help it when each of these snacks and ideas are so amazing! What are you going to use from this list? Let me know in the comments below!