This post was sponsored by Pottery Barn Kids, but all opinions are my own.
Halloween is just around the corner, and it's such a fun time of year! If you're on the hunt for Halloween party ideas, Halloween costumes, or just inspiration in general, this is for you!
Halloween Party Ideas
Raise your hand if you're as obsessed with Halloween as I am?! Halloween has always been one of my favorite holidays! From Pumpkin Spice Lattes to going to the Pumpkin Patch to picking out Halloween costumes, it makes me as happy as a kid! ;) Every year, we always go BIG on Halloween, and this year is no exception! But this year we got the pre-party planned a bit early with our friends at Pottery Barn Kids! When their Halloween costumes come out, it feels like Christmas. I get so excited picking out costumes for the kids. This year is extra sad for us as it's both my nephew Toby and Charlie's last year being able to fit into a Pottery Barn Kids costume, so we had to go all out! Toby decided he wanted to be a werewolf and Charlie's final costume this year is Frankenstein, and boy were they SO excited to try them on!
Halloween Costumes
Since this is Charlie's and Toby's last year fitting into PBK, we wanted to pick out the best costumes! Charlie chose the Glow In The Dark Frankenstein Costume for his last costume, and it is absolutely amazing! We got him the Light Up Monster Puffy Treat Bag to go trick-or-treating with, and it totally completes his look! He's obsessed! Toby picked out the Werewolf Costume and we got him the Bat Treat Bag to go with it! So much fun!
Princess Costumes
Toby's sister, my niece Paisley, got the Glow In The Dark Witch Costume this year, and it is just SO fun paired with the Light Up Pumpkin Puffy Treat Bag. Claire is obsessed with princesses, unicorns, and all things pink right now, so of course we had to get her the Light Up Pink Flower Magical Fairy Costume and the Blush Tulle Crown Treat Bag to go with it! She is SO obsessed she's talking about the countdown to Halloween every day now. ;) And June loves unicorns just as much as Claire does, so she got the Light Up Unicorn Tutu and Shooting Star Treat Bag. They are both SO excited they keep asking to put their costumes on every day!
Halloween Decoration Ideas
Do you go all out on decorations are your house?! I love Halloween, so obviously we do around here! ;) Whether you're decorating for a simple party at the dining room table or doing a giant Halloween party, hang up a few fun garlands like this Trick or Treat Garland or Happy Halloween Garland. Both are perfect for taking pictures in front of!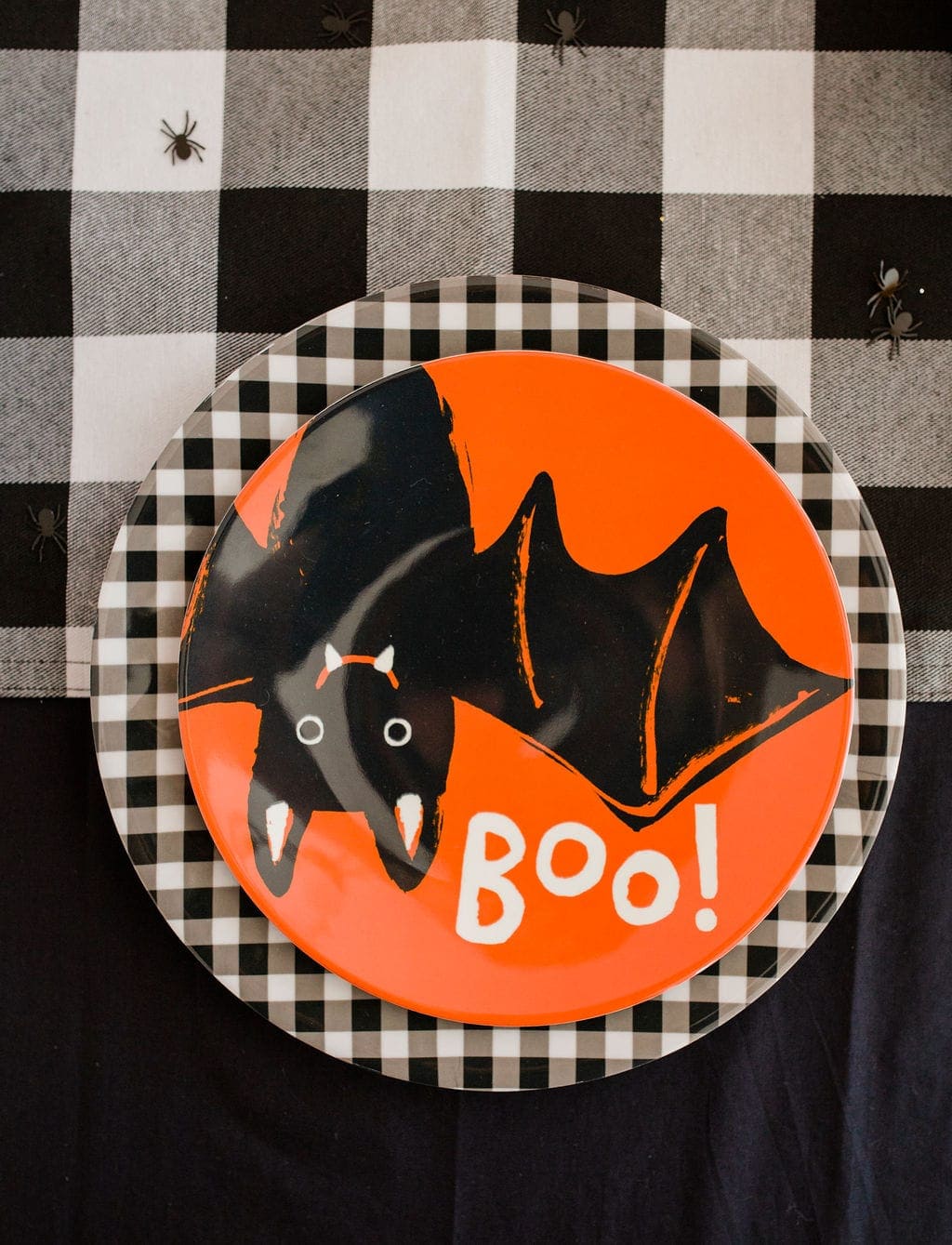 Halloween Tablescape
But a Halloween party isn't complete with fun foods! Planning a Halloween tablescape can be SO easy with the right pieces paired together. Start with a tablecloth like this Halloween Glow In The Dark Ghost Tablecloth. Then, pair black and white Gingham Chargers with pieces like these Halloween Bat Plates and Halloween Spider Plates. I'm obsessed with how cute those are! Just a few key items can really bring your party together!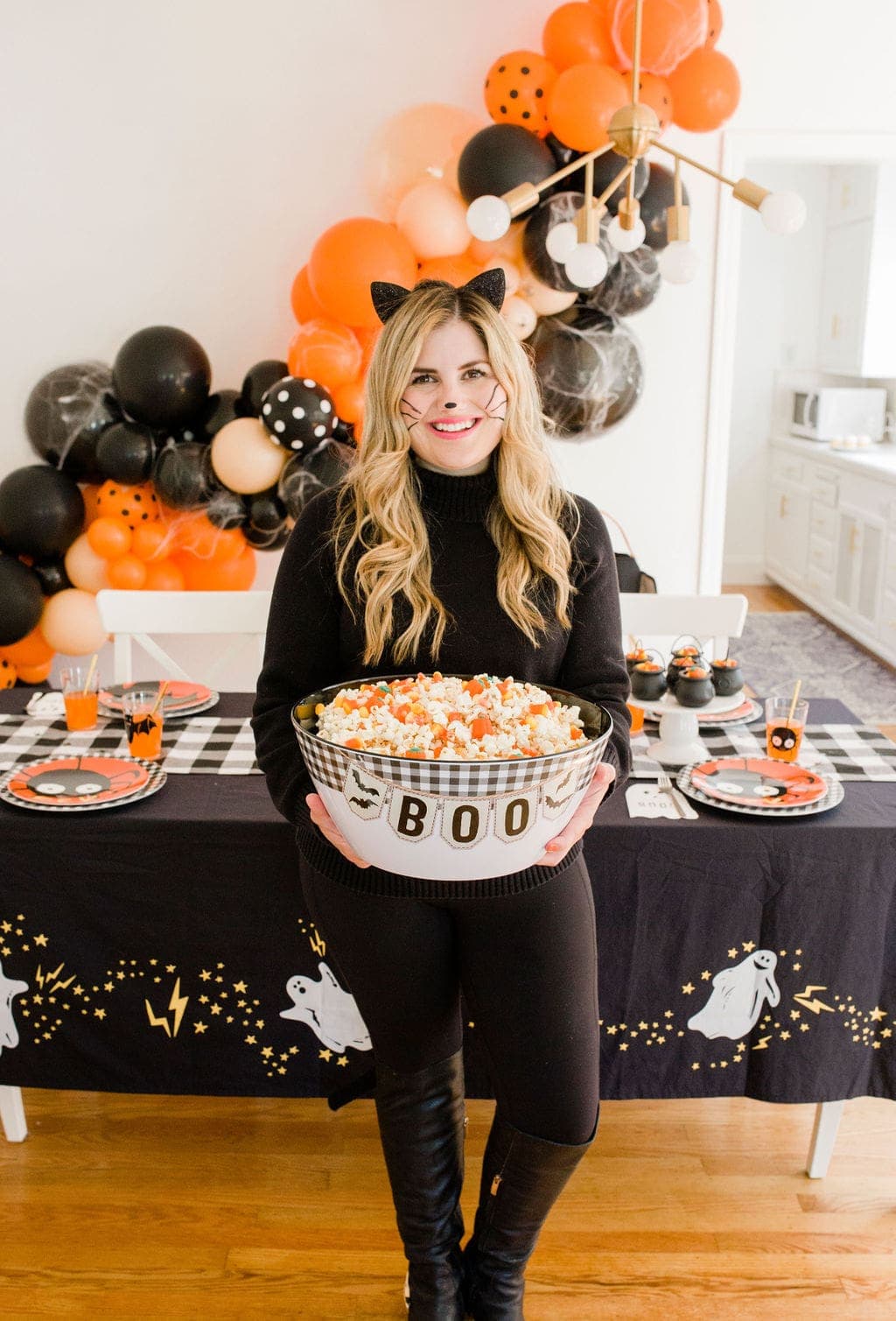 Easy Halloween Desserts
Planning the treats for your table doesn't have to be hard, and you can set most of them out ahead of time! Plan to make Halloween popcorn with melted white chocolate and candy corn and fill up a fun Halloween bowl with it! All you have to do is pop your favorite popcorn in the microwave, melt white chocolate, and stir it all together! For another easy treat display, grab mini black cauldrons and fill them with candy pumpkins and candy corn! It's that easy!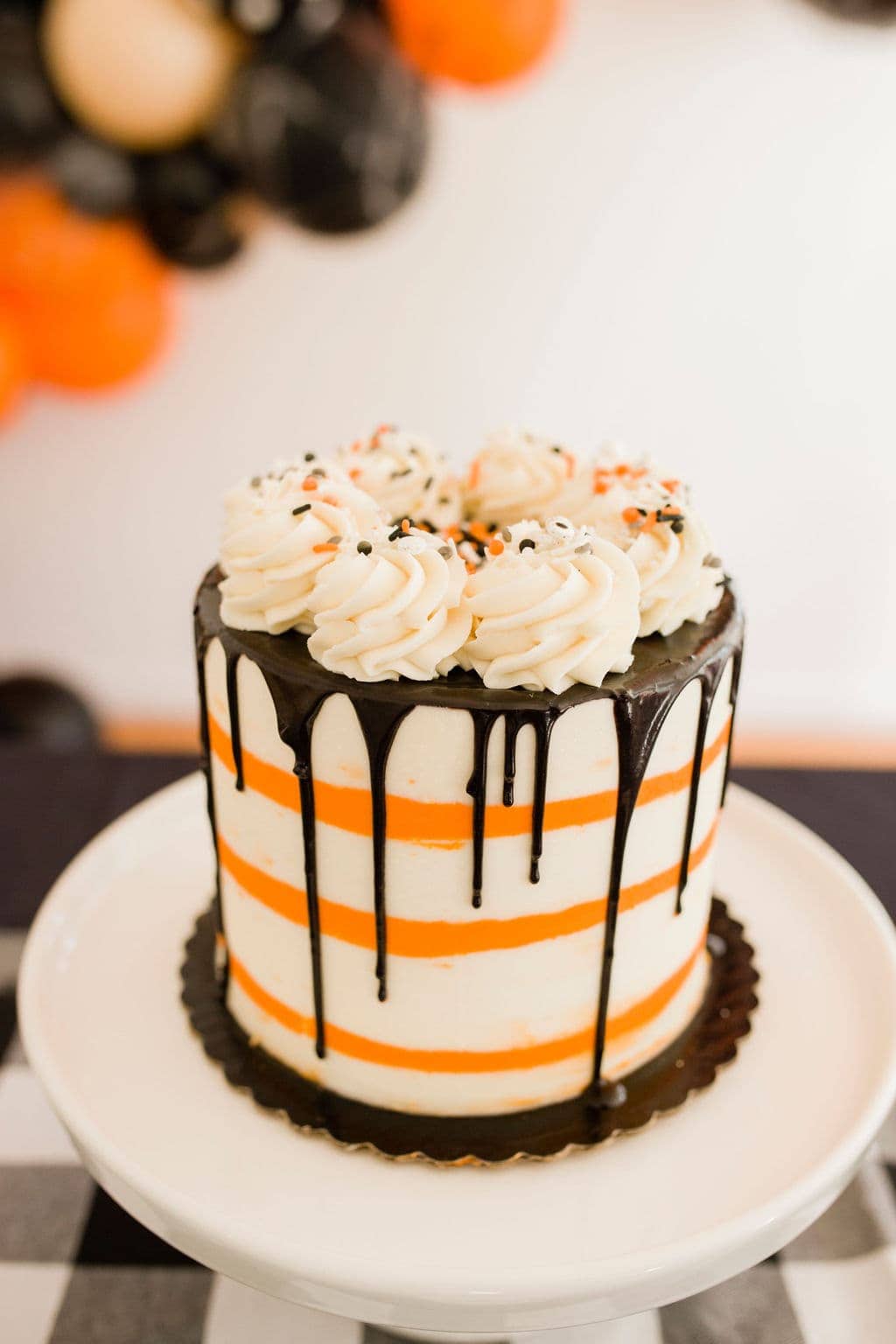 Halloween Cakes
It's not a party without cake, right?! Use this cake as inspiration for your Halloween party! If you're not that in to baking elaborate cakes like this, don't worry! Take this photo to your local bakery and ask your baker to recreate it. It's a such a fun, chic cake for a Halloween party! If you want single serve desserts, these cake cones are so so fun. The kids were OBSESSED. To make them at home, grab ice cream cones and place a cupcake inside. Then, use frosting to decorate the top, and don't forget your googly eyes! ;)
How to Set Up a Tablescape
Set the table with plates filled with cupcakes and sweets for your guests. Halloween is one of the sweetest holidays after all! We used these Halloween Bat Tumblers and Halloween Spider Tumblers for the kids' bright orange drinks. To match the theme, use orange soda or orange Gatorade, or you could even use grape juice! They are now some of my favorite cups – so cute!
How to Use Dry Ice
Want to really kick your Halloween party or your tablescape up a notch? Dry ice is the key! It seriously only costs a few dollars, and a little bit goes such a long way. Your kids will freak over the bubbling cauldron, and adult guests will be pretty impressed as well!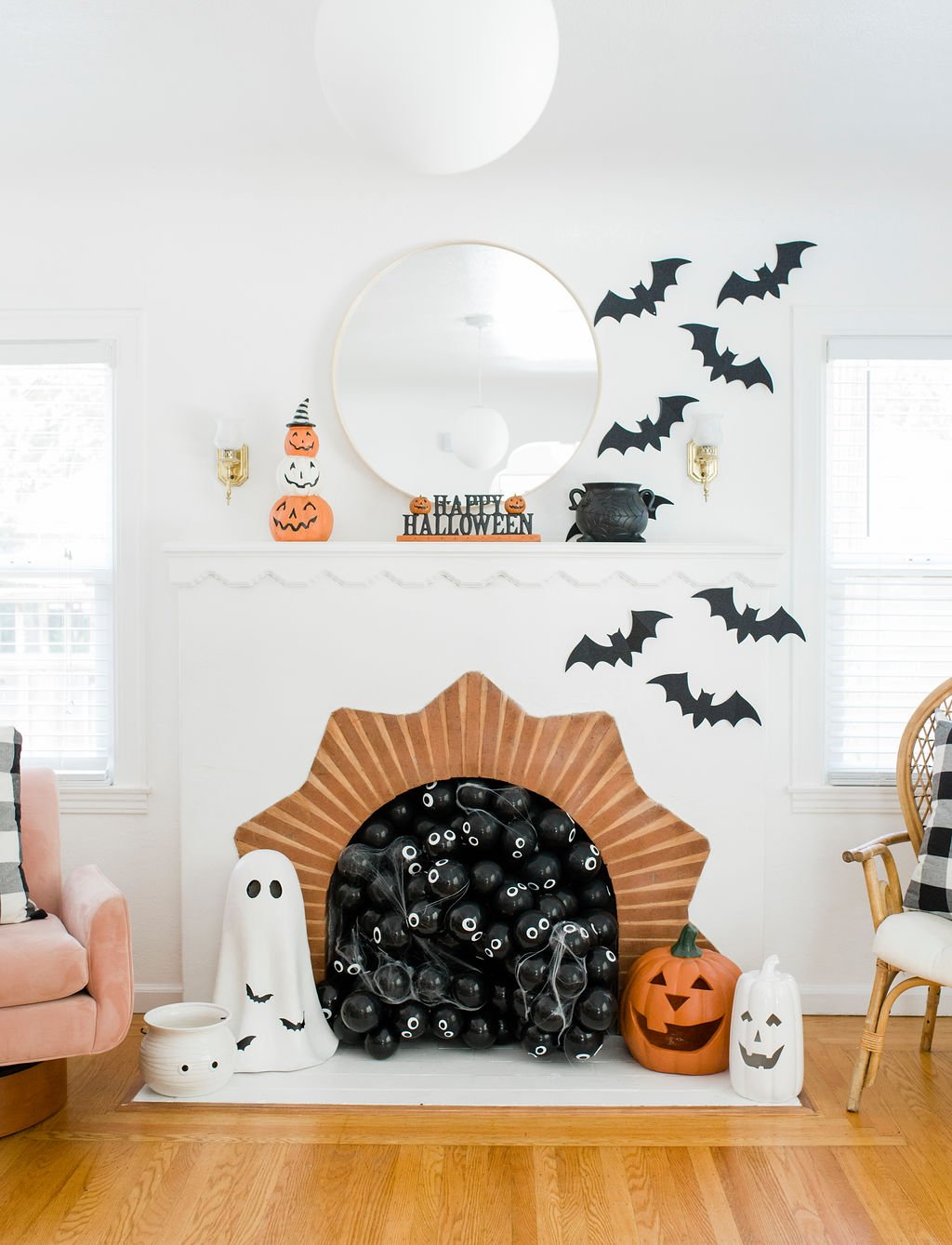 Halloween Fireplace
Ready for a fun and easy way to decorate for Halloween? Bring on the bats and spiders! If you have a fireplace, filling it with black balloons with eye balls is such a fun way to bring your decorations to life! Use black bat cutouts out of construction paper to decorate around the rest of the house. So easy and so fun!
Halloween Decorations
Raise your hand if you're obsessed with glitter around Halloween time?! One of my favorite items I've found from Pottery Barn this year is this Halloween Glitter Pumpkin. I love it because it is so glittery and super cute for pictures! I also found this Black Pumpkin with "Boo" on it, and I really couldn't pass it up! I love how it will work with all of the other pumpkins in the room. When we were on our Pottery Barn haul, Charlie also found a Giant Light Up Spider to put in the house. Usually I am not the biggest fan of spiders, but this is one cute spider I'm willing to have in my house! ;) Are you as obsessed with shopping for Halloween as I am?! It's never too early to start!
Halloween Party Ideas
If you are like me, making each holiday special is so important. It meant a lot to me this year to get a head start on costumes and let the kids have fun with them early, since this will be the last year Charlie and Toby will be able to fit into Pottery Barn Kids costumes. Creating memories on Halloween is so much fun and so important, and just a few simple things put together can make a really fun party! What a way to kick off the fall season! Which Halloween decorations do you think will be perfect for your Halloween party? What is your child planning to be for Halloween? I'd love to hear in the comments below!