Looking for an easy holiday recipe to really dress up your traditional hot chocolate? Make sweet memories as a family with this new holiday tradition! These are the perfect addition to a family night at home, or making a quick and sweet treat for any visitor this holiday season.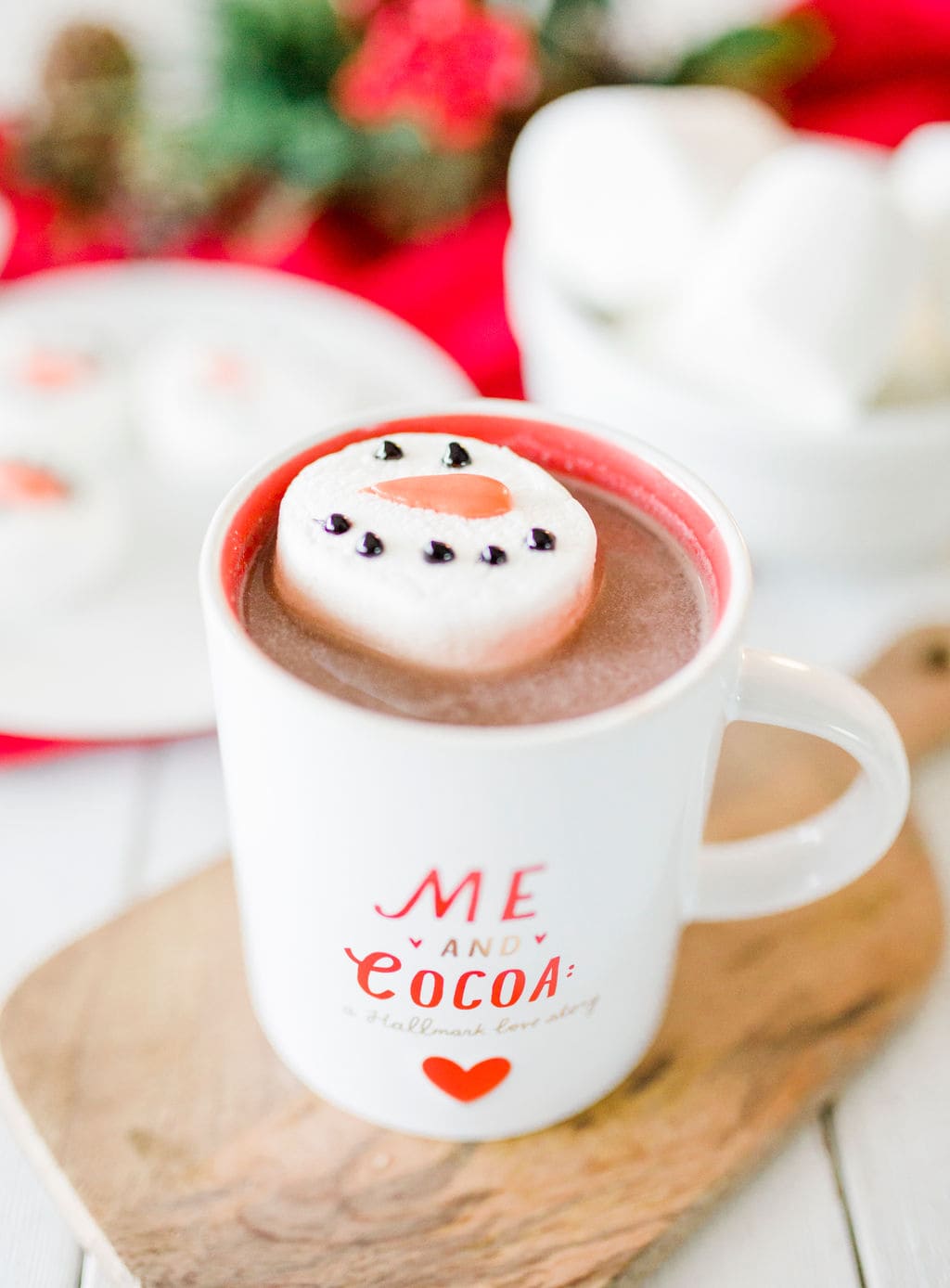 Holiday Recipes
If you know me, you know I'm all about cozying up with a good movie (probably a Hallmark movie), snacks, and a big mug of hot chocolate during the holiday season. It's seriously been my favorite thing to do ever since I was a kid, and now I'm doing the same exact thing with Charlie and Claire. They love cozying up for a special afternoon, and I love being able to create these special memories for years to come!
Family Movie Day
When we have downtime in the season, our go-to is to grab a cozy blanket, pop in a Hallmark Christmas movie, and drink some hot cocoa. It's my favorite tradition! We watch a movie once a week as a family, and we all get a cup of cocoa and enjoy the time we have with one another. But the last time we did this, I wanted to make it extra special for the kids! And these cute snowmen were definitely the way to do it!
Hot Chocolate Recipe
This recipe is super quick and easy, so you won't miss the beginning of the movie! ;) And it's the perfect, simple way to make an afternoon extra special. All you need for this recipe is marshmallows from the store, orange frosting, black frosting or chocolate frosting, and your favorite hot chocolate mix! In a pinch, just grab the packaged frosting in the baking aisle as the perfect easy solution.
How to Make Marshmallow Snowmen
To get the party started, cut the marshmallows in half. Pipe orange frosting to create the snowman's nose. Then, use the black or chocolate frosting for the snowman's eyes and mouth. Put the marshmallows in the hot chocolate and serve! It's that easy!
Christmas Memories
It is such an important time of the year, spending many days and nights with family and friends. Making memories this time of year is so important, and you'll be able to carry the memories and traditions forever. That is why I love making little recipes like these, it brings joy to the everyday activities we do. Adding magic and Christmas joy to every meal and dessert is so special, and I am so happy I get to share my little pieces of joy with you all! What's your favorite way to dress up hot chocolate? Let me know in the comments below!