The holiday season is filled with SO many parties. I think New Year's parties are probably my favorite though. I absolutely love getting all dressed up and enjoying seriously good food late into the night! Now that the kids are getting older, I've been racking my brain for ways to make this year's party a little bit more kid-friendly. Of course, Christmas parties are filled with sweet treats, but that doesn't mean New Year's can't share in the sugar department. And what a great way to get the kids involved with a party than to get them to help with the dessert!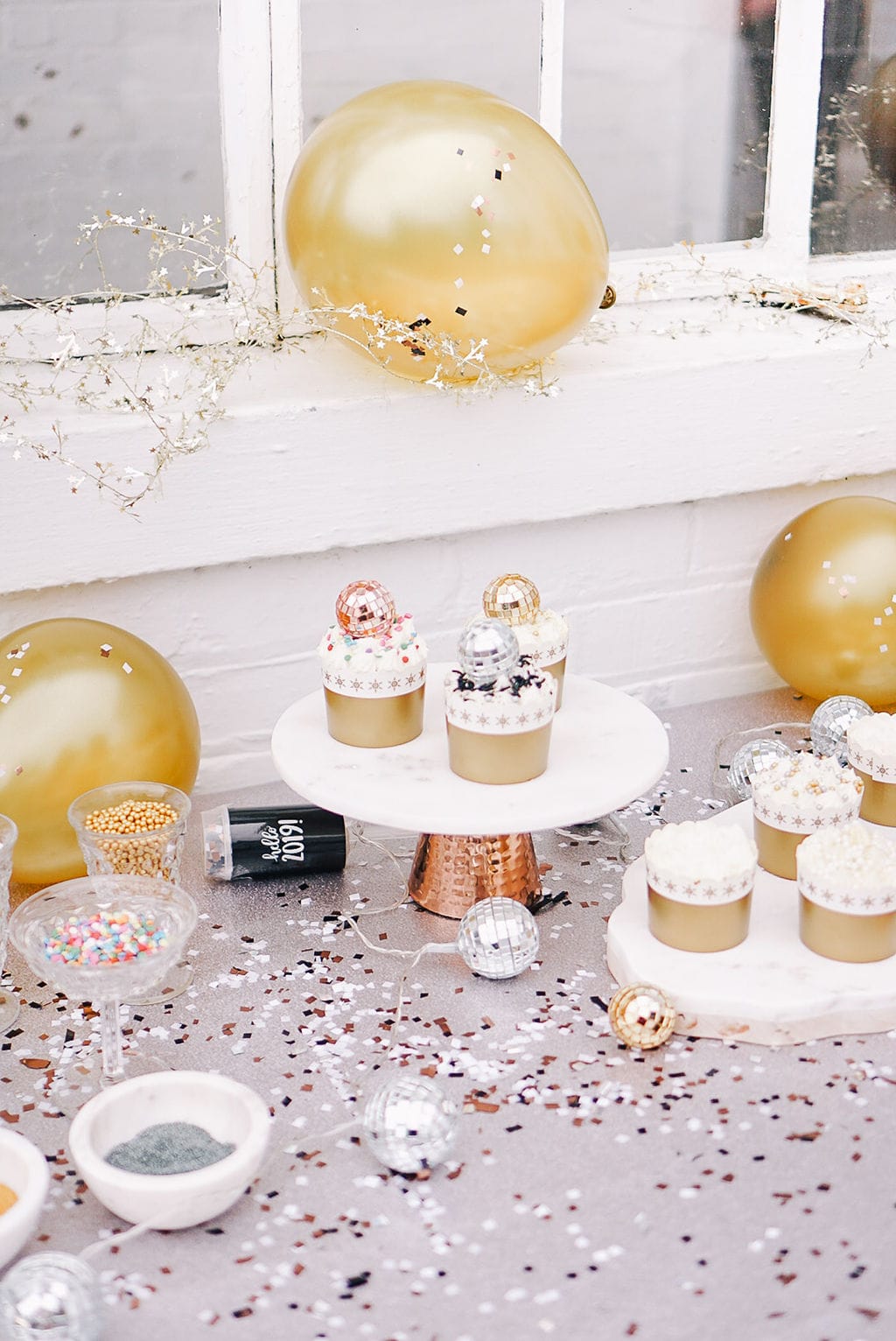 Our amazing friend, Lauren from Going for Grace, is back at it with some totally fun New Year's party tips! I can't wait to incorporate Lauren's ideas to take our New Year's party to the next level! Here's what Lauren has to say: A party that involves cupcakes… I'm in! I have so many precious memories of ringing in the New Year with friends and family at my parent's house growing up. We would all get together, play board games and eat finger foods until the ball dropped at midnight!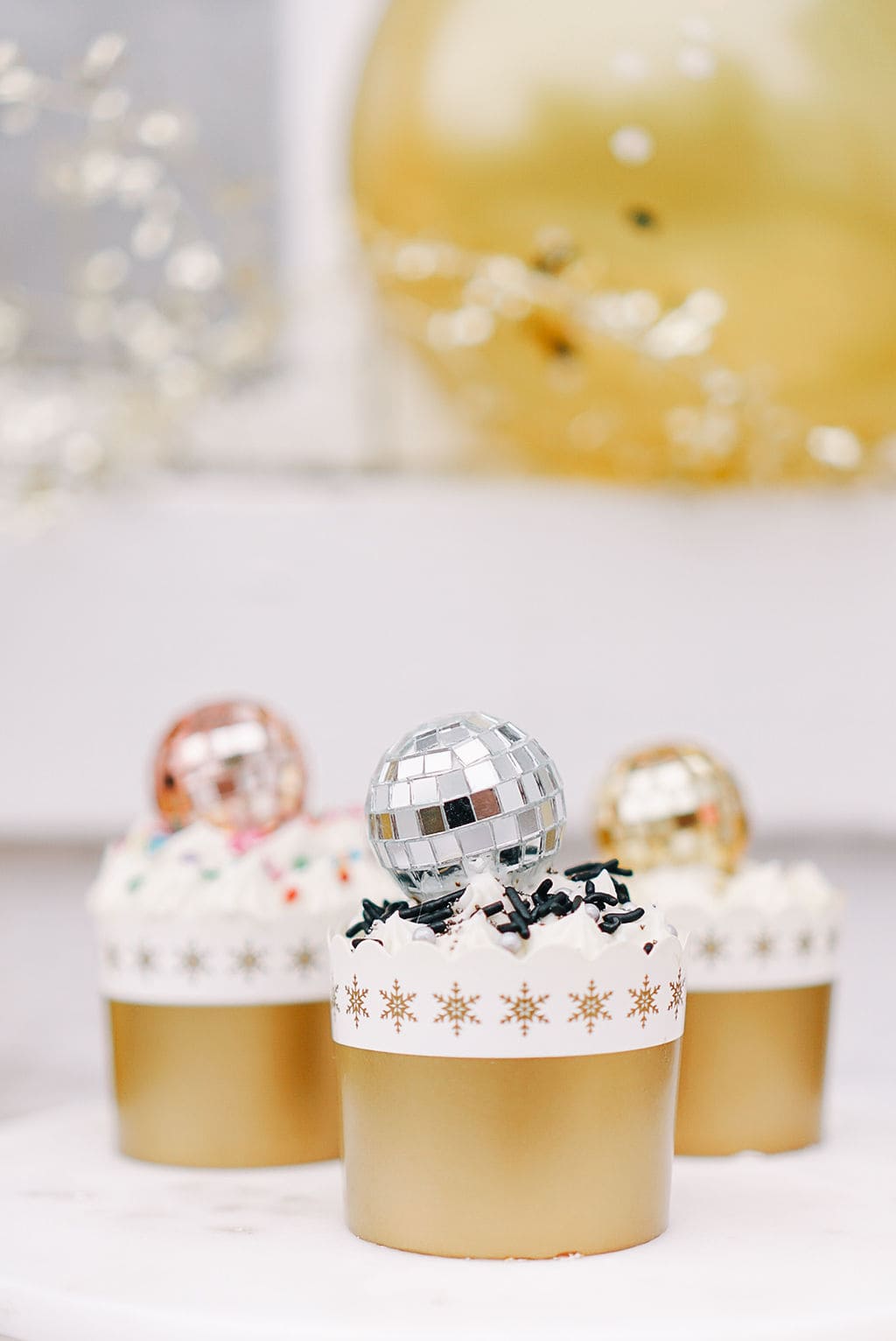 For this post, I wanted to include an activity for both kids and adults alike – a cupcake bar! Not only does it make for a great dessert, but also is a wonderful activity to keep your guests busy until midnight. Here are a few tips to help you create your own New Year's cupcake soiree!

Options
We love options! Whether it be the cupcake flavor or the sprinkles on top, everyone loves getting to customize to their own taste. Here we kept it simple with vanilla or chocolate cupcakes, but gave seven options for sprinkles. Let's be honest, the sprinkles are always the best part! To make things really fun, find some New Year's themed toppers, such as these disco balls that look just like the ball that drops in Times Square!
Pro tip: If your guests can restrain, decorate your cupcakes and then set them aside. When the countdown begins, light a candle on everyone's cupcake and blow it out at strike of the New Year! How fun, right?!
Use Up Your Christmas Wrapping Paper
You know that leftover pile of sparkly wrapping paper that is in your spare room? Put it to use! Instead of using a table runner, lay wrapping paper over your table. Not only will this create a beautiful tabletop, but also makes for an easy clean up of all of those run away sprinkles.
Pro tip: If you don't have any leftover wrapping paper, don't fret! There will be so many beautiful patterns on sale after Christmas!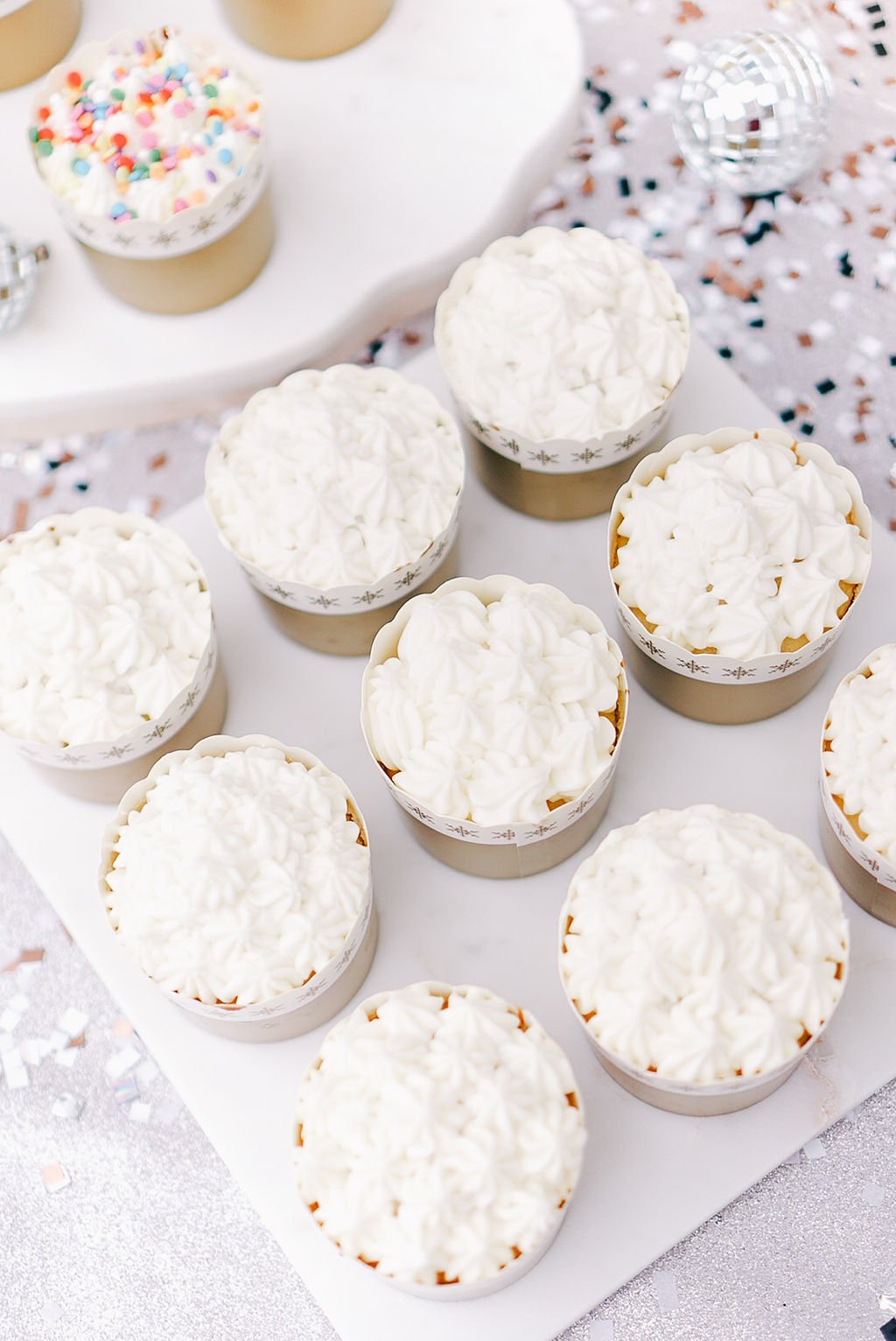 Go Homemade
In order to add a special touch and save a little money along the way, make your own cupcakes! Cupcakes are one of my favorite desserts to make because they are quick and easy to throw together. I recommend baking the cupcakes and frosting them ahead of time. This way your guests can jump right into having fun with the toppings!
Pro tip: Have some to-go boxes on hand for your guests to take home their creations or any extras if need be.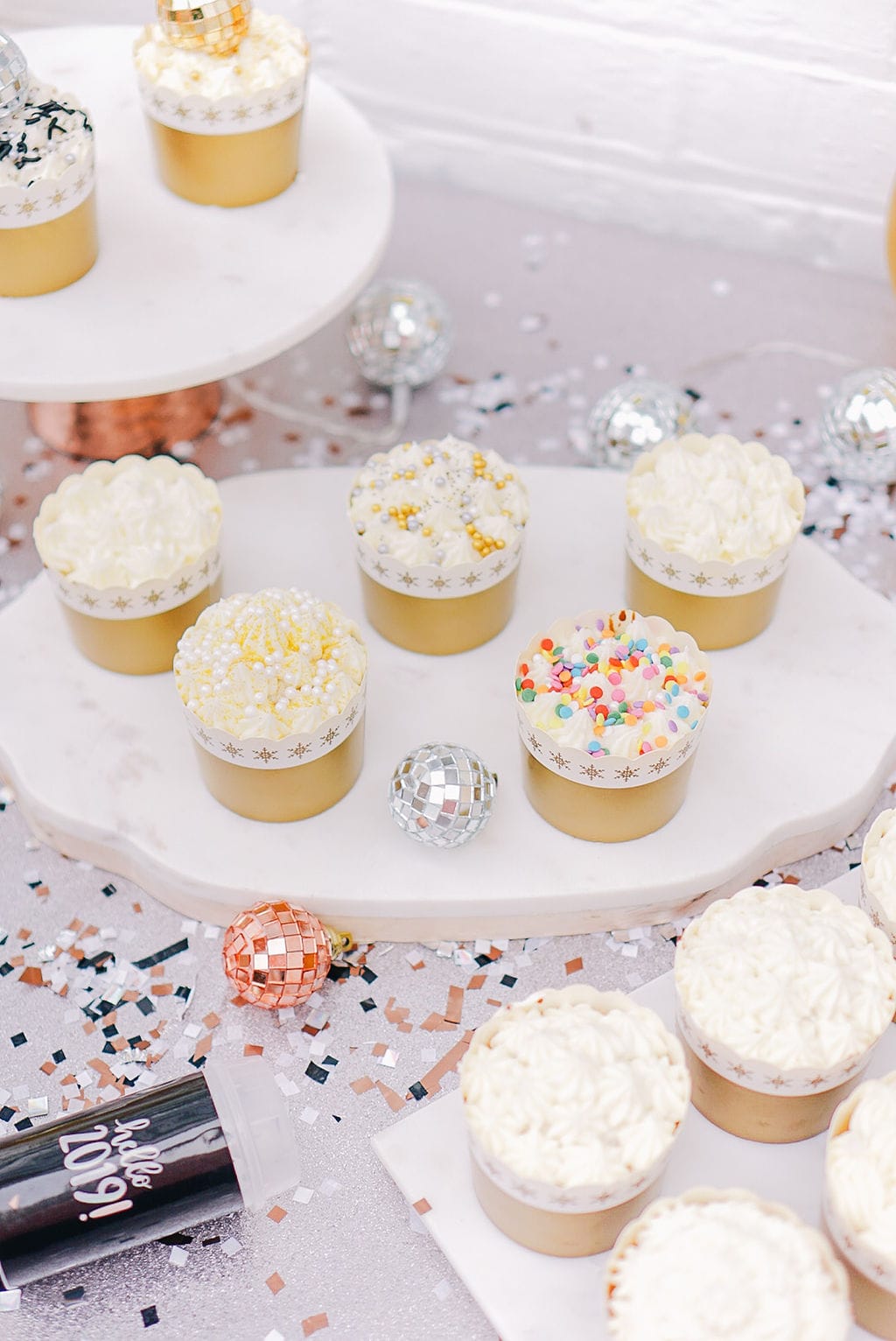 Here is a classic vanilla cupcake recipe to get you started, and get you ready to party.

Classic Vanilla Cupcakes with Vanilla Buttercream Frosting
Print Recipe
Ingredients
For the Cupcakes:
2 1/2

cups

all purpose flour

2

cups

granulated sugar

3

teaspoons

baking powder

1

teaspoon

salt

1

cup

milk

1/2

cup

vegetable oil

1/2

tablespoon

vanilla extract

1/2

tablespoon

almond extract

2

large eggs

3/4

cup

water
For the Frosting:
1

cup

unsalted butter

softened

8

ounces

cream cheese

softened

5

cups

confectioners' sugar

1

teaspoon

vanilla extract
Instructions
Preheat oven to 350 degrees.

Add flour, sugar, baking powder, and salt to a large mixing bowl. Whisk until combined and set aside.

In the bowl of an electric stand mixer, combine milk, vegetable oil, extracts, and eggs. Whisk to combine.

Slowly begin adding the dry mixture to the stand mixer, one cup at a time. Combining well after each addition.

Once all ingredients are in stand mixer, slowly add the water to the batter. Mixing on low speed until combined. (Batter should be very thin.)

Line a cupcake pan with liners and fill each half way with the batter.

Bake for 15-18 minutes. Until a toothpick comes out clean.

Let cupcakes cool completely before frosting.
For the Frosting:
Beat butter and cream cheese in electric mixer on medium speed until creamy and smooth.

Lower speed and add confectioners sugar and vanilla extract.

Mix on high speed for about 2 minutes until frosting is smooth and fluffy!
CREDITS: Dessert Plates & Forks – Juliska
With Love,
Lauren Cermak
www.goingforgrace.com
Instagram – @goingforgrace