Valentine's Day Decoration Ideas
Looking for Valentine's Day Decoration ideas? Decorate the house for Valentine's Day with these quick and easy ideas!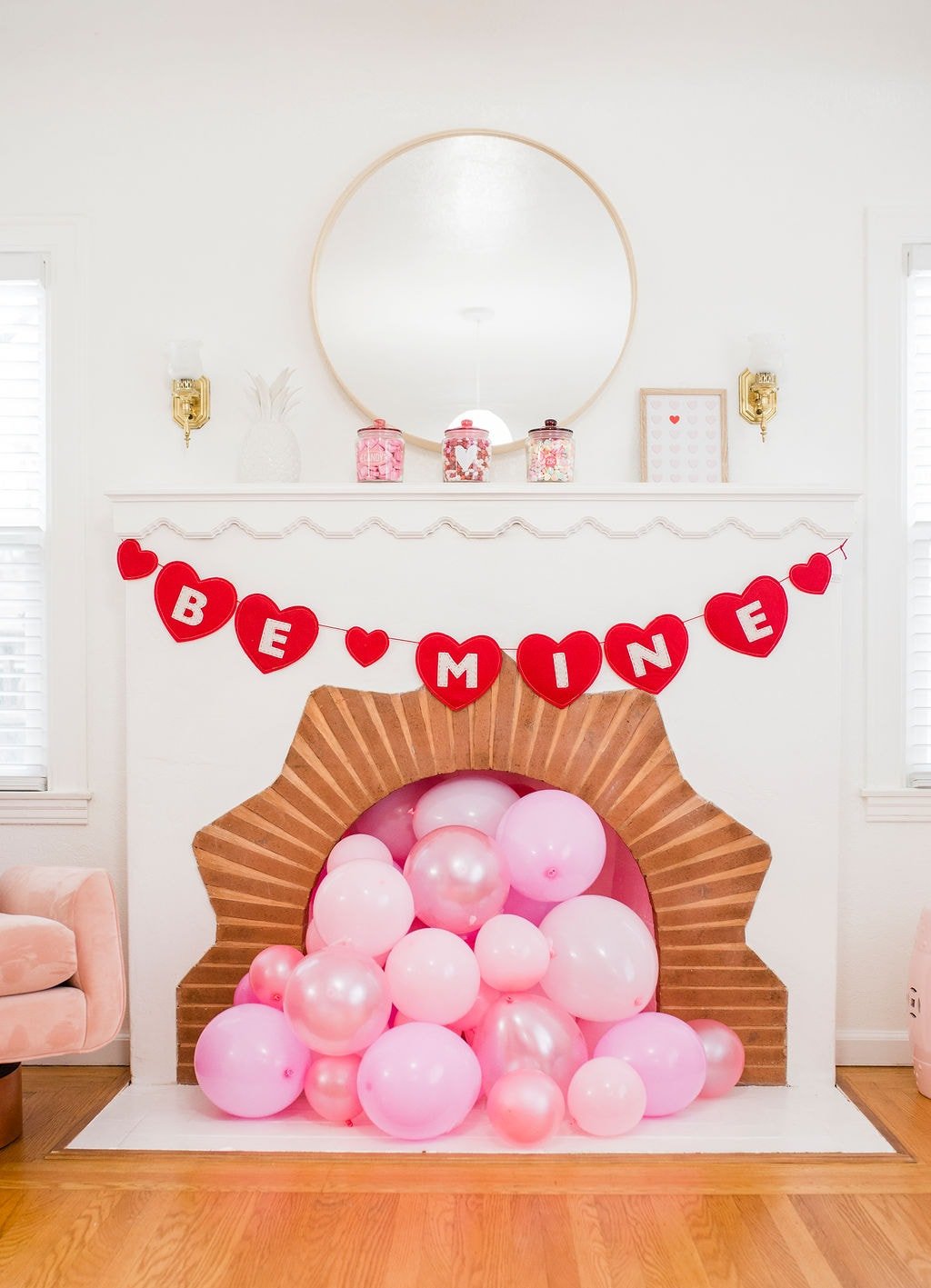 Decorating for Valentine's Day
Raise your hand if you're running against the clock to decorate for Valentine's Day?! Don't worry one bit! After the holiday season, Valentine's Day totally sneaks up on us, especially after the chaos of Christmas and New Year's and the kids going back to school. But there are so many quick and easy ways to decorate for Valentine's Day that will add a splash of red, pink, and white fun to your decor and even help you get started for spring decorating! Every year, I love decking out the fireplace with my favorite holiday finds. I like to find things that are simple, easy on the budget yet sweet. The simplest additions can really make a room that much more festive!
Celebrating Valentine's Day
When we threw our super fun Valentine's Day Party for Charlie and Claire, I wanted to make sure the house was decked out in all things Valentine's Day FUN! But, at the same time, I was able to find everything decorate and to put together a festive home in no time! Adding a few special touches like balloons and candy can make all the difference in making memories for a holiday!
Easy Valentine's Day Decorations
Intimidated by the idea of blowing up a much of balloons to make a festive display? Easy tip! Target and Walmart sell a "Balloon Buddy" that literally blows up a ton of balloons in just minutes, and it's only $20! Totally worth it to make a statement display! I incorporated multiple shades of pink with different sizes of balloons, and even a few fun heart-shaped balloons! Then, I completed the look with a fun 'Be Mine' garland from Pottery Barn Kids!
Valentine's Day Candy
If you know me, you know I'm ALL about holiday candy! Who's with me? Anyone else totally guilty of grabbing a big bag of pink-only Starbursts around this time of year? I found these fun candy jars in the dollar section at Target and filled them with all of my Valentine's Day candy favorites like Starbursts and Conversation Hearts. I also found this cute framed heart print at Target to complete the look.
Front Door Decorating
This year I decided to add a fun and festive wreath to the front door – but it works for multiple seasons! I added this wreath to celebrate the Valentine's Day spirit. But the best part? It can stay up toward the beginning of spring so you don't have to change it as often. Total win-win!
Easy Valentine's Day Ideas
Valentine's Day is seriously such a happy holiday around here and I'm SO excited to celebrate this week! It's such a special time to celebrate all of those you love! What are your decorating plans for Valentine's Day? Remember, it doesn't have to be something complicated! The simplest of details can make all the difference! Tell me all about your plans in the comments below! Happy Valentine's Day!