Christmas Decorating Ideas
Looking for Christmas decorating ideas? Use traditional greenery paired with pops of gold and red for a festive Christmas theme!
Holiday Decor
As Christmas IS coming, I am getting my tail in gear on decking the halls! I can't tell you how much I LOVE holiday decor. From garlands to nutcrackers, I am right in the spirit with you! I can't believe there were only 3 weeks after Thanksgiving until Christmas. It all goes so fast! I may have done one Target trip to bust it all out in time this year, but it's officially done! ;) Who's with me? Sometimes this crazy season can get the best of us, and easy decorating ideas is just what you need!
Christmas Color Scheme
It's seriously amazing how a few quick touches can transform an entire room! I ended up going with the classic color scheme of hunter green and white, with little splashes of red. For the tree, I stuck with more gold. I seriously am SO excited about this color scheme this year. There's been so many Christmases with pink or all white or blue themes, but not this year. We're back to the traditional colors but with a modern twist over here!
How to Decorate a Fireplace Mantel
One of my absolute favorite things to decorate at the #SOBestFriendsForFrosting Airbnbis the fireplace! It seriously is like a blank slate every single time I decorate, and the possibilities are endless! I'm obsessed with the classic colors of Christmas this year, and I wanted to bring some gorgeous greenery into the mix. I used a garland paired with festive gold bells and two gold nutcrackers on either side to dress up the mantle. Then, I paired it all with a cedar wreath to tie it all together. I wanted to make sure below the fireplace was tied into the theme too, so I added a few cute snowmen, a mini flocked tree and this Letters to Santa Mailbox from Magnolia which I am OBSESSED with. I seriously can't wait to use this for years to come!
Decorating the Christmas Tree
For the tree, I decided to keep it simple! I love fresh greenery, but with Christmas decorations, it's so easy to get faux staple greenery pieces that will last until next year! The best part is that even if you're a little late to the game to buying these pieces this year, you can totally hit the sales and store for next. Win-win! I ended up using a classic green striped tree skirt to match the green striped stockings and green embroidered stockings I used over the fireplace. Just a few matching pieces, paired with simple staples made all the difference!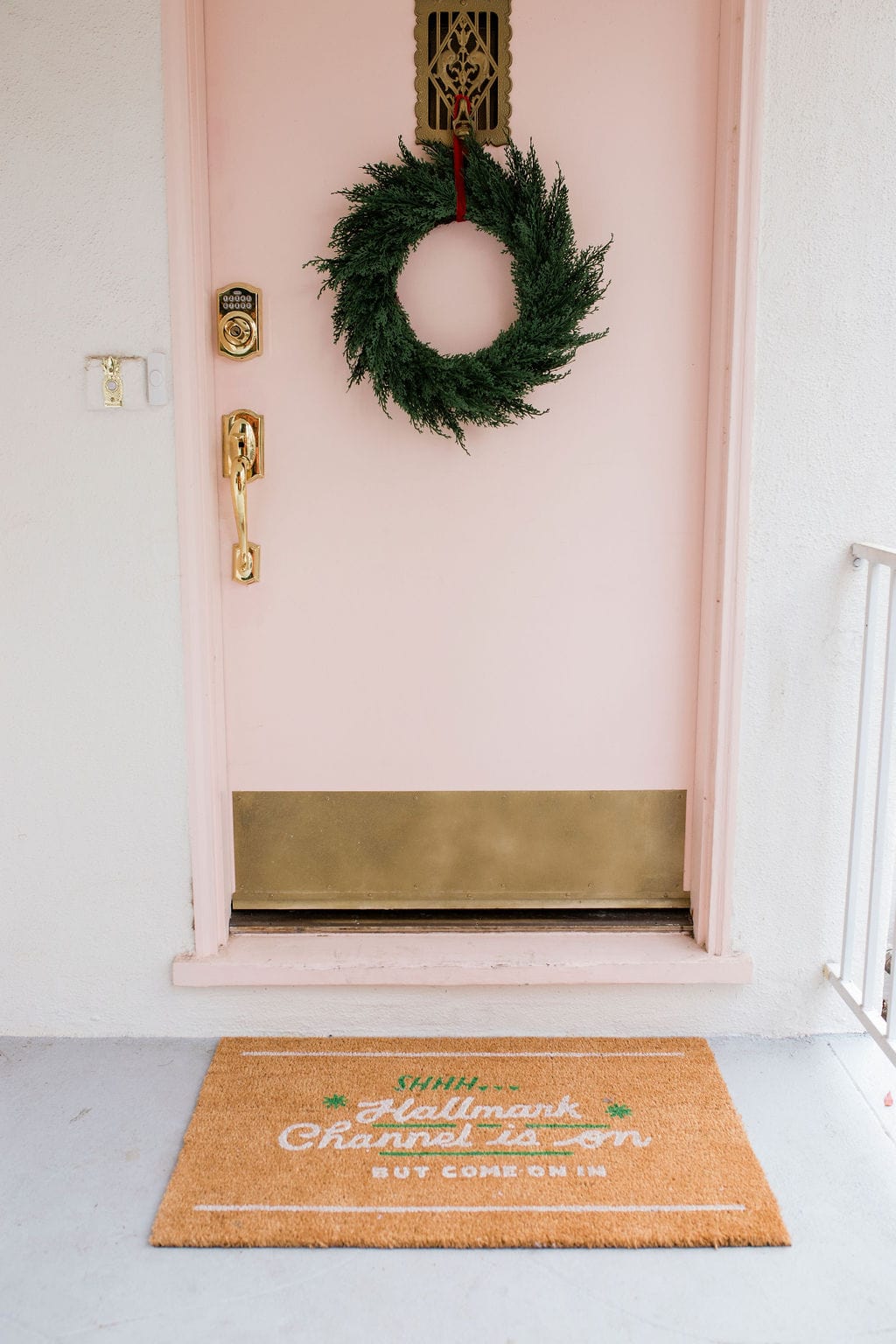 We are officially decorated and in the holiday swing of things over here. Are you finished decorating and shopping at your house? It's amazing how decorating the house for the season can make SUCH a difference in how we feel! I just love it! How did you decorate your tree this year? Tell me all about your decorations in the comments below! Merry Christmas!