Jack-O-Lantern Stuffed Bell Peppers
Are you looking for a festive dish to spice up a weeknight dinner? These Jack-o-Lantern Stuffed Bell Peppers are such an easy dinner idea that your whole family will love.
PIN Jack-O-Lantern Stuffed Bell Peppers for Later! 
Celebrating Halloween Traditions
Is fall your favorite time of year just like me?! October is definitely one of my favorite months and everything about it makes me so happy! Pumpkin spice everything, fall leaves changing colors, being able to decorate pumpkins, and doing fun fall activities with the kids makes my heart so happy. Anyone else counting down the days until Halloween?! Since there's only 11 days until Halloween, I've been trying to fill our schedules with fun activities every day! Since Halloween is looking different this year, I've been taking the time to make sure we are still having as much FUN as we can! My mom used to make the holidays so special, from decorating everything and going all out on recipes, and I love being able to do that for the kids. Even more, I especially love creating and keeping new traditions with the kids. From meals to events, I love being able to make memories year after year that I know will bring a smile to everyone's face! And this just might be my new favorite addition to the Halloween season. I'm so excited to share this easy recipe with you!
Halloween Dinner Ideas
Being able to make fun dishes and treats is one of the best parts of Halloween! Finding a SUPER easy dinner recipe that the kids will love is always a challenge, but this dish is definitely a winner! That's why I'm so excited to share my Halloween dinner tradition with you! These Jack-o-Lantern Stuffed Bell Peppers are the perfect Halloween dinner for any gathering, or at home for the whole family to enjoy! I love how EASY these are to make and how delicious they turn out! I mean, who doesn't love a happy jack-o-lantern?!
Ingredients for Stuffed Peppers
This recipe is SO good you guys! For these jack-o-lantern stuffed bell peppers, you will need orange bell peppers, a box of Rice-a-Roni, ground beef, tomato paste, brown sugar, water, mozzarella, and seasoning. This is the perfect dish to bring to your Halloween party, or to make dinner more festive at home! I know everyone will love them because they are so cute! My kids ask me all the time to have these for dinner because they are just so good.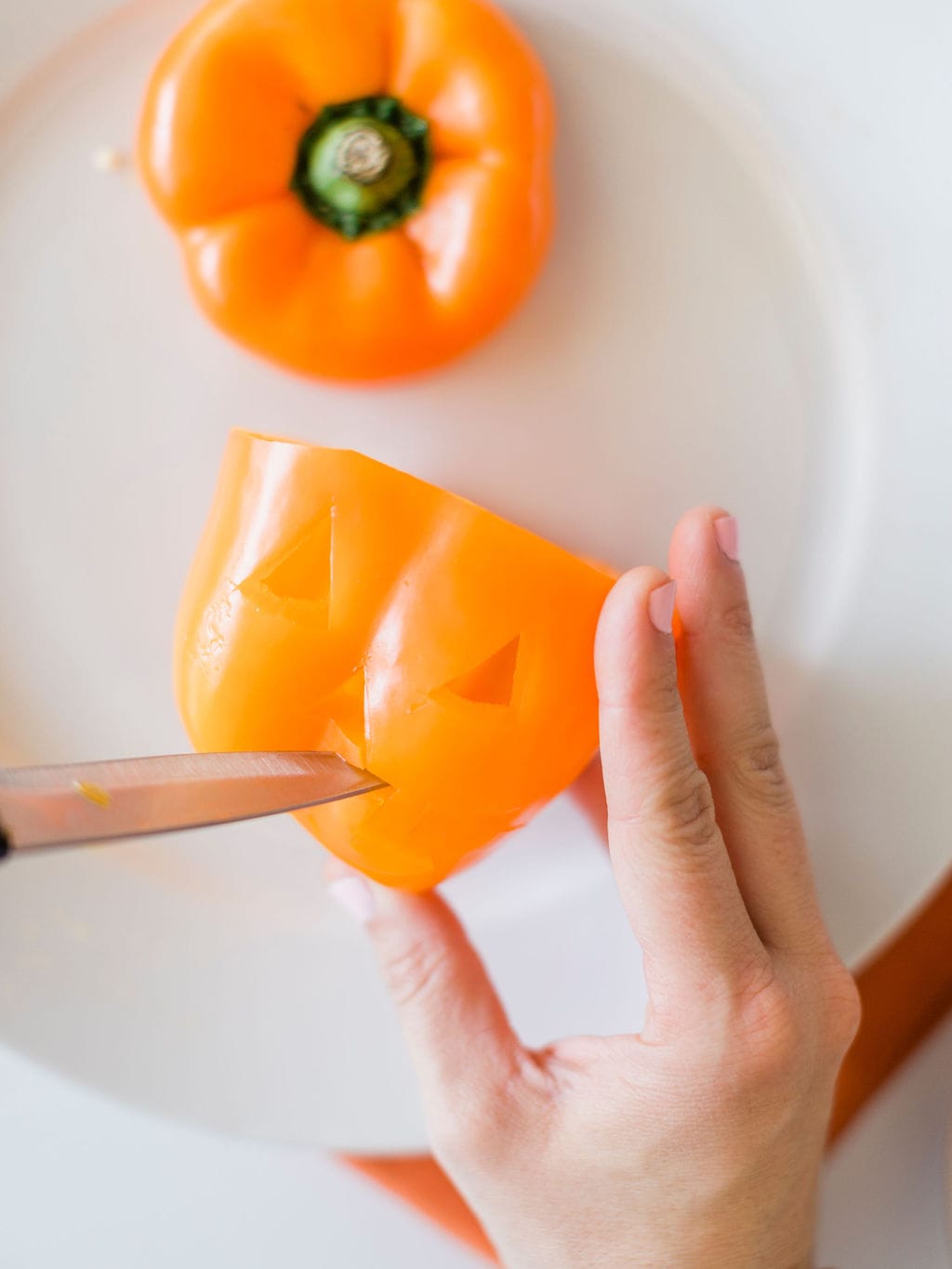 How to Prep Stuffed Peppers
To get this Halloween dinner party started, the first thing you'll want to prepare are the cute little jack-o-lantern peppers! First, cut the top off of the bell peppers (and make sure you keep it!) and clean out the inside to remove the seeds and membrane. Then, carve out the jack-o-lantern face. Use a small knife to add two eyes, a nose, and a fun grin!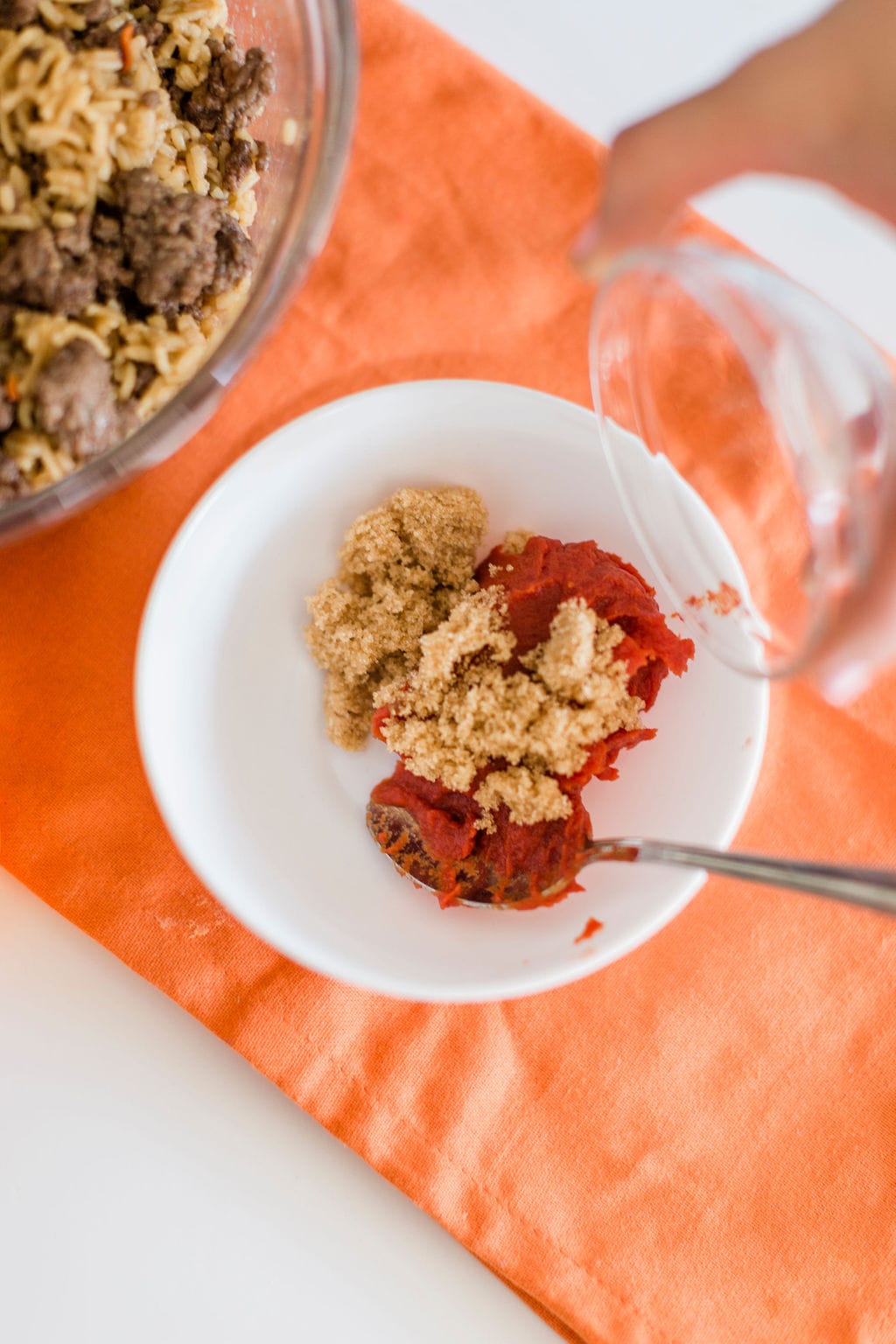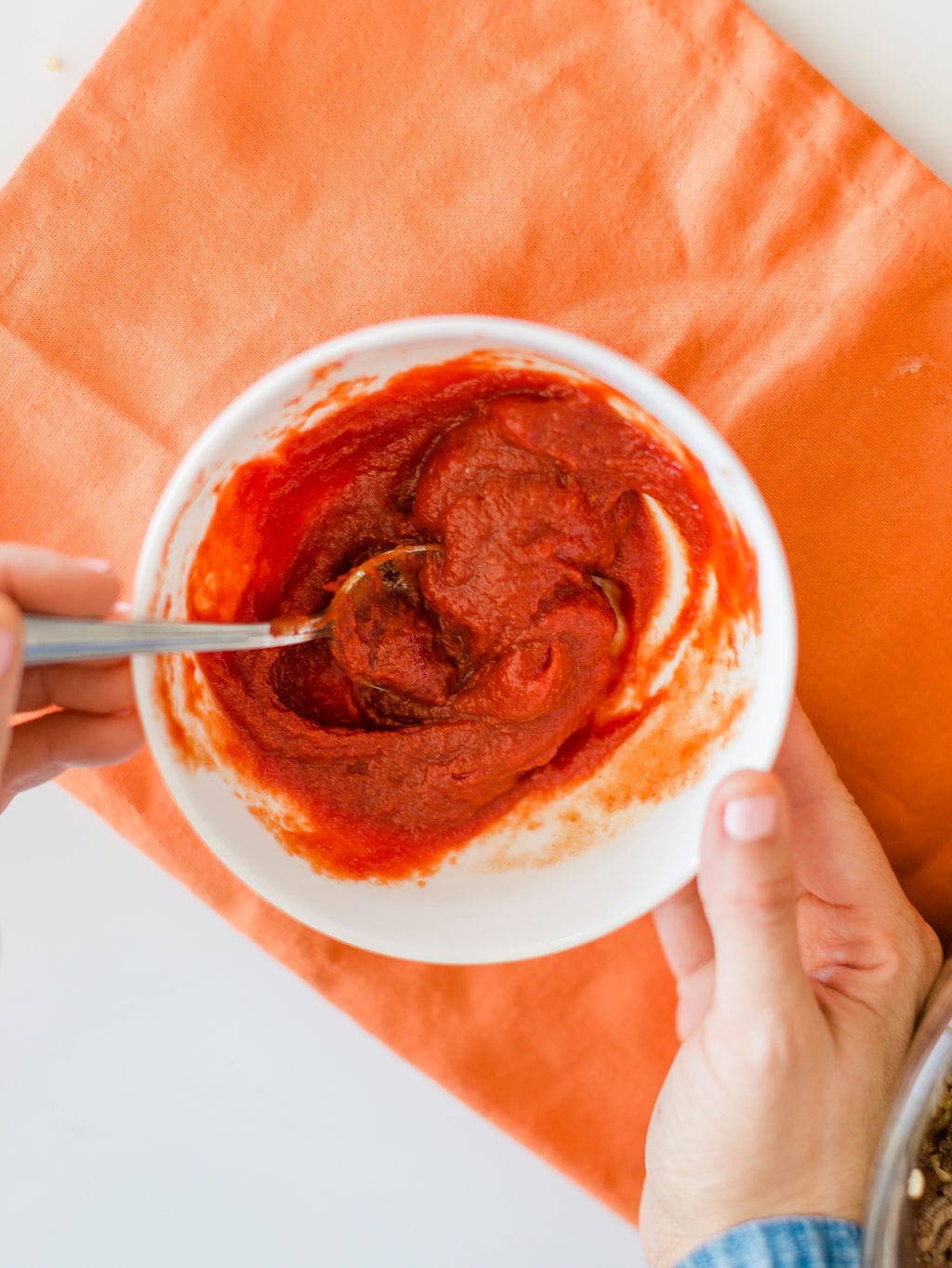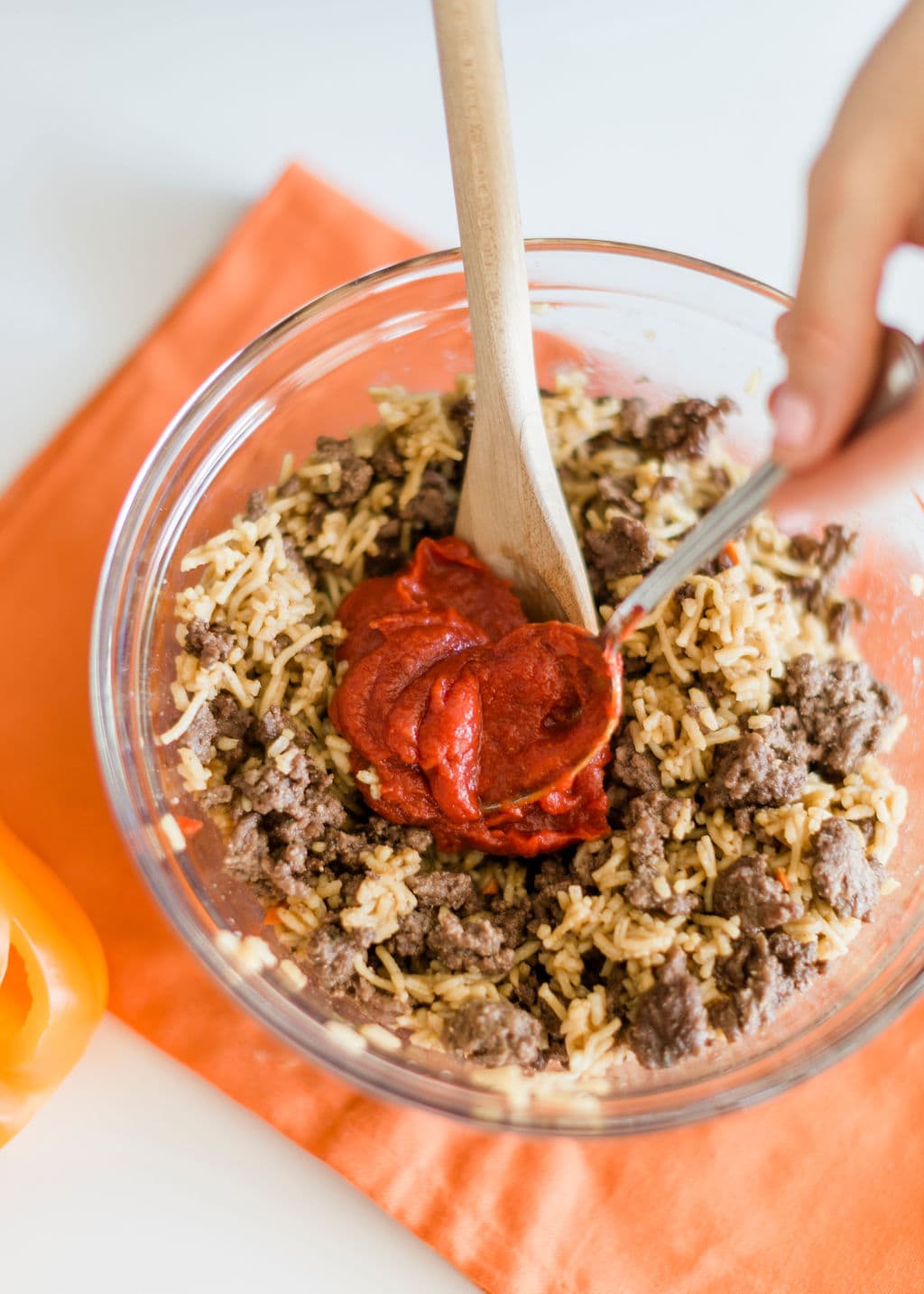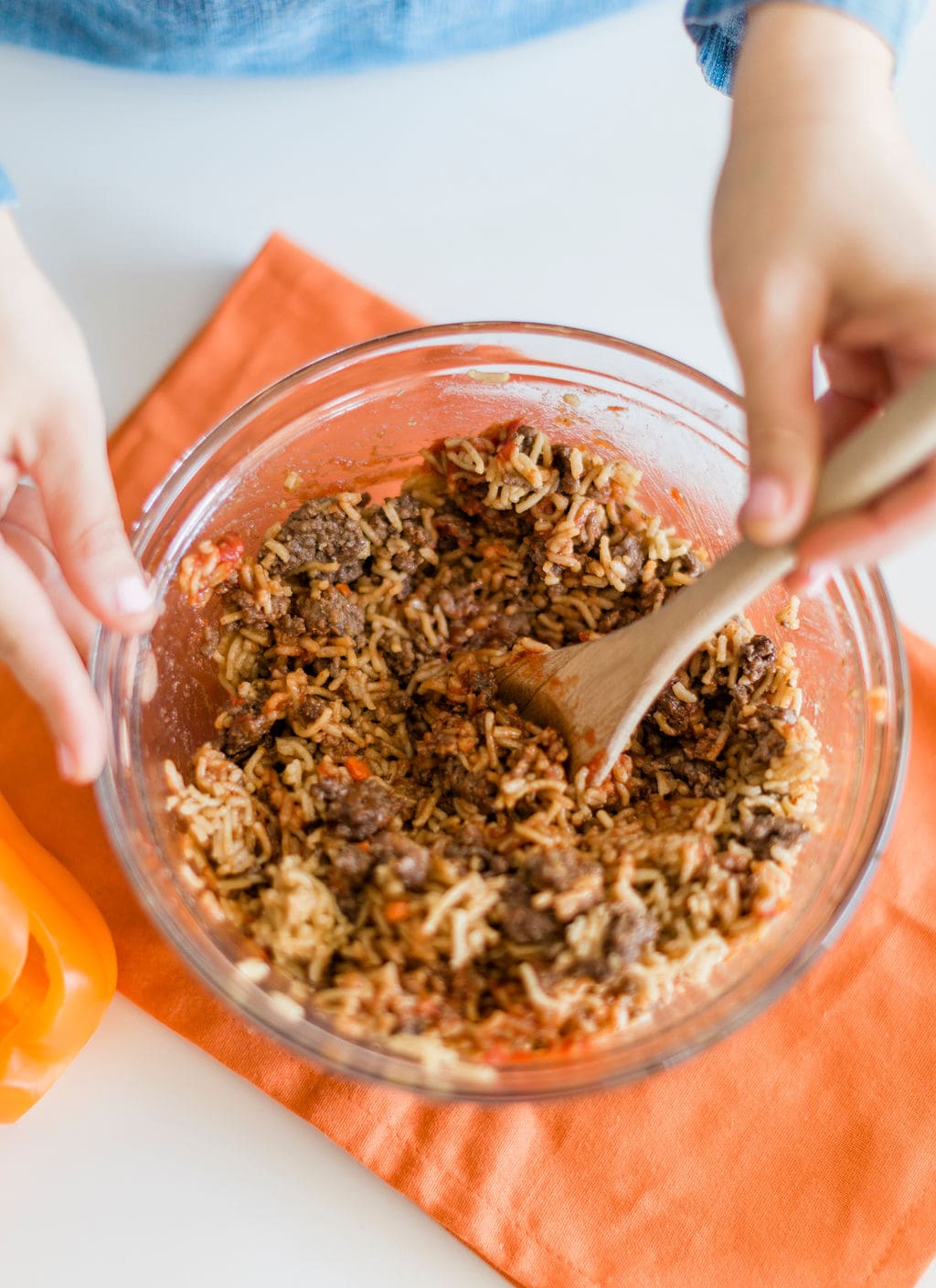 Filling for Stuffed Peppers
Next, cook one box of Rice-a-Roni, and in a separate pan cook ¾ pound seasoned ground beef. Once both are fully cooked, mix the rice and the seasoned ground beef together. In a separate bowl, mix ¼ cup of tomato paste, 1 tablespoon of brown sugar, and 1 tablespoon of water. Add this mixture to the ground beef and rice and combine.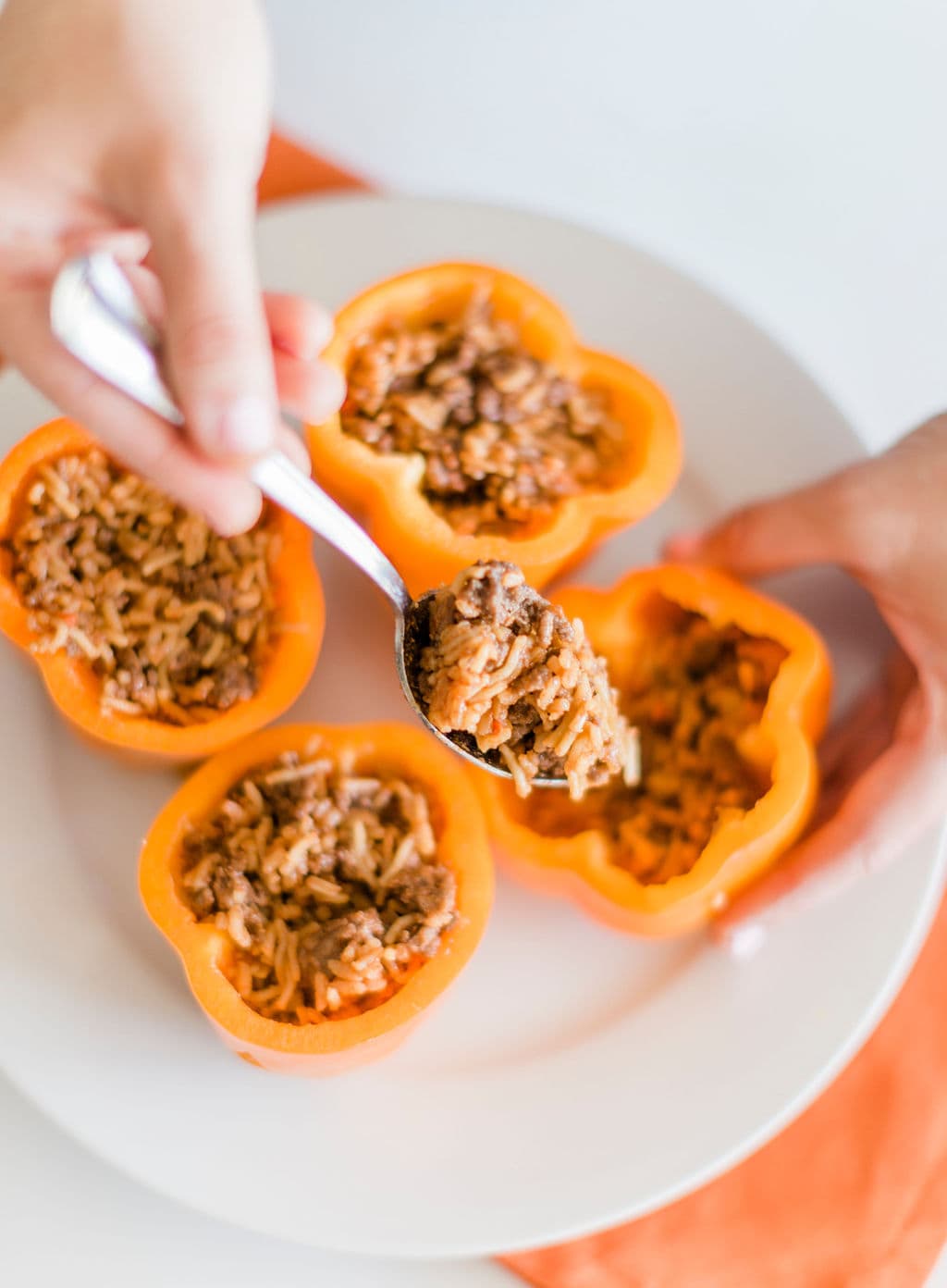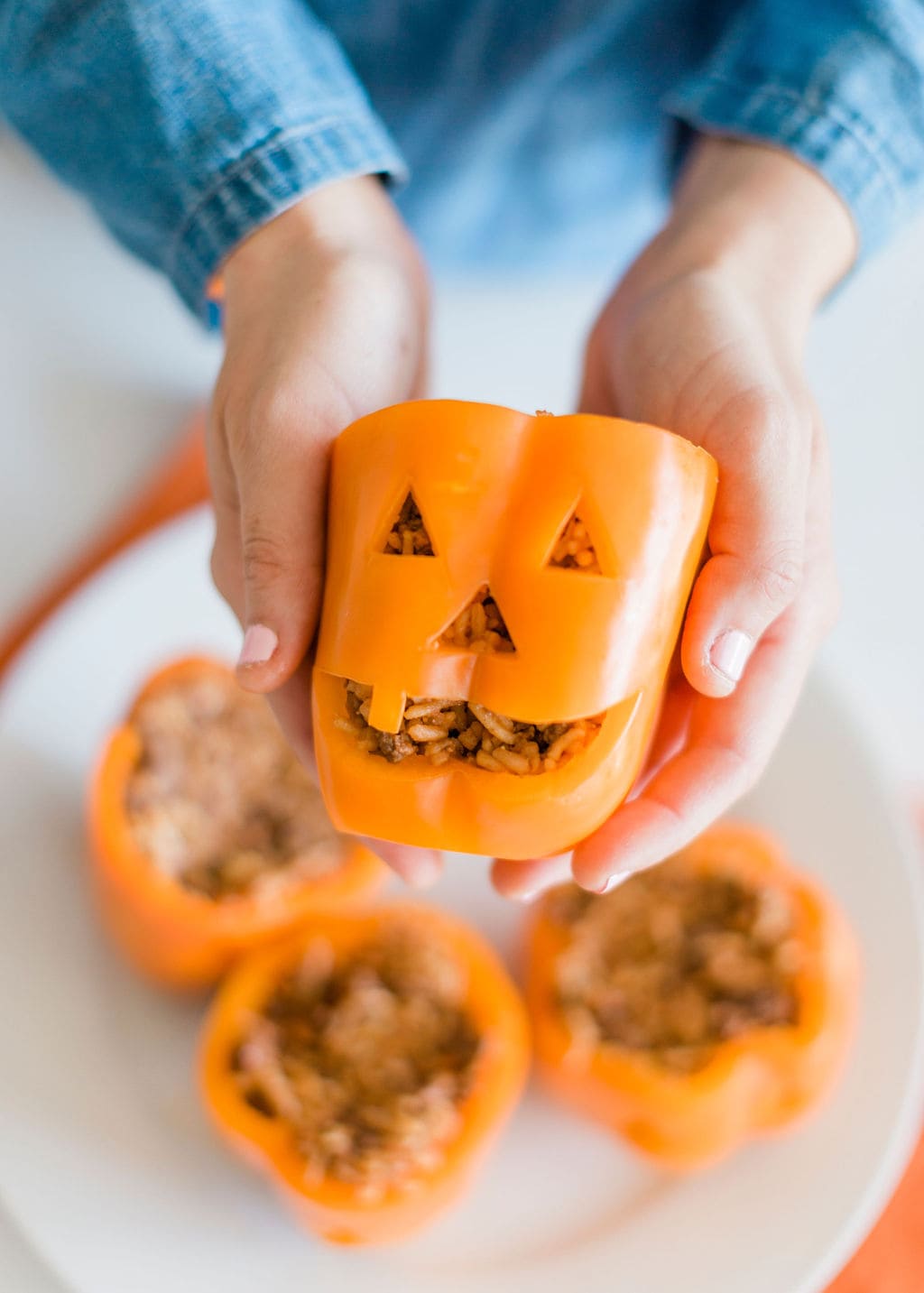 How to Cook Stuffed Peppers
Once thoroughly mixed, fill each bell pepper to the top with the mixture and place the tops of the bell peppers back on. Add a little water to the baking dish and cover it with foil. Bake the dish for 40 minutes at 350 degrees.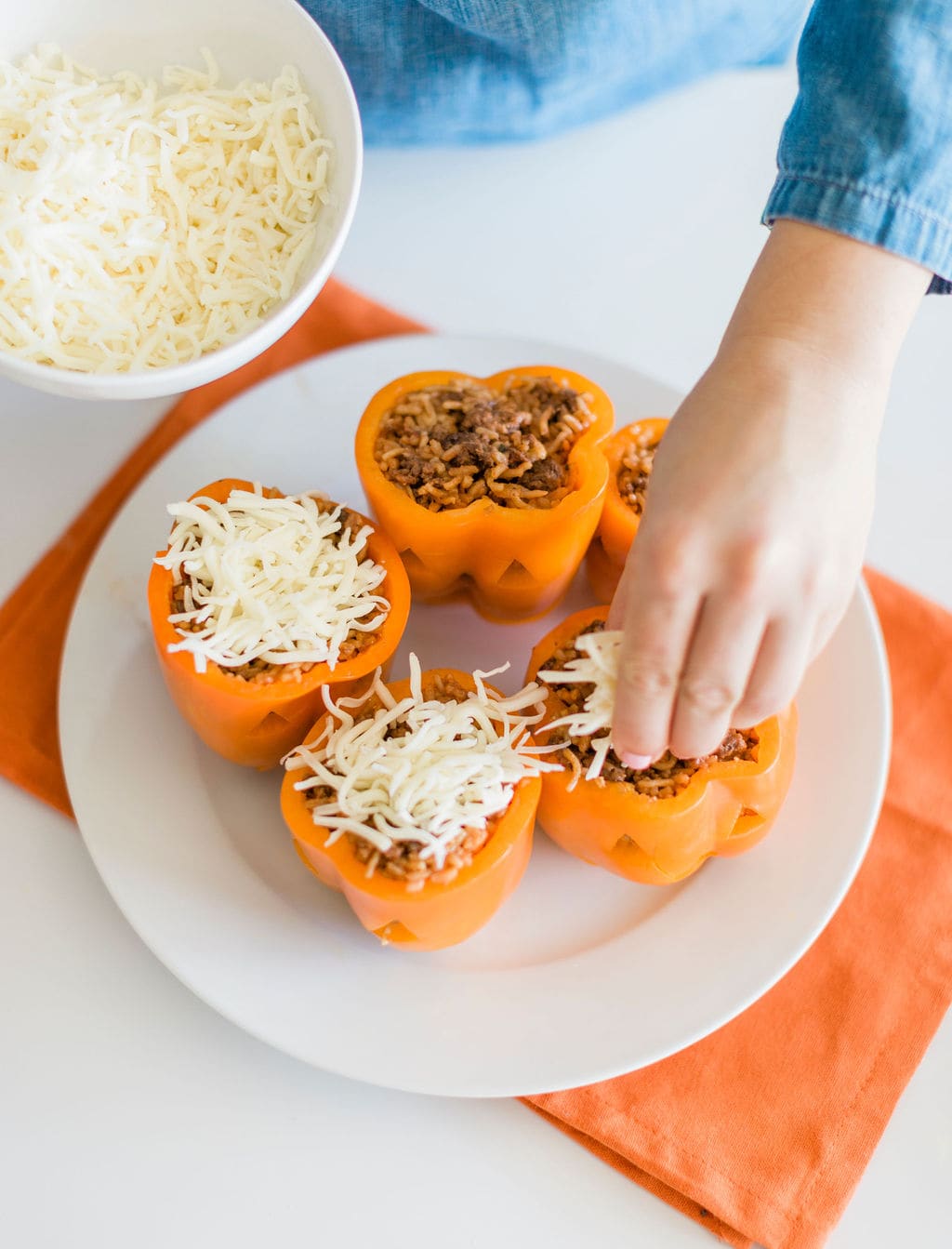 Once your peppers are cooked, take them out of the oven, let them cool a bit, and then top with cheese. Now, they are ready to be served! This is such a fun and festive dinner idea, and since it's super easy to make you'll get back to watching Hocus Pocus in no time!

Halloween Meal Ideas
If you know me, then you know how much I LOVE making festive dishes. Being able to create these memorable dishes means so much to me! I love being able to make an easy recipe that will help celebrate a holiday or the everyday in the best way! This recipe is such a good one to save for a holiday or add to your favorite family traditions, but it is also great to make any weeknight dinner festive! This time of year is my absolute favorite, and I am always trying to find new traditions and dishes to make each day special. Since these don't take long to make, I was able to go back to watching a movie with the kids while it finished baking in the oven, which I love! Sometimes dinners can be hard to plan out, and that's why this recipe is becoming one of my favorite traditions. Do you have a dinner coming up that these jack-o-lantern stuffed bell peppers would be perfect for? Tell me all about it in the comments below!
Jack-O-Lantern Stuffed Bell Peppers
Are you looking for a festive dish to spice up a weeknight dinner? These Jack-o-Lantern Stuffed Bell Peppers are such an easy dinner idea that your whole family will love.
Ingredients
4

orange bell peppers

3/4

pound

ground beef

1/2

cup

diced onion

1

garlic clove

1

box of RICE-A-RONI Beef Flavor

2

tablespoons

butter

1/4

cup

tomato paste

1

tablespoon

water

1

tablespoon

brown sugar

shredded mozzarella for topping
Instructions
Cut the top off of bell peppers and remove seeds and membranes.

Cook ground beef, onion, and garlic in a skillet and season with salt and pepper.

Prepare RICE-A-RONI according to packaging instructions.

Mix RICE-A-RONI and cooked ground beef together.

Mix tomato paste, water, and brown sugar and combine the mixture with rice and ground beef.

Spoon mixture into each bell pepper, top each pepper with cheese, and put the top of the bell pepper back on.

Place peppers cut-side up in a baking dish with a little bit of water. Cover with foil and bake for 40 minutes. Remove foil and pepper tops and broil for a few minutes to crisp the cheese.

Serve with additional cheese sprinkled on top, if desired.