Claire's Pokémon Birthday Party
Looking for Pokémon birthday party ideas? From a cute and colorful Pokémon cake to bright, fun balloons and banners, this Pokémon party set-up is perfect for any girl's birthday celebration!
PIN Claire's Pokémon Birthday Party for Later!
Pokémon Party Ideas
Calling all parents with kids obsessed with Pokémon! I am SO excited to tell you all about this Pokémon birthday party. The Pokémon craze right now is absolutely wild, and Claire has been talking about it non-stop. I just knew this would be the perfect theme for her 5th birthday party at home, and I'm so excited to share all of the details with you!
I cannot believe Claire is already 5 years old. That number always felt SO big to me! It's an age when they're out of the toddler phase and really a "big kid." Normally, we would have thrown a big party with all of her friends, but we are taking extra precautions as COVID-19 cases are spiking in our city. So, we decided to switch things up and get creative in our own backyard!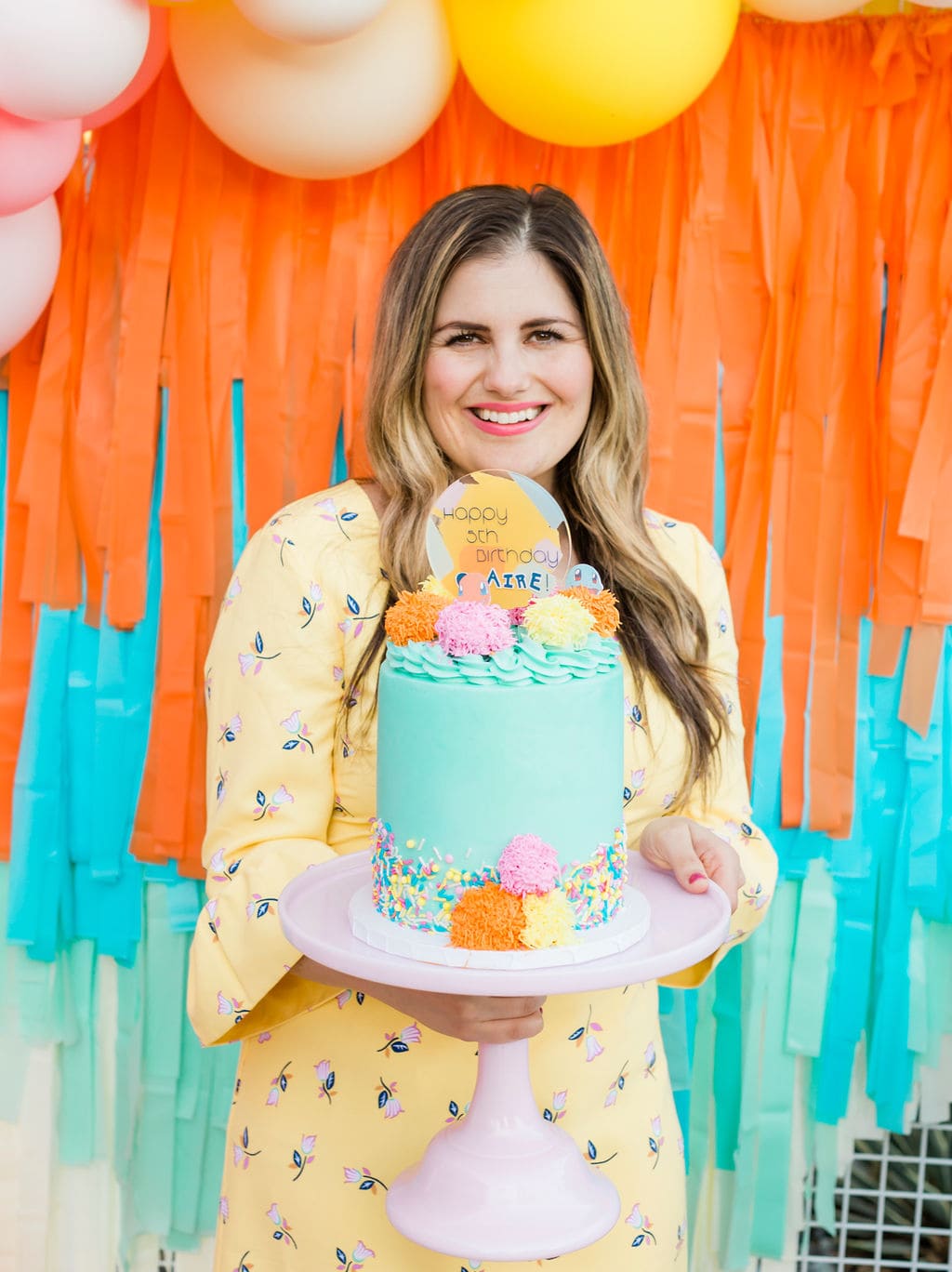 Pokémon Party Planning
We couldn't go to Claire's favorite places for her birthday this year, and I knew I wanted to still do something special. So, we celebrated together as a family of 4 in the backyard. I also wanted to make sure I was 100% in the moment on her big day (anyone remember Charlie's Target birthday party?!) So, I got in touch with my new friend Natalie, Event Planner and Stylist, of Party Babe Events, and she ran with Claire's Pokémon party in her own way! She told me "don't worry, we can make it girly and cute," and after looking at her Instagram page, I KNEW we were in good hands! Natalie took the idea and ran with it, utilizing so many talented vendors to bring her vision to life. I was blown away!
For the vendor set-up, Natalie had everyone enter through our side gate in the back yard. Everyone was wearing a mask the entire time and worked directly in our backyard. I was so thrilled to have Natalie at the head of the team making this party so special for Claire!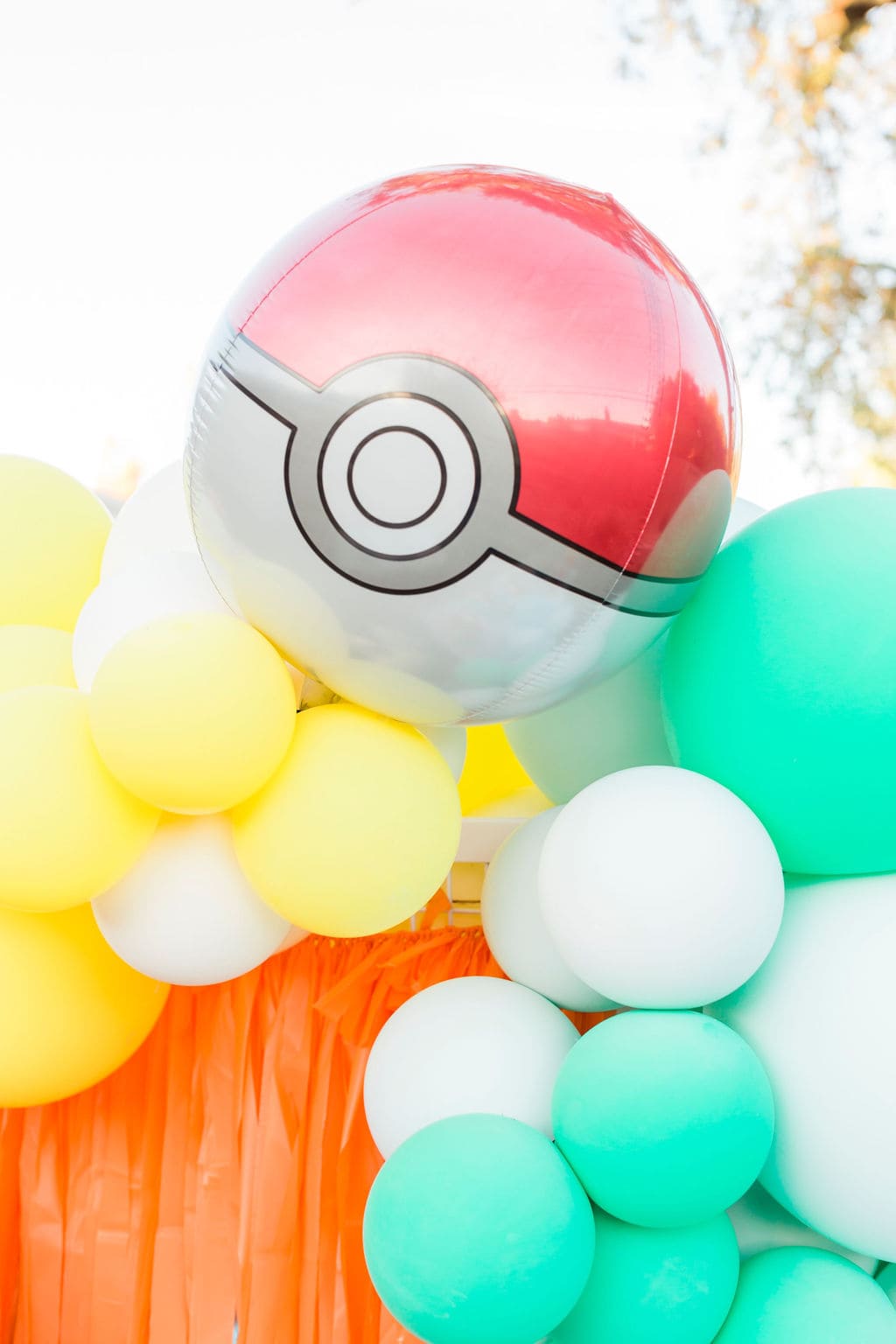 Pokémon Birthday Decorations
One of my absolute favorite details that Natalie incorporated was the rainbow pastel balloon garland from Hip Hooray Company. I've worked with Kendra before with our Draper James 5th Birthday Party and for 4th of July and just love it. She tied the theme in so well with all of these colors! Natalie paired the balloon garland with a fringe backdrop from Glam Fete for the perfect look!
Pokémon Cake
Of course, it isn't a party without cake, right?! I was so impressed by this super cute party cake that Natalie ordered from Buttercream Cakes by Eileen. Loved how it was still colorful and girly, while fitting the theme. And the adorable custom cake topper from Floral Dust blew me away! Claire requested a strawberry cake with vanilla buttercream – her new favorite! Pairing it with a light pink cake stand from The Tiered Tabletop brought it all together in the sweetest way.
Pokémon Cookies
To complete the dessert table, Natalie wanted to tie in the theme with custom sugar cookies as well. She ordered custom cookies from Anaya's Sweet Kitchen, and she totally knocked these cute Pokémon cookies out of the park!
Pokémon Party Supplies
For this party, I totally learned the convenience of tapping into a party rental company! Petite Events Co was amazing! Natalie worked with them and rented the kids party table, the mesh backdrop, and the dessert table from them. They literally picked up and dropped off all of the essentials. Plus, they're a husband and wife team like Andy and I are, which I love. They have a huge vehicle to load everything in to make it all work seamlessly! They do this service all over Sacramento, so it's just another day for them. ;) But I was super impressed! I was so happy to be able to support local party vendors and businesses around our city, especially since the event industry has taken such a big hit in 2020. Natalie ordered vinyl Pokémon decals from Amazon to dress up the dessert station for the perfect look. Loved it!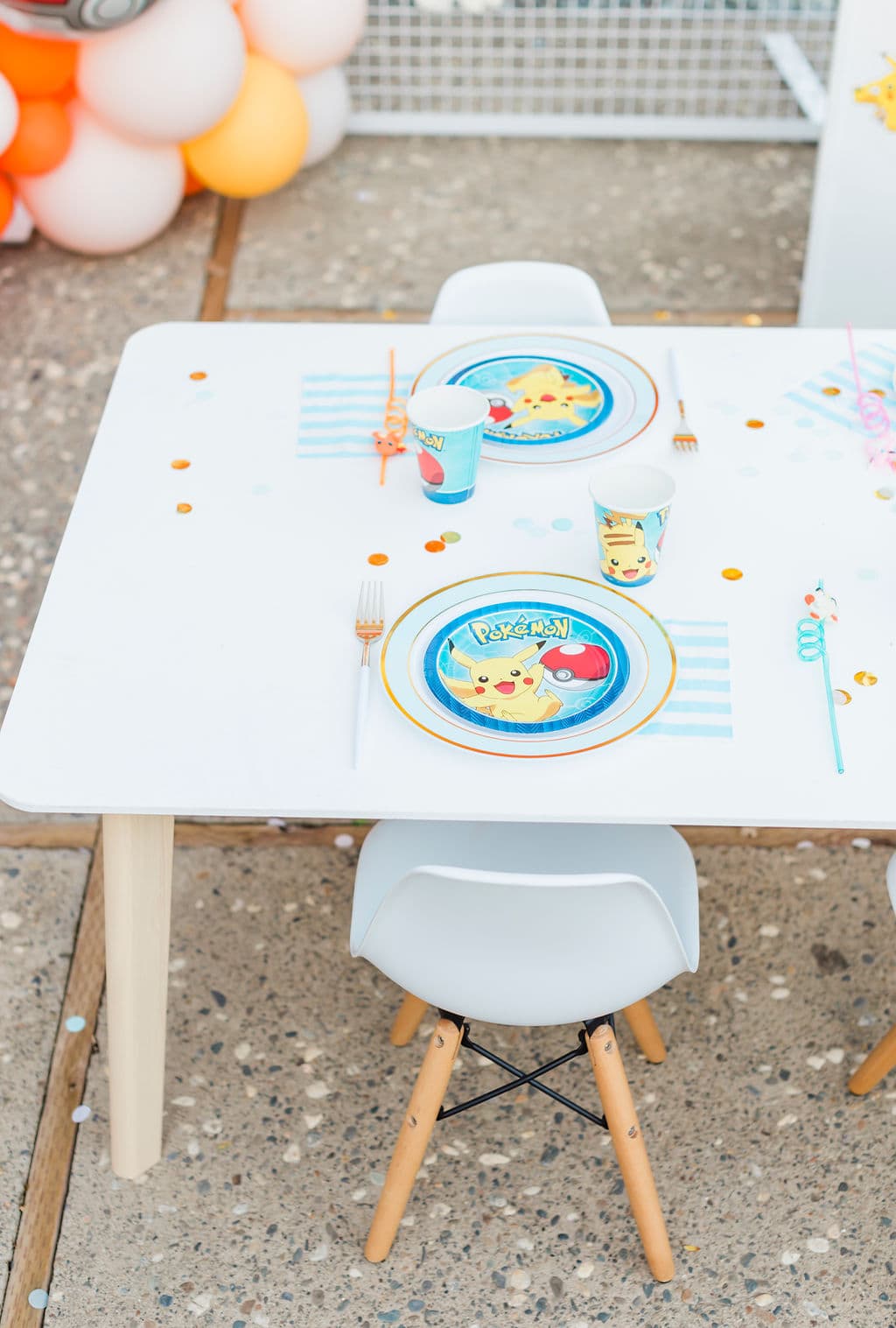 Pokémon Birthday Table
For the table setting, Natalie paired fun napkins with stripes and polka dots with Pokémon theme plates to keep the theme from feeling overboard. It made for the perfect balance without going over the top! We ordered light blue stripe napkins, pokémon plates, pokémon cups, and pokémon goodie bags all from Amazon so things could come right to the house.
Birthday Parties During Covid
Looking for ideas on how to make your own child's birthday special during this time? One of my absolute favorite tips from Natalie is to keep the guest list small, but really make it special. "With less people to entertain, having a smaller, more intimate event allows you to focus on other aspects of the party – like elevating the decor, or stepping it up with the menu," she said. "Kids, for example, might be disappointed that all their friends won't be able to attend their party, so why not make it truly special for them and go all out with the setup and decorations. Small gatherings and big setups is where it's at for 2020!"
Other great suggestions from Natalie for hosting a pandemic-friendly party include considering a virtual celebration or a drive-by celebration to still bring the party to life.
Overall, the kids were raving about the party and had such a great time playing together with Claire's new toys. I love watching them interact together! It was so nice to have a low key day and just hang out at home, while the party was brought right to the backyard. By the end of the day Claire said, "this is the best day ever!" And in the end, that's really all that matters.