The 4th of July is coming up so soon, and I can't wait to celebrate with red, white, and blue! Putting together a fun barbecue or family party can be simple with a few fun patriotic touches. If you're looking for inspiration for the Independence Day holiday, I've put together some of my favorite simple 4th of July menu ideas to get you celebrating in no time!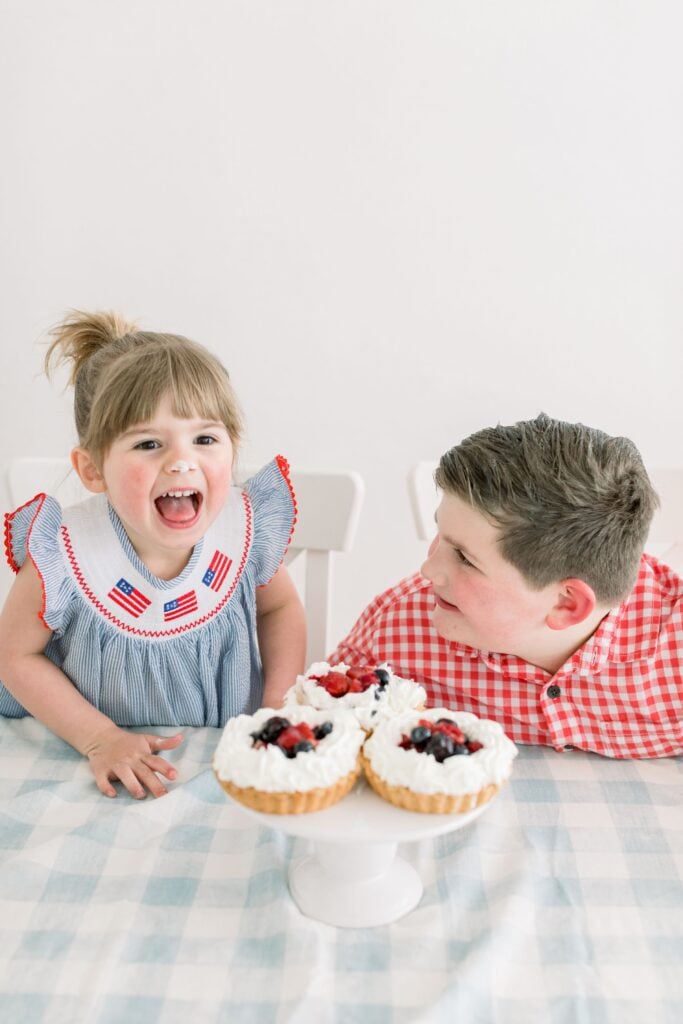 4th of July Menu Ideas
The 4th of July is one of my all-time favorites! Seriously, it's so fun! Raise your hand if you absolutely love this summer holiday! You get to cook up hotdogs and hamburgers, spend time with your favorite people, and enjoy being outside and soaking up the summer sun! What more can you ask for?! Over the last couple of years, I've made a tradition of prepping all of the snacks and desserts ahead of time with Charlie and Claire to get them involved in the party. So fun! We put Andy in charge of the grill every year, and we invite our family over to celebrate! But with all of the prep to get ready, I'm always sure to pick out super-simple menu ideas that can be put together in no time at all! There's no reason to sweat it! If you're planning a 4th of July party, I put together my favorite, fun, patriotic recipe ideas just for you!
Berry Easy & Festive Flag Cake Recipe
One cake recipe that I use year after year is this Berry Easy & Festive Flag Cake Recipe. People always love it, and Charlie and Claire love to get involved to decorate it! (via Best Friends For Frosting)
4th of July Ice Cream Cones
After a long day out in the sun, these 4th of July Ice Cream Cones totally hit the spot! These ice cream cones are so easy and one of my favorite patriotic desserts! (via The Sweetest Occasion)
Patriotic Star Cut Out Cakes
These Patriotic Star Cut Out Cakes are crazy easy to put together for a party. Just cut out cake with a cookie cutter, decorate, and you're good to go! You could even do these with store-bought cake for an even faster dessert. (via Best Friends For Frosting)
The Ultimate Patriotic Cheeseboard
If you know me, you know how much I LOVE cheese. So for me this Patriotic Cheeseboard is always on my list. Such a great way to start off a party and to balance out all of the sweet treats! (via Eat Yourself Skinny)
Patriotic Ice Cream Sandwiches
Claire loves sprinkles and ice cream sandwiches, so I always love to make these Patriotic Ice Cream Sandwiches for her! All you need is your favorite sprinkles to pull this off – so easy! (via Freutcake)
Red, White, and Blue Deviled Eggs
One of Andy's absolute favorite summer foods are deviled eggs, so of course we always add these Red White and Blue Deviled Eggs to our summer celebrations. These super cute eggs are so fun and patriotic – perfect for a barbecue! (via Created by Diane )
4th of July Snow Cone Cupcakes
Everyone loves a snow cone, especially during the summer, but your guests might just love these 4th of July Snow Cone Cupcakes even more! This is one of my favorite 4th of July recipes! (via Best Friends For Frosting)
Rice Krispie Treats
Charlie is totally obsessed with Rice Krispie Treats! But these take it to the next level by dipping them in red and blue and adding sprinkles. Obsessed! (via Life, Love and Sugar)
4th of July Fruit Platter
This 4th of July Fruit Platter is not only patriotic, but it pairs together so many fun things! I just love using fresh fruits and things from the pantry to whip up something pretty! (via Passion for Savings)
American Flag Donuts
Get the party started in the morning with these 4th of July American Flag Donuts! They are so so cute! (via Country Living)
Patriotic Sparkler Cake Pops
This patriotic dessert is super sweet and colorful and SO easy to make. Add these Patriotic Sparkler Cake Pops to the table for a fun treat that can be eaten on the run to the pool! ;) (via Best Friends For Frosting)
Fireworks Pretzel Snaps
My favorite snacks always have to be that perfect balance of sweet and salty. These Fireworks Pretzel Snaps are always a favorite of mine, and one of Charlie's favorite snacks to make! It's like having our own fireworks right in the kitchen! ;) (via Oh, Sweet Basil)
With the 4th of July coming up in just a few weeks, it's time to start planning. I hope these recipes give you some simple inspiration to get the party started! What are some of your favorite recipes for the Fourth of July holiday? I'd love to hear what you're making in the comments below!