Looking for Halloween cocktail inspiration? Look no further than these great drink recipes!
PIN Halloween Cocktail Recipes for later! 
Halloween Cocktails
What's better than some spooky cocktails for your Halloween party?! We are loving these scary drinks created by Colleen Jeffers of Good Drink. She has mastered two craft cocktails that will take your holiday party to the next level. These cocktails aren't only delicious, but they are seriously gorgeous as well! They would be the perfect addition to serve with a decked out Halloween tablescape. The little details will make these spooky drinks look like they took much more time and effort than they actually did. We are seriously loving the spider web and black sprinkles that make up the drink decor. Check out Colleen's drink recipes below, we can't wait to recreate these!
From Colleen: Can we all just agree that Halloween is the fun little sister of the prissier fall/winter holidays? She may be a bit of a hot mess, but she doesn't judge. Plus, she's got so much built-in kitsch and drama (hello, mandatory costumes?!) that no one has to take themselves too seriously around her. My table may look tasteful and refined for Thanksgiving, but on Halloween you can bet it will be covered in cobwebs and bat confetti, and to me that is a WIN.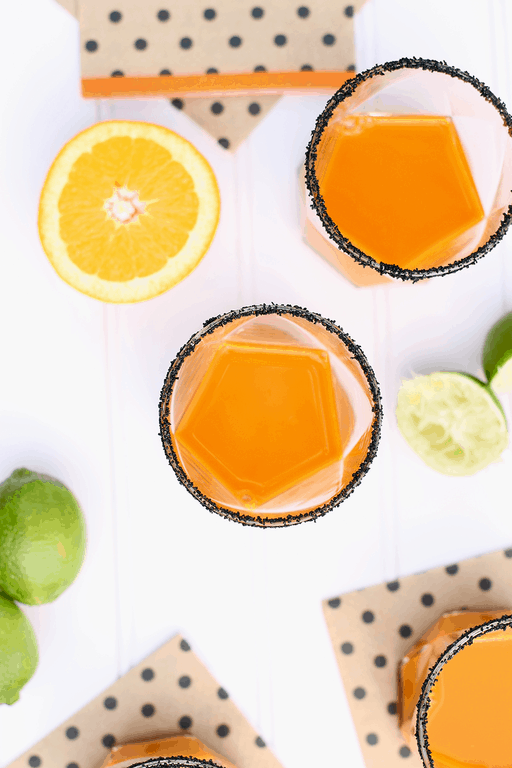 Halloween-Themed Drinks
Nothing says Halloween like a party (even if it's just a sweatpants and scary movie night with the hubs), and nothing says party like holiday-themed drinks. To make things easy, these cocktails use the same simple syrup which is an absolute breeze to make.
Quick Demise Cocktail Recipe
First up is the Quick Demise, a carrot-y dream that will have you reaching for a second glass before you probably should (pace yourself). I'm obsessed with its perfect orange hue and crisp, refreshing tang. Squeeze the citrus beforehand so when you're thirsty you can just measure, shake and pour.
To make the Quick Demise, add vodka, carrot juice, orange juice, lime juice, ginger cardamom syrup, and a splash of club soda or seltzer to a cocktail shaker with ice. Shake well, and then pour over a rocks glass rimmed with black sugar sprinkles. Top with another splash of club soda or seltzer.
White Widow Cocktail Recipe
Second is the White Widow, who deserves her reputation as a killer. This one is a twist on the Ramos Gin Fizz and requires a whole lotta shaking, but trust me on this: it is SO. VERY. WORTH IT. The shaking produces a cream so thick you can (and should!) eat it with a spoon. It looks like dessert, but don't be alarmed — it's actually pretty dry, not at all sickly sweet like many creamy drinks out there. If your night is building to some sort of grand finale, this should be it.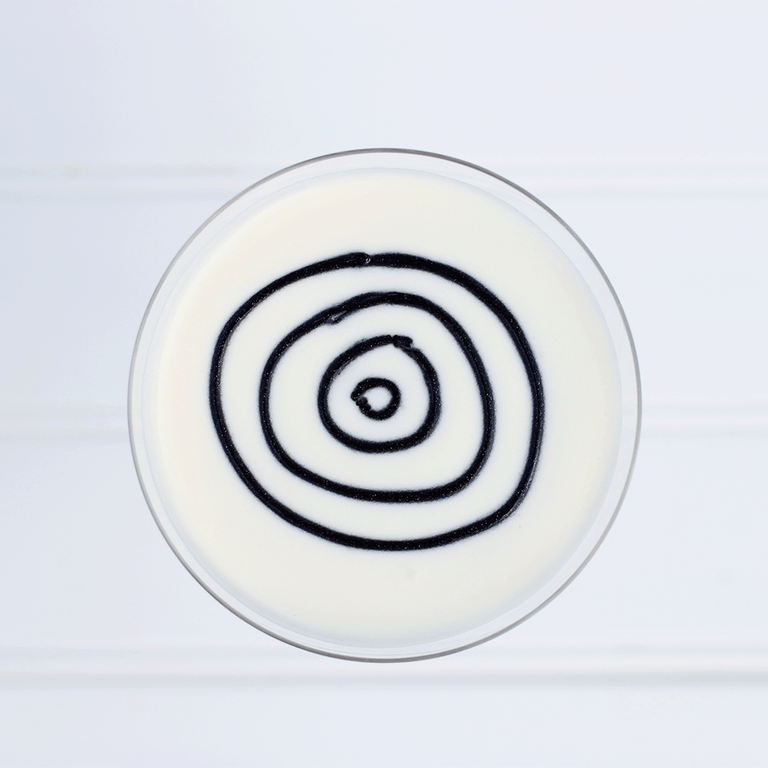 To make this cocktail, combine gin, heavy cream, coconut water, cardamom syrup, lemon juice, lime juice, and 1 egg white into a shaker. Don't add any ice. Shake for as long as possible (aim for 100 shakes), then add ice to the shake and shake again. Pour your drink into a martini glass. A foam will form as the perfect backdrop to add a spider web with a black gel icing tube.
Celebrating Halloween
These cocktails are just so much fun! And I can't believe how each they are to make at home. If you're planning a fun Halloween party, definitely plan to add in a few fun drinks for the adults. If you end up making these drinks, I can't wait for you to report back. Tell me all about it in the comments below!
Ginger Cardamom Simple Syrup
Want a unique simple syrup to make at home for cocktails? This is it!
Ingredients
1.5

cups

water

1

cup

sugar

8

inches

ginger root peeled and sliced into rounds

1/4

tsp

ground cardamom
Instructions
Bring the water, sugar, and ginger to a simmer over medium heat.

Once the sugar has dissolved completely, let the mixture simmer for another five minutes.

Remove from heat, stir in cardamom, cover and let cool.

That's it! Store it in your fridge -- it's delicious in coffee as well.
Quick Demise Cocktail Recipe
With vodka, carrot juice, orange juice, lime juice, and homemade cardamom syrup, this Halloween cocktail is full of flavor!
Ingredients
1.5

oz

vodka

1

oz

carrot juice

1

oz

fresh squeezed orange juice

.75 oz ginger cardamom simple syrup

recipe follows

.5 oz fresh squeezed lime juice

splash of seltzer or club soda

black sugar sprinkles for the rim
Instructions
Add everything but the seltzer to a cocktail shaker with ice and give it a good few shakes.

Pour over ice into a rocks glass rimmed with black sugar sprinkles (look in the seasonal Halloween displays if you can't find it in a regular baking aisle), then top with a splash of seltzer or club soda.
White Widow Cocktail Recipe
This Halloween Cocktail is such a fun mix of creamy, delicious flavors!
Ingredients
1.5

oz

gin

1

oz

heavy cream

1

oz

coconut water

.5 oz ginger cardamom syrup

.5 oz fresh squeezed lemon juice

.5 oz fresh squeezed lime juice

1

egg white

black gel icing for garnish
Instructions
Combine all ingredients in a cocktail shaker but DON'T add ice.

Shake for literally as long as you can (at least 100 shakes), then add ice to the shaker and shake again, just until chilled.

Pour into a coupe or martini glass and watch in awe as an incredibly stable, tasty foam forms.

 You can stop there and get drinking, or be a Halloween hero and make a widow's web garnish.

Use a small black icing tube (the kind meant for lettering on cakes) to draw 4 concentric circles, then drag a toothpick through the icing in lines radiating outward from the center to make the spokes.